Mission Established Identify and Localize
Recently, Kazakhstan started manufacturing internationally-recognized escape hood respirators under a licensing agreement with AVON Protection (UK). The licensee is a 100% Kazakhstani company called "QHSE-Akbarys" LLP, a supplier of personal and mass protective equipment for oil & gas operations.
The respirator production line was established within the "Astana – new city" free economic zone in Nur-Sultan. The project required about 1 billion KZT in investment and as a result it created 16 new jobs.
Respirators, a critical escape device, can be applied within less than 30 seconds and provide at least 15 minutes of filtered air supply, thus allowing enough time to reach a safe shelter in case of an emergency. A mask that comes with the respirator is fully transparent to provide superior visual communication and protect the face from liquid agent splashes. In addition, the respirator comes with anti-fog coating on the visor. This specific model of respirators is designed to be used in Kazakhstan's severe climatic conditions and, as a result, is in high demand from Tengiz and Karachaganak field operating companies.
Mr. Timur Zharlikaganov, QHSE-Akbarys Business Development Manager, in his welcome speech at the presentation of the production facility on August 9, highlighted that the idea of this enterprise gained tremendous support from Tengizchevroil (TCO).
"At its early stages", he said, while addressing Eimear Bonner, General Director, TCO, who was present at the event, "TCO was actively involved in promoting the localization initiative and supported this production to be established by placing orders. Thanks to that support, we are now witnessing a fully operational facility".
Olzhas Lukmanov, Domestic Market Development Coordinator at TCO, later explained that Avon NH15K respirators production was part of a local content development plan within a long-term contract with QHSE-Akbarys.
"Together with our QHSE-Akbarys colleagues we developed a plan that would lead to the establishment of Avon NH15K respirator production in Kazakhstan. We negotiated and managed every step and action to make our plan complete", he recalled.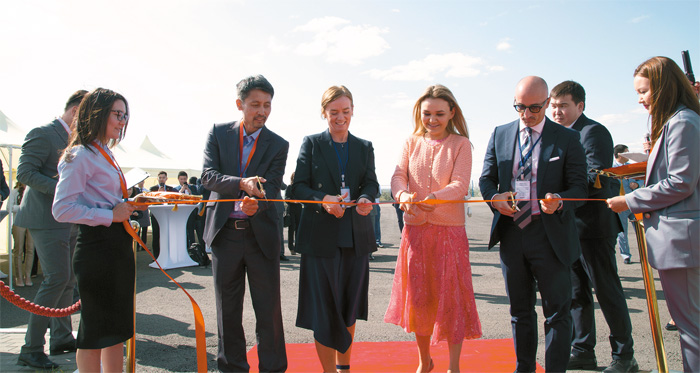 Local content development plans in long-term contracts has been part of TCO's Kazakhstani Content Development Strategy since 2017. This model is not limited to the QHSE-Akbarys success story. KISCO, a flange gasket supplier, suggested localization of gasket manufacturing as a part of the local content development plan in their agreement with TCO. No sooner said than done. By the end of 2018, a world-class gasket manufacturing facility was established in Atyrau and 23 new jobs for Kazakhstanis were created. TCO, as a result, benefited from uninterrupted supply of KISCO products that meet all international standards for its operations.
It is worth mentioned that KISCO's production line runs on German technology, and the staff is trained to the highest standards.
TCO's model that requires vendors to identify local manufacturing opportunities and invest into infrastructure and facilities benefits Kazakhstan not only by creating new jobs. A key advantage is the transfer of technology and skills that takes place through these partnerships.
Shymkent Cement is yet another good example. The company is now producing grade G oil-well cement that is in high demand for Tengiz drilling operations.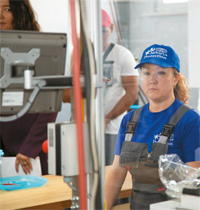 TCO listed localization of grade G oil-well cement as a priority for a long time and Shymkent Cement made a good candidate for this role. TCO and Schlumberger, a main well completion services provider, audited three cement manufacturing facilities in Kazakhstan to identify localization opportunities. Findings suggested that Shymkent Cement was able to get API 10A certified and its' product samples passed a number of tests in Chevron and Schlumberger labs.
Technological processes were brought in line with proper standards and world-class cement manufacturing kicked-off in Kazakhstan for Tengiz operations. Grade G oil-well cement produced by Shymkent Cement is also suitable for export to international markets. In addition to localization efforts, having a long-term agreement with TCO, Schlumberger was able to train and substitute most of its foreign staff, thereby increasing the Kazakhstani workforce ratio to 95% of total personnel.
As of the end of 2018, Kazakhstani citizens hold 88.7% of all positions in TCO Base Business. With FGP-WPMP staff this number makes 81.6%. Tengiz project provides jobs to approximately 80 thousand Kazakhstani's.
In 2018, "Tengizchevroil" LLP spent over 1.3 trillion tenge for the purchase of goods and services from local suppliers. For comparison, expenditures of the entire Atyrau oblast, where TCO operates, for the same year amounted just over 100 billion tenge.
A significant volume of Kazakhstani goods and services was procured for the needs of the Future Growth Project – Wellhead Pressure Management Project (FGP-WPMP). FGP-WPMP has accounted for up to 65 percent of all of TCO's spend on local goods & services in 2018. Over 48 thousand Kazakhstanis are engaged in FGP-WPMP and the project is expected to reach peak activity during 2019-2020. Over 500 Kazakhstani companies provide services and supply goods to the project which are estimated to total over $6.7 billion since 2017.
TCO's spend in procuring domestic goods and services has been continuously increasing. According to company sources, in 1993, in the first year of its establishment, TCO spent $27 million on Kazakhstani goods and services. In 2003, that figure exceeded $500 million. Ten years later in 2013, TCO spent over $2.3 billion on sourcing goods and services locally. And for the first half of 2019 alone, TCO has spent $2.1 billion on local goods and services. Services and labor are in higher demand in TCO and this is not likely to change. Kazakhstani entrepreneurs provided 70 percent of TCO's Base Business needs in services & labor in 2018.