COMC: Solutions and Services Provider for the Oil and Gas and Marine Related Industries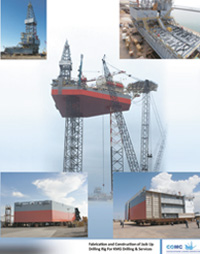 Caspian Offshore and Marine Construction LLP (COMC), formerly known as Keppel Kazakhstan LLP, was inaugurated by His Excellency Mr Nursultan Nazarbayev, the Republic of Kazakhstan's 1st President in 2003 in the Special Economic Zone of Mangystau region under His Excellency's initiative to encourage investment and growth in specialized engineering, fabrication and construction capabilities in Mangystau region and to support the economy of the Republic of Kazakhstan as a whole.
The cornerstone of COMC's establishment in Kazakhstan in year 2003 has the objective of having a facility near to our business market and customers. This synergizes with our objective of enhancing the works facilities and expertise in Kazakhstan and to create jobs and increase the capabilities and skills of the national Kazakhstan workforce.
Since its establishment, COMC has successfully achieved on-time deliveries of large work packages for major clients. COMC has thus earned a reputation of being a leading Kazakhstan fabrication yard capable of handling any EPC project. In so doing, we have achieved the highest standards of safety (with 16 million man hours worked without a lost time incident) and we have steadfastly met the stringent quality requirements demanded by international oil companies.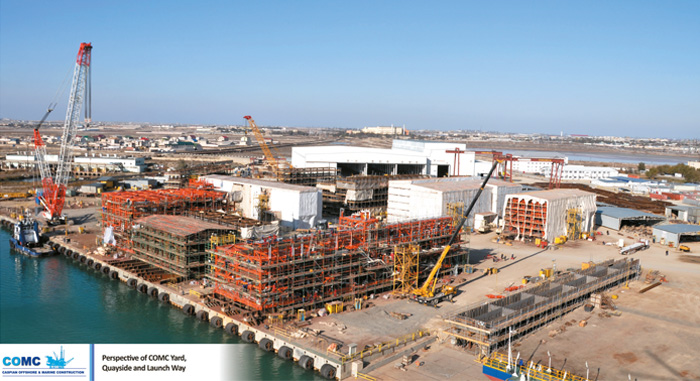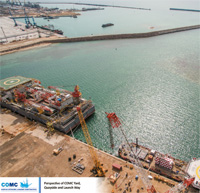 COMC has contributed significantly to the local economy in Mangystau region by maximizing the integration of Kazakhstan nationals into our workforce and engaging local suppliers and service providers to support our operations. The presence of COMC in Aktau, along with the experience, know-how and technology transfer it has brought and introduced to the local economy, has created a hitherto relatively new industry in the Kazakhstan sector of the Caspian region to compliment the growth of Kazakhstan's oil and gas industry.
Having invested over USD 75 million to develop a fabrication yard from a green field site to create a facility with state-of-art fabrication technologies within the Special Economic Zone of the Mangystau region, COMC is committed to invest in further yard development and expansion of its facilities and capabilities to satisfy the demands of future projects' needs.
COMC yard has everything necessary to support annual production of approximately 15,000 tons of complex structures for the oil and gas and marine industries per annum.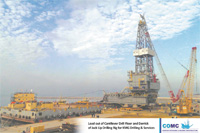 To date, COMC has successfully delivered projects to a total value of more than USD 1,7 billion. Our work portfolio includes fabrication of more than 55,000 metric tons of pipe racks modules, wellhead protection structures, ice-class transportation barges, pontoons for the berthing of ice-breaking emergency escape vessels for the Kashagan Oil Field Development Experimental Programme for AGIP KCO and various other types of heavy-duty fabrication works for various clients operating in the onshore and offshore oil and gas and marine industries.
Another significant achievement to demonstrate the engineering, fabrication and construction capability of COMC to contribute to the industrial and economic needs of our country is the flagship "Satti" Jack Up Drilling Rig Project for KMG Drilling & Services. Our scope of work included the main components of the rig, i.e. pre-fabrication of panels, construction of fully outfitted leg-well blocks for the rig hull, cantilever and the complete drill floor and derrick modules outfitted with National Oilwell Varco drilling package which have been fully installed, tested and commissioned by COMC.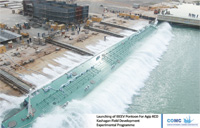 Inherent in COMC philosophy is that its people are its most valuable asset. We therefore continuously invest in the training and development of our employees to develop their skills and capabilities and to focus their attention on the essential aspects of working safely and to the highest standards of quality demanded by our clients.
COMC commenced its apprenticeship training program in collaboration with the Mangystau Akimat, the Mangystau Regional Education Department and the Mangystau Polytechnic. COMC also invested in the construction of a dedicated hands-on training center at its Aktau yard to complement the partnership that we established with the Mangystau Polytechnic. To date we have successfully trained and qualified more than 1000 apprentices under this scheme. The apprenticeship program covers all of the various disciplines and skills required to operate and perform works at a top of class fabrication yard such as structural, mechanical, electrical, piping, blasting and painting and lifting.
COMC has made a significant impact on the Kazakhstan economy. Since the beginning of its operations, COMC has made direct financial payments to the Kazakhstan state budget amounting to more than KZT 48 billion including salaries to Kazakhstan employees, purchases of goods and services from domestic producers and suppliers, taxes and customs duties.
COMC, as a local Kazakhstan company, has and will continue to invest in its employees and improvements to its facilities in order to ensure that we maintain our position as a major fabrication yard in Kazakhstan with modern and state of the art facilities and technologies that will create a legacy for future design, engineering and fabrication capability for the Republic of Kazakhstan.