KMG: Results and Plans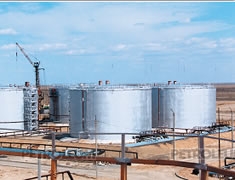 JSC National Company KazMunayGas (KMG) has summarised preliminary results of its activity in 2010. The main accomplishment is that in the last year EIG has exceeded all main operational and financial indices continuing to be one of the backbone elements in the country's economy.

In 2010, the company produced 22 million tons of oil, that is 27.5 % of the total volume of 80 million produced in the country. Almost 66 million tons were transported and about 15 million tons of oil were processed which is a record high for the whole history of Kazakhstan's independence. Stability of prices in the domestic markets is provided, as well as nine of 14 regions in Kazakhstan are supplied with gas. Profitability of production has increased from 6 % to 14 %. KazMunayGas' consolidated profit has come to KZT284 billion in the last year, that is by 2.2 times more than in 2009. The company has paid over KZT405.4 billion to the Kazakhstan budget as taxes and other obligatory payments that exceeded the planned targets by 10 % and the 2009 level – by 31 %. In the expected earnings to the National Fund of the RK in 2010, the weight of all companies with KMG's participation will come to 70 %. In the total tax revenues to the budget of the Republic Kazakhstan for 2010 the expected share of all companies with participation of KMG will come to 31.1 %. In the incomes of the country's budget the expected share of tax proceeds of all companies in which EIG has direct and indirect participation, will comprise 24.7 %.

As part of the investment program for the company's development and the state program for forced industrial and innovation development and the Industrialisation Map of Kazakhstan, in 2010 KazMunayGas has run large projects with the aim to increase reserves and produce hydrocarbons, develop the country's oil and gas transportation system, modernise oil refining capacities and develop petrochemistry.

The key events in business directions in 2010:

Exploration and production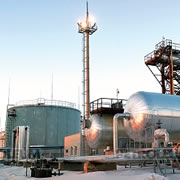 A number of important agreements were concluded: on the Imashevskoye gas condensate field, on the North Caspian project, and on the projects in the North Sea (White Bear) and Iraq (Akkas). Also, a work was done to grow the company's oil asset portfolio with positive results received from exploration drilling on land –Block Liman (under preliminary data, the recoverable reserves comprise 8.5 million tons) and at sea –Block N.

The main investment program of KazMunayGas is directed at increasing reserves. Today, the company has almost 780 million tons of oil on its balance; a strategic target is to increase this figure up to 1.6 billion tons. To accomplish this, the company is engaged in new contracts for oil exploration and production, first of all, on the Caspian Sea shelf.

Oil transportation

One of the major events of the year is signing of a final decision on investments under the CPC expansion project. This project is especially urgent in the light of adopted decisions on further increase of oil production from Tengiz and the fields in the Caspian Sea shelf. The project envisages increase in the capacity of the oil pipeline Tengiz-Novorossiysk (CPC) up to 67 million tons of oil annually (of them 52.5 million tons of Kazakhstan oil annually). The $5.4 billion project will be implemented in three phases and completed in 2015. Today, Kazakhstan exports about 26 million tons of oil via the CPC system. As a result of the first turn of expansion, the increase will come to almost 4 million tons in 2012.

The CPC expansion project assumes building of 10 additional oil pumping stations (2 – in the territory of Kazakhstan and 8 – in Russia), 6 tanks for oil storage near Novorossiysk and a third mobile mooring on the CPC offshore terminal, as well as replacement of the 88 km pipeline in the territory of Kazakhstan.

In 2010, Kazakhstan exported 40.2 % of its oil via CPC system, 21.5 % - via the pipeline Atyrau-Samara and 14.2 % - via Atasu-Alashankou. In the same year, the assets in JSC National Marine Shipping Company Kazmortransflot were increased: the company received two tankers.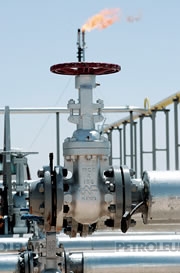 Gas transportation

Another significant project for the country's economy and energy security is building of the gas pipeline Beineu-Bozoi-Shymkent. Its realisation will help to finally solve a question of providing the demand for gas in the republic's southern regions, to exclude dependence on the import of gas and establish a new export route in the direction of China. The gas pipeline 1475 km in length will pass through the territories of the Mangistau, Aktyubinsk, Kzylorda and South Kazakhstan regions.