Tengizchevroil at the Start of the Future Growth Project
Oleg Chervinsky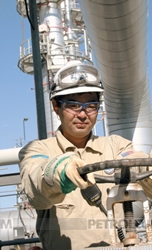 At one of the key oil-fields in Kazakhstan, Tengiz, the shareholders of joint venture Tengizchevroil (TCO) are starting to implement a new large-scale project to expand extraction capacities - the Future Growth Project. It will allow the JV to increase production of hydrocarbons by more than 4 % in comparison to current indices.
The first information about TCO's intention to realize a large-scale project expansion of production appeared last year. Though the management of the JV has only reservedly disclosed details of the project before its official approval by shareholders, Petroleum has managed to analyze isolated fragments of information revealed over the last months at meetings of TCO's top-managers with journalists and the public.
Due to implementation of the Future Growth Project (FGP), the volume of oil production at the Tengiz field, currently standing at 25.9 million metric tons (207 million barrels), will increase by 12 million tons – reaching 38 million tons a year. The facilities for the FGP will be erected in the field's operational territory, south of the second generation plant. In particular, the facilities to be built include:
The FGP's oil-gathering system, including production wells, metering units, and modular collectors;
The pressure increase systems (input separators, a pump unit, and a compressor unit);
A plant for processing and treating oil and gas for injection into reservoirs, and systems for electricity generation;
A compressor station for sour gas injection into reservoirs (SGI-2).
Construction is planned on a so-called modular method. If in the previous second generation project (SGP) and Sour Gas Injection (SGI) the equipment was delivered to Tengiz and assembled on site, then, because of uniqueness of FGP equipment, it will be pre-assembled by the manufacturer in big modules, which will be transported to the destination point.
As stated by Rzabek Artygaliyev, TCO's General Manager of Government and Public Relations, the modules will be assembled mainly in Europe and will travel to Kazakhstan along several routes: the Baltic, Black and Azov Seas, and then via the Volga-Don canal and the Ural river. "Along with preparation of a navigation canal, the company plans to lay a new road from Аtyrau to the Tengiz field on which cargo will be transported. This is in order not to block the functioning Atyrau-Aktau roads. The road will travel along the functioning CPC pipeline," Mr. Artygaliyev said.
The contractors for construction and assembly operations plan to involve Kazakhstani companies to a maximum. Already, a base consisting of over 300 service providers and 600 contract organizations has been formed by the enterprise, and the list is constantly extending.