The goal - to become financially stable, economically effective and dynamically developing company
Kenzhebek Ibrashev, KazMunayTeniz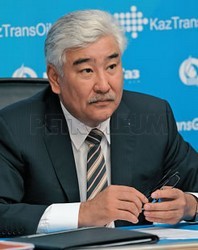 - Kenzhebek Niyazovich, at one time you were at the origins of the state company Kazakhstancaspishelf, which as a part of the same name international consortium conducted a seismic survey in the Kazakh sector of the Caspian Sea (hereinafter - KSCS). Today you are heading KazMunayTeniz. What is the potential of the KMT in order to achieve this goal - to become the leading Kazakh Company in offshore exploration and production of hydrocarbon resources?

- The company Kazakhstancaspishelf, created in 1993, fulfilled the tasks assigned to her by the State Government to conduct a large-scale study of the Kazakhstan sector of Caspian Sea on seismic operations. On the base of the obtained information and new data the level of prospectivity of contract territories has being determined. The first result of research of those years was the discovery of the unique oil field Kashagan, and the discovery of hydrocarbons on structures such as Kairan, Aktoty, Kalamkas-Sea, Khazar, Auezov, and Rakushechnoe-Sea.

JSC OOC KazMunayTeniz, created for the full cycle of petroleum operations at sea sets as one of its priorities to become financially stable, economically effective and dynamically developing company, meeting the environmental standards and equipped with advanced technology and highly qualified personnel.

It is well known that the activities of major companies operating in oil and gas business in a competitive environment, carried out in accordance with strategic plans developed by the company management and approved by the shareholders. The main task of the company's strategy is definition and subsequent conquest of the specific position in the global oil and gas market.


Our company adheres to the basic principles of the implementation of offshore oil and gas projects, such as:
ensuring safe working conditions of employees, as well as the rational use of natural resources at the highest international standards of environmental protection and safety;
human capital development as a driver of development and competitiveness of the company;
Aggressive exploration as a basis for long-term growth of the company towards our goal of increased resource base;
consolidation of offshore oil and gas assets;
Gaining an experience in the offshore projects management at the stage of development and construction;
Establishing long-term partnerships with leading oil and gas companies to achieve an access to advanced technologies and innovation.