Chevron's Educational Programs in Kazakhstan
Chevron's community engagement programs are strategic investments in the future of communities and our business success – across cultures and continents and amid complex socio-economic environments.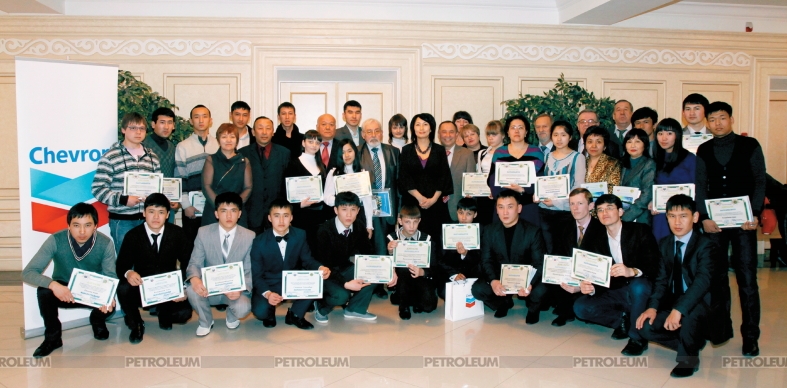 Diploma winners of the National Energy Saving and Energy Efficiency Project Contest
Almost 20 years Chevron and the Republic of Kazakhstan have been working in the spirit of partnership to develop the country's long-term energy potential. As the leader in the amount invested in Tengizchevroil JV, we have created thousands of jobs, ensured budget revenues worth billions of US dollars and utilized new technology in the country. We support local vendors and assist in the local community development, conduct local training and provide opportunity for education, and also serve as a catalyst of the innovative development and diversification of the Kazakhstan's economy.
In Kazakhstan, Chevron partners with local and national governments, communities, non-governmental organizations, and other groups to deliver programs in three main areas identified as corporate priorities:
Education and career training
Basic human needs
Support for local small and medium-size businesses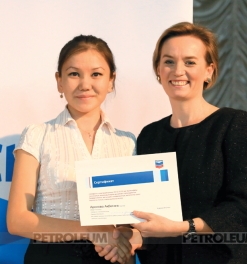 Chevron Deputy Managing Director Eimear Bonner presents certificate to the KazNTU grant program winner
Support for long-term educational and training programs in our areas of operation has been Chevron's practice since the company started their operations in Kazakhstan. Chevron is proud of its contribution to the training of top-notch, professional personnel for petroleum and energy industries. Educational programs of our company involved thousands of school and university students, young lecturers and teachers from urban and rural high schools in many regions of the country. We have created the forums for sharing experience between local and international specialists, and helped them turn their creative ideas into reality.
Since 2006, Chevron has helped more than 600 orphans and boarding school students in Almaty, Astana and Atyrau to choose their future professions and acquire required life skills through the Early Professional Orientation and Vocational Training course. The children have been offered an opportunity to acquire basic skills for the most sought-after professions such as chef, confectioner, woodworker, carpenter, plumber, finisher, hair stylist, office manager. Another project' goal is to help the children to acquire vital skills: cook food, make repairs and tackle numerous domestic problems.
Program and guidelines on Professional Self-Determination have been developed and resulted in the comprehensive high schools getting 20 training aids in Kazakh and Russian, helping the school students to identify their capabilities, define the area of their interest and familiarize with the most sought-after professions in the market. The program has been recommended by the Ministry of Education and Sciences of the Republic of Kazakhstan for the use in the pre-discipline training of the middle and senior level students.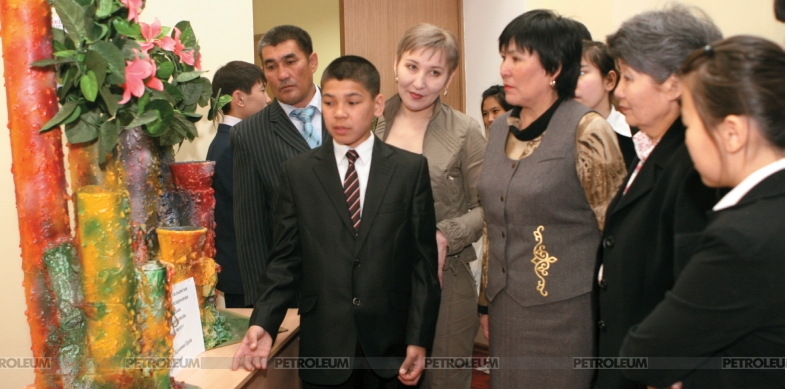 "Environmental Business Projects for Sustainable Development" National Contest
Company initiated the nation-wide contest of Children's Environmental Artwork and Plein Air in 2002. The contest successfully combines and implements the company's basic principles: environmental stewardship; development of creative potential of the country's nationals; environmental education of the youth; support of culture and arts. The program's operator, the Kazakhstan National Federation of UNESCO Clubs, organizes a great number of the master classes on paining, design, photography, animated cartoons, and sightseeing around Astana and Almaty. Within 10 years over 2000 school students took part in the contest. Many finalists and winners could make their dreams come true, utilize the acquire skills and knowledge, define their future specialty.