Accuracy. Safety. Quality
Georgy Trukhin
During the meeting on outcomes of 2013 Turnaround TCO Plant Facilities Group Management has recognized Sour Gas Injection (SGI) team for accurate, safe and quality work that they have accomplished ahead of schedule. Special recognition was given to Kosbol Alashbayev, SGI Turnaround Coordinator. Striving for increasing safety requirements as well as responsibility in working within gaseous environment he suggested increasing control on works with H2S exposure, i.e. to create special gas hazardous works observer positions equipped with special personal protective equipment so that everybody could see that the works are being carried out in special environment. His suggestion was fully supported.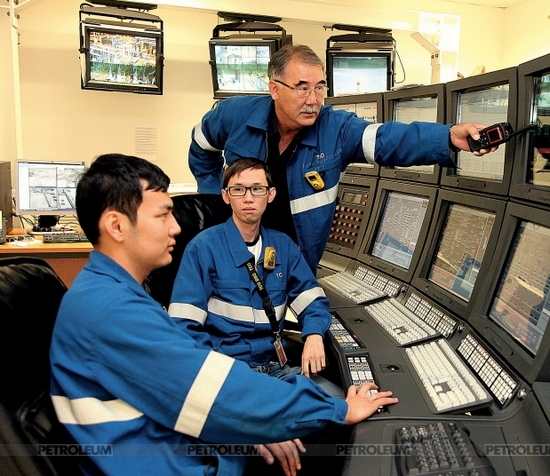 Kosbol is an expert oilman. He works in Tengiz since 1990, which means he had started yet before the plant was built and brought on-line. He knows the operation as the back of his hand after taking part in Program 12 and KTL modernization. He also was one of the authors of the Routine Works Program which essentially serves the manual for KTL operators. In 2000 Kosbol was transferred to the new position at SGI, completed training in London and later in Florence, Italy as part of the first team of Tengiz specialists trained to accept and operate the super-compressor used in the Sour Gas Injection facility.
Another training, and another manual for SGI operators. In 2005 Kosbol completed successfully the initial trial run of SGI unit and soon became the chief character of the story published by New-York Times. The above description of the man's background must be sufficient to understand this outstanding specialist possesses a unique legacy of vast practical experience multiplied by profound knowledge of theory which serves the key to success in the profession of petroleum industry engineer.
The staff operating the SGI facility, the one-of-a-kind unit injecting sour petroleum gas back in the formation at the pressure of 600 bar is a great team built of top-notch professionals with serious background training and experience, who are assisted by knowledgeable and ambitious young specialists. Among its key players are such gurus of upstream as Masymkhan Berdygaliyev, Maulensein Ermukhanbetov and Erlan Nurgaliyev. On top of this list I am placing Bakhytgali Utepbergenov with his remarkable record of 21 years in Tengiz. He was part of the project to build and bring on-line KTL-1 and KTL-2, Train 5, and, to-date, has been working at SGI for 12 years.
"Operating this facility is a truly exciting experience," said Bakhytgali. – Every unit is thoroughly calculated and fine-tuned, and the process is high fidelity. The technology used for SGI is state-of-the-art, and the key components are one-of-a-kind. The mission of the people assigned to ensuring fail-safe operation of this unique facility makes them feel proud of the specialists who designed and built it."
Such is the impression of SGI shared by the specialist who has dedicated 12 years to studying this facility to detail. Standing by his side are young operators Alimzhan Atraov, Erkin Niyetaliev, Serik Iskaliyev and Amanbek Baimagambetov – all different characters, yet very alike in their eagerness to know more about profession.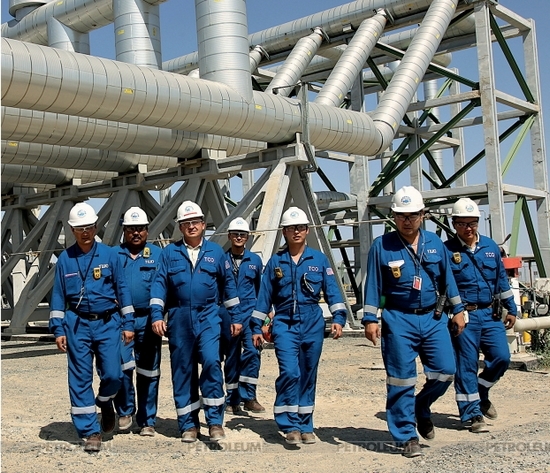 "Last year was the inaugural turnaround with planned shutdown of units," explained Askar demegenov, SGI Ops supervisor. – We replaced a few parts and units operated since 2008 and completed compressor upgrade to increase its capacity. This year the turnaround is definitely lower scale, yet given we deal with noxious gas, every job performed on SGI is very high responsibility. Starting on August 1, we have completed purging of the facility of hydrogen-sulfide and toxic hydrocarbons and commissioned the equipment to turnaround team.
They completed the procedure of turbine maintenance, replacement of flame detectors, nozzles and fine-tuned the combustion chambers. By Agust 12 the turnaround was completed according to the plan and with zero record of DAFW. In fact, we finished ahead of time and waited for SGP team to complete their turnaround to hook to the plant. Now everything works ideally. SGI injects 350 to 360 thousand cubic meters of sour gas in the formation per hour which is an updated process parameter.
The above parameter allows for producing over one million metric tones of crude oil on the Second Generation Plant. Together with the "old" KTL Plant they currently produce over 2 million metric tones per month.