BG Group Help Communities in Western Kazakhstan Build Much-Needed Social Services and Jobs
The area of Western Kazakhstan where we work is remote and rural. With the discovery and development of Karachaganak, the closest town, Aksai, has developed from a small farming community to one dominated by the oil and gas industry and today has a population of around 35,000 as well as nine surrounding villages with a total population of about 5,500.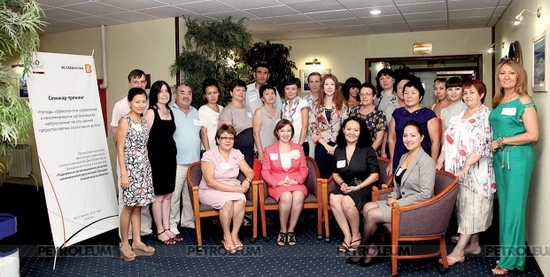 However, this is still a rural area with limited amenities and employment; there is a marked shortage of local services, including basic services such as department stores, consumer goods and services.
Given the background of the communities where we operate, the aim of our voluntary investment programme is to respond to local concerns by providing more support and employment opportunities directly to the communities in and around Aksai.
Investment into local people is funded from company's voluntary funds in addition to US$20 million of contractual social payments a year for social infrastructure investment. Our annual voluntary social investment budget is increasing every year and to date, BG Group has spent a total of $6,189,400 on a voluntary basis in Kazakhstan, since corporate social programmes began ten years ago in 2004.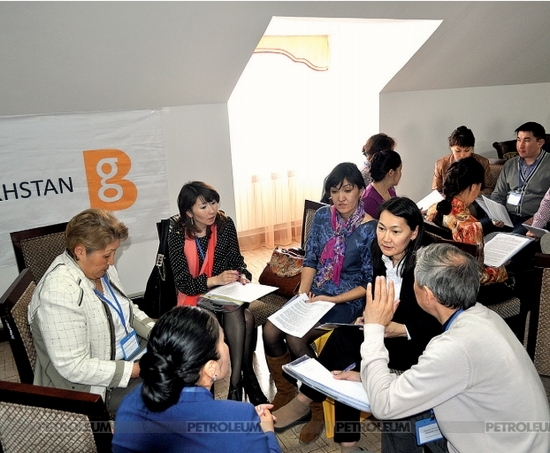 This approach fits within the wider BG Group strategy of building local capacity, skills and livelihoods, rather than investing in hard infrastructure or traditional philanthropic giving.
In 2012, we set up and ran two key projects which are now beginning to deliver results and hope these will be a platform for further initiatives.
I. Building Capacities of Non-Commercial Organisations (NCO) to help improve the quality of social services in West-Kazakhstan region.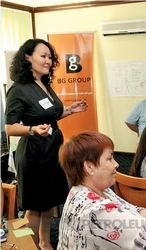 In 2012, we launched a pilot project to build the capacity of non-commercial organisations (NCOs) that deliver social services near our operations in West Kazakhstan. The project is addressing the shortage of the skills and resources to deliver much-needed social services for local communities. We began by conducting a training needs assessment among NCOs in the area, identifying where they needed to develop their professional capacities and putting together a comprehensive training programme.
During 2012 more than 20 representatives from eight NCOs received new knowledge and skills in project management, community needs assessment, delivery of client oriented social services developed and development of actual project proposals. In their feedback, they have said they believe the training will help them be more effective, achieve better cooperation with partners and be more successful in securing funding from diverse sources.
In 2013 we are continuing the project focused on post-project evaluation and technical assistance for organisational strategy development. We benefit from this initiative as well because it helps us strengthen our relationships with local people, building trust and confidence.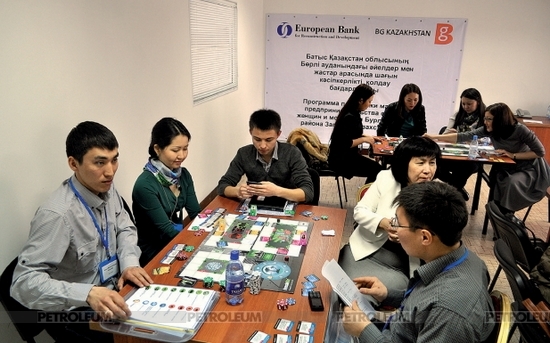 II. Investing into alternative livelihoods, skills and capacities required for diversification of local economy and sustainable socio-economic growth.
Our particular goal is to encourage diversification of the local economy away from the oil and gas sector, with the development of small businesses and professional help for women and young people in improving their livelihoods through self-employment. While the oil and gas sector has developed fast and dominated the town, other sectors and small business have to catch up.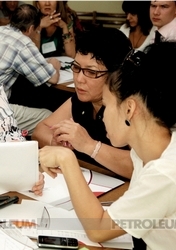 One of our approaches to this challenge is to help existing or would-be entrepreneurs to set up businesses. In early 2013 together with our project partners Business Advisory Service of the European Bank for Reconstruction and Development (EBRD BAS) and the Centre for Assistance to Micro-Credit Organisations (CAMCO) we designed and agreed a Livelihood Enhancement project.
During the pilot stage, 10 local businesses are eligible to apply for grants of up to Euros 10,000 (of which75% would be reimbursable upon success). Managers of existing businesses can participate in study tour and workshops. More than 60 existing or potential entrepreneurs have already joined training courses and individual sessions on how to set up and develop a business. The project aims to provide support to 15 local consultants and coaches and will link entrepreneurs with trained micro-finance organisations, selecting the most successful for further financial support.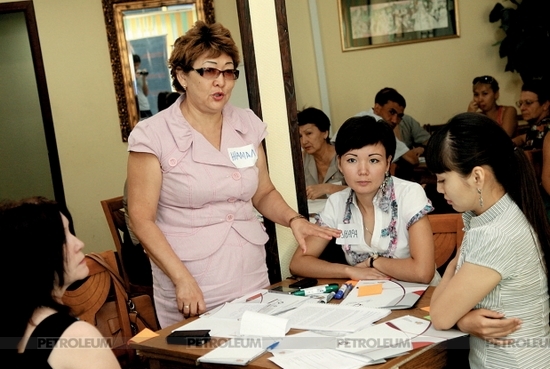 We and our partners hope this pilot programme will be replicated in other regions and become part of the national strategy for developing small and medium-sized enterprises.
BG Group has been working in Kazakhstan for 20 years and is one of the companies developing the huge Karachaganak gas field in the north west of the country.
Karachaganak is one of the world's largest gas and condensate fields, covering an area of over 280 square kilometres.
Estimated gross reserves: over 2.4 billion barrels of condensate and 16 trillion cubic feet of gas.
Production from Karachaganak accounts for around 16% of BG's production.
The field is being developed by the the Karachaganak Petroleum Operating B.V consortium (KPO).
Partners in the consortium with BG Group (which has a 29.25% share) are Eni - the Italian oil and gas group - (29.25%), Chevron (18%), Lukoil – the Russian oil and gas group - (13.5%) and KazMunaiGas (the state-owned oil and gas company – 10%).
2012 – BG Group won the President's award for Best Long-Term Strategic Partner.