Transit Potential
Interview by Amina Jalilova
In early October, during KIOGE, the Deputy General Director of KazTransOil JSC Bulat Zakirov talked about importance of developing the transit potential of Kazakhstan. Kazakhstan-China pipeline operates successfully; CPC pipeline expansion is about to be completed; tankers cross the Caspian Sea -everything allows us thinking of new stage of developing the oil transportation system of the country. Mr.Zakirov answered the questions of Petroleum magazineon the sidelines of the Conference.
This year you focused the attention of KIOGE delegates on transit opportunities for oil and gas transport system in Kazakhstan. Can you, please, precise, what kind of transit and from where and to where it shall be?
Today, first of all, we are talking about Russian oil transit, which goes through the Omsk-Pavlodar pipeline, and further, it will pass via Atasu-Alashankou in China in volume of 7 million tons per year. The Russian side is interested to increase the volume up to 10 million tons. We have appropriate agreements and I think we will come to this figure. Also, our Chinese colleagues are interested to get more oil through the Kazakhstan via Atasu-Alashankou pipeline.
We are talking about transit potential, since currently, the pipelines allows transporting oil from Kazakhstan to various destinations. There is a surplus of capacity that nowadays allows the oilmen to choose one or the other direction. And we believe that Kazakhstan can use its geographical position to become a transit bridge to other states.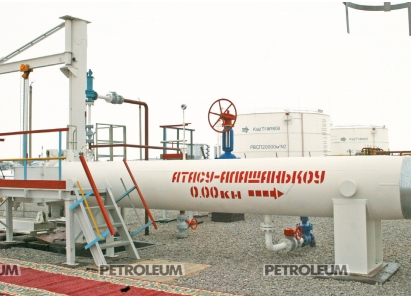 For example, what directions we are able to develop?
"Russia-China" route is already operating with success. Plus, India is quite close and it is a very promising and large market.
But we lack a pipeline, connecting us with India ...
No pipeline. But earlier we didn't have a pipeline to China. It is technically possible to build the oil and gas pipelines to this country. And it may be a transport corridor, using both road and railway routes. The issue can only be a political solution, because the route passes through several States. This direction is interesting because there are many refineries in the North India. And they get oil supplies from Indian Ocean, from South, crossing the country. And we would be able to offer supplies from the north.