Tengizchevroil: 2010 in Review. Safety and Health

Safety and health of our workforce is a core value for TCO. Our commitment to ensuring safe and reliable operations resulted in continued world-class results, in fact, in 2010 we recorded our safest year ever.

An important aspect of safety in an operation such as Tengiz is motor vehicle safety. We also recorded our safest year ever in this area, another world-class result. TCO vehicles had zero serious collisions over the nearly 50 million kilometers driven in 2010 – equal to 60 round trips to the moon or 1,200 trips around the Earth. In 2011, we will continue to the push for even better performance as we move towards an injury and incident free workplace.

Environmental Protection

Since 2000, TCO has invested $2.2 billion on projects to minimize environmental impact related to Tengiz operations. This investment resulted in significant improvement to TCO's environmental protection performance. TCO plans to spend another $225 million to continue improving environmental performance over our business plan period, 2011 to 2013. Work progressed in 2010 on several important projects, including new wastewater treatment facilities and effluent water treatment plant upgrades.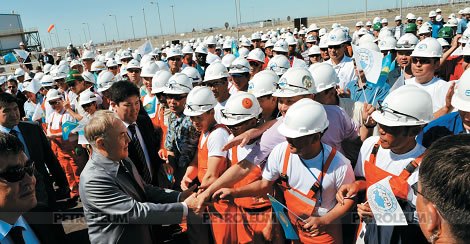 TCO has been working to increase gas supplies and to eliminate routine flaring for more than a decade. This investment has resulted in a reduction of total gas flaring volumes by 94 percent in that timeframe. In December 2009, we completed a four-year, $258 million Gas Utilization Project which eliminated routine flaring and also enabled us to meet of the Republic of Kazakhstan's Gas Utilization goals and our established deadline.

TCO achieved its lowest specific emissions rate ever in 2010, with an average of 2.16 kilograms per tonne of oil produced, an improvement from our previous 2009 record of 2.68 kilograms per tonne. These historic lows in overall emissions represent a 74 percent reduction in air emissions per tonne of oil produced since the year 2000.

Another New Production Record

TCO set another crude oil production record in 2010 at 25.9 million tonnes, an increase of 15 percent above the previous record set in 2009. TCO's growth in production from 1 million tonnes in 1993 to nearly 26 million tonnes has been accomplished through continuous investment and keen focus on plant and operational reliability. TCO has invested nearly $9 billion dollars in capital investments for production growth including the Sour Gas Injection and Second Generation Plant (SGP) expansion projects. The SGP achieved full design rates in 2010.

TCO has invested nearly $400 million dollars since 2006 on reliability and integrity projects for the KTL plant complex, which has resulted in the plant operating at a world-class production reliability of 97 percent since 2009. TCO's focus for the future is to sustain the KTL plant performance while continuing to increase and sustain SGP production reliability.