Kashagan Development at Later Stages is Under Conceptual Studies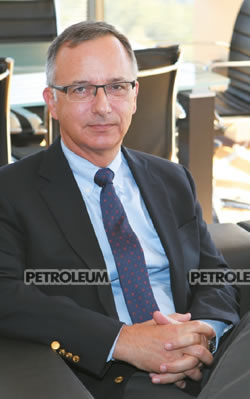 Mr Bruno Jardin, Managing Director, NCOC (the Operator of the North Caspian Project), answers the questions of Petroleum Journal.
Mr. Jardin, what is the current situation at Kashagan? Are you satisfied with production levels and growth rates?
NCOC safely reached actual production levels of over 200,000 barrels per day in mid-2017. We have now produced 6 million tonnes of oil since NCOC reopened the first wells on A Island on 28 September 2016, almost one year ago today. System utilization – that is to say, production reliability – has been exceeding forecasts.
Raw gas re-injection trials began in mid-August this year. We continue testing this complex system and will be gradually increasing and optimizing the amount of gas being re-injected so that more oil can be produced from Kashagan.
You see, all the sour gas that is produced but not re-injected must be treated at our Bolashak onshore plant to remove contaminants, including hydrogen sulfide, from the sour gas. It's the presence of the sulfur in the oil that makes it "sour." This process produces elemental sulfur. So the amount of oil we can produce is limited by the amount of sour gas we can process.
With the start-up and optimization of the process of sour or raw gas re-injection, oil production is now ramping up to a capacity level of 370,000 barrels per day over the second half of 2017.
Our approach to ramping up production is a sequence of steady and planned steps to build confidence in our equipment, processes, and the reaction of the reservoir, because safety, as always, is our first priority and will not be compromised.
As regards environmental safety around our project, there is a 7-kilometer Sanitary Protection Zone around Bolashak plant, and a network of automated stations on the perimeter and in nearby areas shows no impact on local air quality.
We have reduced our water intake over the last few months as a result of proactive water conservation program. At the end of September will be starting some new facilities that will allow us to increase water recycling up to 60-70%, allowing us to further reduce intake from the important freshwater pipeline for this region. As you know we are operating under very strict environmental rules, including zero discharge of wastewater offshore. At Bolashak we discharge our water only to isolated and lined evaporation ponds that are well within the Sanitary Protection Zone. These do not mix into surface or subsurface waters.
What are the commercial terms under which NCOC sells gas to KazTransGas?
Yes, we have sold a total of about 1.7 billion standard cubic meters of gas into the KazTransGas system since the start of production in 2016.
Have you completed the drilling program?
A total of forty wells have been drilled for this phase of the project. The drilling programme is now complete. We have eight wells on A Island, 12 on D Island, and the rest on the unmanned drilling islands called EPC-2, 3 and 4.