Mendesh Salikhov: About Nurlan Balgimbayev, Privatization of MMG and Nowadays
Oleg Chervinskiy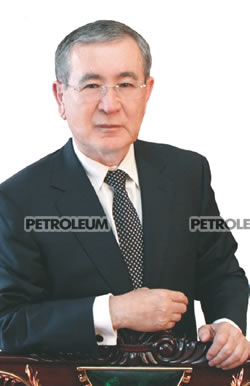 Mendesh Salikhov is a very popular figure in oil circles, and yes, you can say legendary. In the industry, he rose from a production operator to the head of the largest oil company of the country. After resigning from the position of the President and Chairman of Mangistaumunaigas joint-stock company in 1997, he went into private business, created and managed such companies as Oil Insurance Company and CatKaz LLP oilfield service company. In addition to being a great professional, Mendesh Khalelovich is also an individual concerned, having his own opinion on all things and processes taking place in our society. In the interview to the Petroleum journal he talks about events he participated in, and also shares his thoughts on the current state of affairs in the industry.


- Mendesh Khalelovich, you were born in a family of an oilman and after school were enrolled in the famous Moscow Petroleum Institute named after Gubkin. You can say that your life was predestined. And to this day it is linked to oil. Today you do not occupy major positions in the industry, working in a private oilfield service business, and you certainly got your own fresh outside view of the industry All recent years it has, as well as National Company KazMunayGas, ongoing reorganizations, mergers and acquisitions, privatization of certain companies and the creation of new ones. Not it's called "transformation", trendy, but not fully understandable term. What is your diagnosis of this transformation?
- I think that a system with constant reorganizations is a complete mess. And that is what is happening the with oil and gas industry of the country in recent years. I don't think this is done out of ignorance of what the structure of the industry should be. I think everyone knows, long-standing international practice is already established, no need to invent anything. Just set up configuration once and work. And since there is a lot of chaos in the industry, it means someone is beneficial to engage in the reorganization. Something is turned down, thrown away, but something is acquired by someone.
I think that the professionals who know and understand this life should work in the Government And we have a lot of right things declared, but the execution is worthless. The President demands, challenges, but nothing is implemented. Why? Because they do not know how.
If Atyrau and Mangystau are oil regions, then the economy must be built around them, local service companies developed. Not allow there neither Chinese nor the Russians, or anyone else. Lobby your own companies. In the structure of the economy of the developed countries, both USA and Europe, from 70% to 80% is occupied by service companies. Only 25-30% are large producers, chemical plants, engineering plants. But service companies are the main ones.
And we let China in, now it is impossible to compete with them. A huge country with enormous potential stands behind Chinese service companies in the oil industry. For example, Chinese Greatwall drilling company. They named themselves with Kazakh name and say: now we are Kazakhstani company. But try to compete with it! It is necessary to develop domestic small and medium-sized business! Does anyone in the Government understands it?
The President constantly speaks about the need to develop a small business. Each area has its own niche. For example, take Mangystau. Nothing grows there, but if you brings Israeli technology, you can do something using drip irrigation. In the first years of independence Novikov was the Head of the Region, and I was his Deputy. It was his idea. When I went to study in America, he sent a group of people from Mangystau to Israel for training, to adopt practices, but later everything just fell apart. The new Akim entered the office with his new projects, and there is no succession n the implementation of the program of the previous leader. The new one comes and says: he did the wrong thing, and begins to turn around this area. Don't do this! Each region should develop systematically. Once system is created don't touch it!