ExxonMobil's Technical Workshops for Kazakhstani Engineers Builds Expertise, Partnership
To contribute to the development of national technical expertise in Kazakhstan's major Tengiz and Kashagan oil fields – where ExxonMobil has 25-percent and 16.8-percent interests, respectively, ExxonMobil Kazakhstan Inc. (EMKI) has sponsored and organized workshops for engineers and geologists of the state-owned oil and gas company KazMunayGas (KMG) and its subsidiaries for the last four years.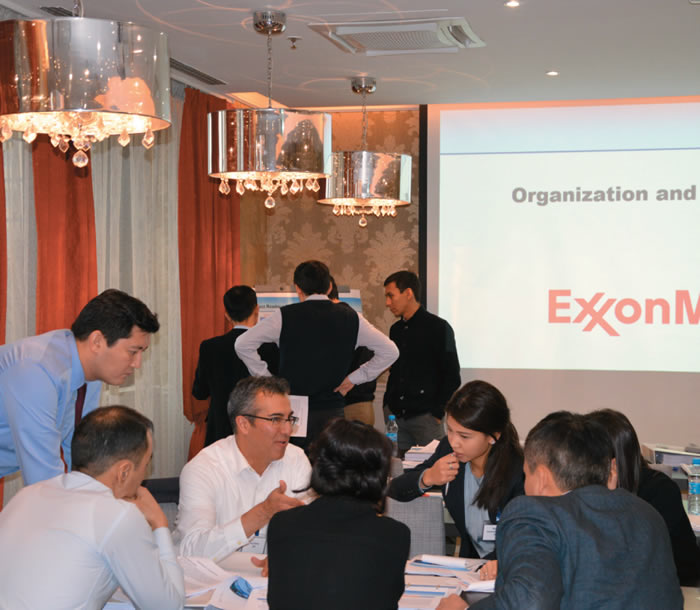 Group exercises. Participants practicing the project management concepts.
These seminars have focused on topics such as reservoir interpretation, with a field trip to a carbonate core storage facility, and on ExxonMobil's experiencein drilling some of the world's longest and most-complex wells. Most recently, ExxonMobil subject-matter experts traveled to Astana to provide a week-long training session on principles of project management for 30 national specialists.
The project management session sought to contribute to the development of project engineers and strengthen local technical capabilities. Another objective was to provide guidance for KMG specialists to leverage proven approaches to project execution; for example, evaluating environmental concerns and regulatory requirements early in the project design and implementation process.
Over the course of five days, ExxonMobil shared industry-leading best practices for consistently delivering complex, integrated projects safely, on time, and on budget. Key topics included:
project management overviews;
development and business planning, optimization and front end engineering design (FEED);
cost and schedule estimating, contracting, detailed design, quality and contract administration;
concepts of leadership and teamwork.
Deputy KMG Vice President Zhanyl Kozhanazar emphasized the importance of incorporating new learnings into future project planning and design and in strengthening KMG's capabilities, especially in light of the development of future projects such as the Tengiz expansion. "ExxonMobil's worldwide experience will help KMG to rethink their approaches and learn how to deliver complex projects at a lower cost," Kozhanazar said.
KMG's project practitioners noted that in addition to sharing expertise, one key learning was to understand project execution specifics and techniques applied by ExxonMobil.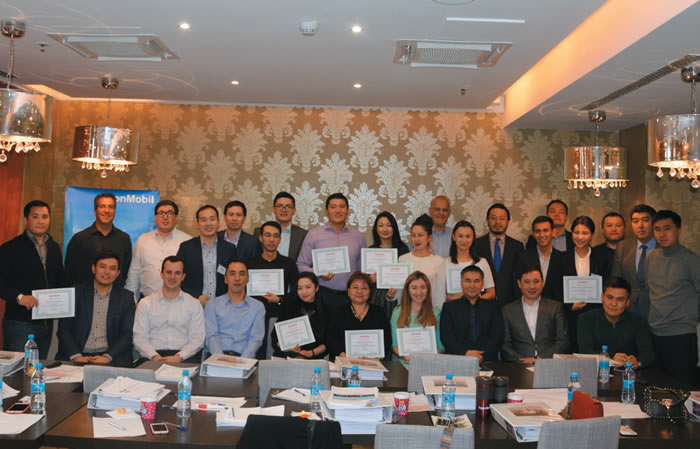 Overall, it was another opportunity for EMKI to reinforce its commitment to Kazakhstan as well as to respond to the government's call for foreign investors to upgrade the qualifications of national technical professionals. More than 100 Kazakhstani employees have received training since the start of EMKI's knowledge-sharing initiative.
"Today's environment requires strong partnerships between foreign investors and host governments to ensure there is an incentive to make significant, sustained investments in the development and deployment of technologies to meet the energy demand challenge," EMKI Lead Country Manager Cheryl Gomez-Smith said. "A partnership that fosters technology sharing, collaboration and ingenuity will sustain complex projects with lifespans of decades. As one of the Republic's biggest investors and long-term partners, ExxonMobil will continue to look for new knowledge-sharing opportunities."