Press releases
First Tengiz Oil: 25 Years On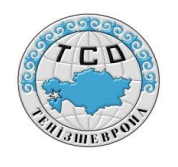 Atyrau, September 2, 2016 – Tengizchevroil (TCO) hosted a ceremony marking the 25th anniversary of Tengiz oil and gas facilities going into operation and the first commercial oil flowing from the Tengiz field. Significantly, this month Atyrau Oblast is celebrating 100 years since the birth of Zholdaskali Dosmukhambetov, a prominent figure in the Kazakhstani oil industry and the discoverer of Tengiz who gave the field its name.
"Among all other geologists who went through all ups and downs of our great land's destiny, the contribution of Zholdaskali Dosmukhambetov, recipient of the Lenin and RoK State Awards, is of special value," said Atyrau Oblast Akim Nurlan Nogayev. On April 6, 1991, the Tengiz gas processing plant handled the first ton of crude from Well T-8 following concerted efforts by the exploration, drilling, construction, field and plant-based teams involved in the development of one of the largest oil deposit.
RoK Minister of Energy Kanat Bozumbayev in his congratulatory address emphasized the contribution of Zholdaskali Dosmukhambetov to the discovery of the unique oilfield which now is one of the world's deepest producing super giant fields. Established on the basis of the Tengiz oil and gas facilities in April 1993, TCO has since been successfully addressing complex technological challenges associated with the development of a deep-seated deposit with unique geological features.
The completed Second Generation Plant and Sour Gas Injection Project (injection of associated gas back into the reservoir) combined to provide a unique setup that has proved the feasibility of a large-scale and safe use of the gas re-injection process in our country. "My father was a focused man of few words with a great sense of responsibility for his people. He showed his talent both as a geologist and initiator of large scale production. The crown of his efforts and expertise was the Tengiz field discovery," Makhambet Dosmukhambetov, the son of the man behind the discovery of Tengiz oil, said in his speech.
Since it was established in 1993, TCO has made a significant contribution to the economic growth of the Republic of Kazakhstan and its formation as a country recognized internationally. Future Growth Project and Wellhead Pressure Management Project (FGP-WPMP) is the next major expansion of Tengiz field production. FGP-WPMP will help to increase production by 12 million tons of oil per year to about 39 million tons of oil per year.
"I would like to express my sincere gratitude to all our colleagues and the veterans who produced the first oil. Their working and living conditions were far from comfortable, but they had a goal and strong desire to achieve it," said TCO General Director Ted Etchison as he welcomed the Tengiz veterans and other guests at the ceremony. "We have covered a long road over the past 25 years, but our journey continues. Tengiz is Kazakhstan's major asset."
As it marks the 25-year milestone in Tengiz commercial operations, TCO is sure that based on its long term collaboration with the Republic of Kazakhstan it will realize the significant potential of Tengiz field for the benefit of future generations. TCO is a Kazakhstani partnership that explores, develops, produces and markets crude oil, LPG, dry gas and sulfur. TCO conducts its operations in accordance with world-class safety and environmental standards.
In April 1993, TCO was formed between the Republic of Kazakhstan and Chevron Corporation. Current partners are: Chevron Overseas Company, 50 percent; KazMunayGas NC JSC, 20 percent; ExxonMobil Kazakhstan Ventures Inc., 25 percent; and LUKARCO B.V., 5 percent.