Press releases » Tengizchevroil LLP
A new school launches in Atyrau to house 624 students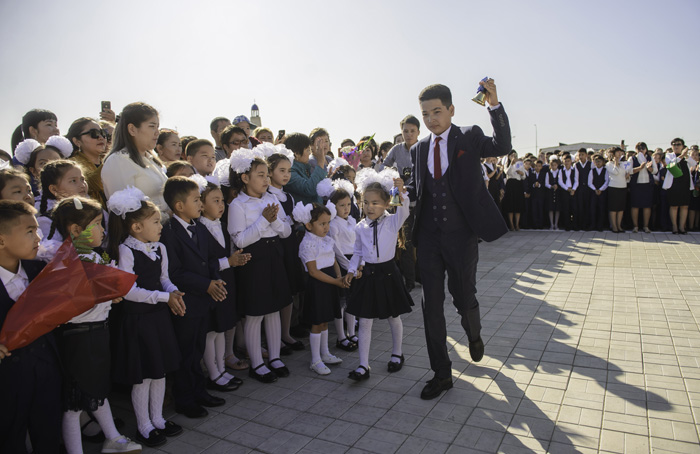 1 Sept 2019, ATYRAU – In the eve of another school year Atyrau celebrates a launch of new school that is able to host 624 students. This is the first secondary education facility ever for city's fast-growing and highly populated Zhuldyz district. Construction of the facility was funded by TENGIZCHEVROIL's Egilik social infrastructures program.
In addition to economic contribution that TCO's operations provide to the nation and oblast, we're delighted to positively influence local community's wellbeing. TCO is a part of this community and we're proud of it. We hope, our cooperation with Atyrau government and community continues in a mutually beneficial way and will lead to establishments of the new facilities that would further fulfil community needs, said Rzabek Artygaliev, TCO's Policy, Government and Public Affairs General Manager.
Opening ceremony was attended by Atyrau city Akim Mr. Alimukhammed Kuttymuratuly, who addressed teachers, students and their parents in his welcome speech. He congratulated everyone with September 1, Knowledge Day, and highlighted TCO's contribution into projects that improved social infrastructure in the region.
Several years TCO funds a number of social infrastructure facilities of high significance for the community. On behalf of local community, I would like to thank TCO for these efforts, he noted in his speech.
The first bell rang in 59 city schools on September 1, he also added.
As it was already mentioned, this school is the first one to open its' doors to the students of Zhuldyz district. Up-to this day, children had to attend schools in nearby villages.
The building of the school is designed to accommodate 25 classrooms. The facility also offers tennis court, basketball and soccer fields, running lane and area for hosting classes outdoors.
Earlier this year TCO donated 50 buses to the city of Atyrau and completed construction of two community centers, kindergarten and sports complex in Zhyloi and Inder districts of Atyrau oblast.
TCO budgets 25 million USD annually for its Egilik voluntary program, which became company's key initiative in its' corporate responsibility portfolio. Egilik is aimed to support projects that improve social infrastructure of Atyrau oblast. There are over 88 projects listed as completed within this program. TCO's social investment contribution since 1993 exceeds 1.8 billion USD.
Tengizchevroil LLP is a Kazakhstani partnership that explores, develops, produces and markets crude oil, LPG, dry gas and sulfur. TCO conducts its operations in accordance with world-class safety and environmental standards. In April 1993, Tengizchevroil was formed between the Republic of Kazakhstan and Chevron Corporation. Current partners are: Chevron, 50 percent; KazMunaiGas NC JSC, 20 percent; ExxonMobil Kazakhstan Ventures Inc., 25 percent and LukArco, 5 percent.
The Future Growth Project-Wellhead Pressure Management Project (FGP-WPMP) are two integrated projects implemented by TCO simultaneously. FGP-WPMP implementation will allow an increase in Tengiz crude oil production capacity by approximately 12 million tonnes per year or 260,000 barrels per day and the overall Tengiz crude oil production capacity will be approximately 39 million tonnes per year or 850,000 barrels per day. While FGP implementation will expand production, WPMP will keep the existing Tengiz plants at full capacity by lowering wellhead pressure and boosting the pressure of the six existing processing trains.