Press releases
Catering, Facility Management and Transportation Forum was hosted in Nur-Sultan city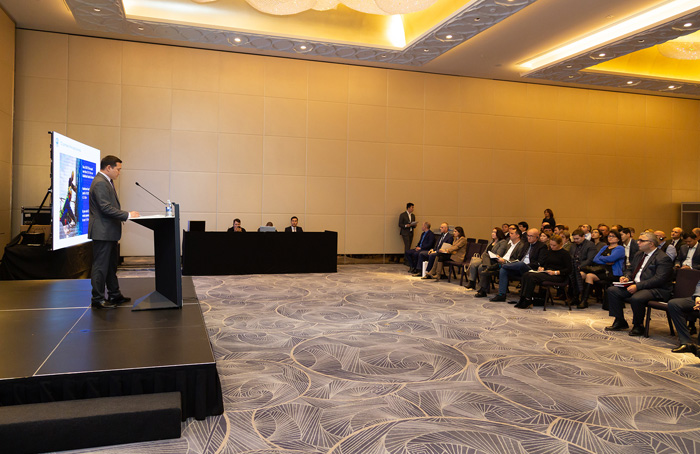 The event was facilitated by Tengizchevroil LLP
October 3, 2019, Nur-Sultan – Approximately 40 companies participated in the Forum that had objectives to study and discuss opportunities of the domestic services market in catering, facility management and transportation. The Forum was hosted by Tengizchevroil LLP.
Service companies registered in TCO's potential suppliers' database and those who were interested in providing such services were invited to the Forum. In addition, RoK Ministry of Industry and Infrastructure Development and "NC "Kazmunaigas" JSC representatives attended the event.
The participants were provided with an overview presentation of TCO's existing and future required services in catering, facility management and transportation at Tengiz field and Atyrau city. According to the speakers, currently ~30 000 meals are served per day in Tengiz field canteens. Besides SanPin standards, GMP, Chevron Food Safety hygiene standards are maintained in Tengiz field canteens.
As described by TCO representatives, there are significant opportunities in facility management are available for potential suppliers. The following requirements for laundry and cleaning services, maintaining of many recreational facilities, facility management and maintenance of service equipment and supply of materials to perform catering and hotel services are available for potential service providers.
Further, the Forum participants learned about requirements in transportation services in Tengiz field. According to the official information, ~270 000 passengers are transported on a monthly basis. Besides passenger transportation services, there are possible requirements for fleet management, vehicle & equipment repair and maintenance, roads and aviation runways snow clearing.
The Forum was concluded by overview presentation describing partnership process with Tengizchevroil LLP. There is SEOI database on TCO external web page available for potential suppliers. Application and registration in this database is free of charge for all the suppliers. After the Forum, the participants and facilitators had opportunity to have a dialogue in B2B sessions and establish contacts for further cooperation.
Tengizchevroil LLP is a Kazakhstani partnership that explores, develops, produces and markets crude oil, LPG, dry gas and sulfur. TCO conducts its operations in accordance with world-class safety and environmental standards. In April 1993, Tengizchevroil was formed between the Republic of Kazakhstan and Chevron Corporation. Current partners are: Chevron, 50 percent; KazMunaiGas NC JSC, 20 percent; ExxonMobil Kazakhstan Ventures Inc., 25 percent and LukArco, 5 percent.
The Future Growth Project-Wellhead Pressure Management Project (FGP-WPMP) are two integrated projects implemented by TCO simultaneously. FGP-WPMP implementation will allow an increase in Tengiz crude oil production capacity by approximately 12 million tonnes per year or 260,000 barrels per day and the overall Tengiz crude oil production capacity will be approximately 39 million tonnes per year or 850,000 barrels per day. While FGP implementation will expand production, WPMP will keep the existing Tengiz plants at full capacity by lowering wellhead pressure and boosting the pressure of the six existing processing trains.