The Oilmen Meet In Atyrau
Regional North-Caspian exhibition Global Oil & Gas Atyrau-2018 leading in West Kazakhstan and construction and interior exhibition AtyrauBuild-2018 were held for 17 times in Atyrau - key industrial center of Kazakhstan.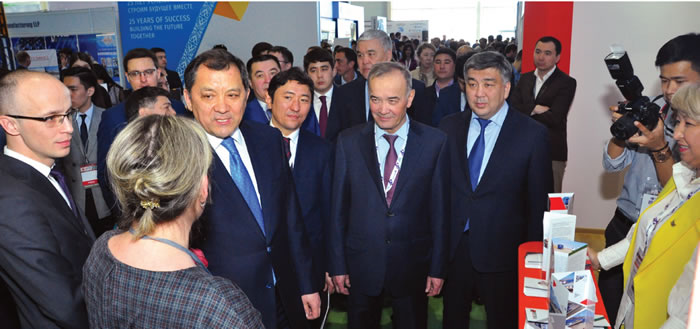 Global Oil & Gas Atyrau is the largest business platform of North Caspian region and a great opportunity for business dialogue of participants from different countries. This year combined exposition of two major events presented 110 companies from 5 countries of the world - Azerbaijan, Great Britain, Kazakhstan, Russia, Turkey and Belarus.
At the official opening of the exhibition,Akim of Atyrau region Nurlan Nogayev, Deputy Energy Minister Bolat Akchulakovand Director of LLP Iteca Yuri Borodikhinmade a welcoming speech.
Traditionally, oil and gas companies took part in Global Oil & Gas Atyrau-2018 exhibition, companies dealing with oil transportation, production and supply of oil and gas equipment, oilfield services companies placed their expositions.
Participants of AtyrauBuild-2018 exhibition presented innovations in construction, interior, road construction, heating and ventilation. Exhibitors were given a unique opportunity to present their exclusive developments and solutions. Visitors of the exhibition got acquainted with such products as prefabricated structures, paint and varnish products, instrumentation, safety systems, air conditioning and ventilation systems, welding equipment, automotive and special equipment.
The area of ​​exhibition hall is 2,5 thousand square meters. The exhibition had been held for three days - from 10 to 12 April. In total, during the work of exhibitions Global Oil & Gas Atyrau 2018 and AtyrauBuild-2018, the event was attended by 1963 people.
Within the framework of the event, at the initiative of JSC "Embamunaygas", with the support of the Ministry of Information and Communications of the Republic of Kazakhstan and the Ministry of Energy of the Republic of Kazakhstan, Forum "Digitalization of Oil Production Process" was held. Delegates were presented with 11 presentations, 8 of them from international experts from Microsoft, IBM, Schlumberger and Rockwell Automation. On discussion platform, perspectives and risks faced by the state and companies in transition to digitalization were discussed. Forum was attended by Vice Minister of Energy B. Akchulakov, international experts, heads of major oil and gas and service companies.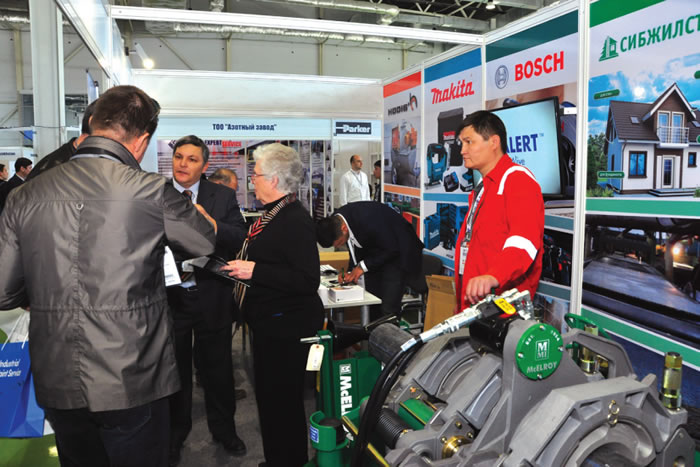 Business part of exhibition program was also saturated. So, from April 10-12, seminars and master-classes took place, touching topical issues of oil and gas and construction. The partner of business program of the exhibition was JSC "Caspian Pipeline Consortium".
Results of activity for 2017 were shared by representatives of NCOC. In particular, speech at the seminar was about oil production at strategically important for economy of Kazakhstan Kashagan field. After commencement of commercial production at the end of 2016, the company quickly reached a stable level of production at 180 thous. barrels of oil per day without serious incidents, with minimum amount of gas flaring and overrun in the field of operational reliability. In the second half of 2017, gas injection began without serious incidents. Operator of Kashagan field intends to gradually increase production to 370,000 barrels per day. Another important achievement of 2017 according to NCOC is halving of freshwater abstraction in "Bolashak" plant as a result of increased water recycling.
At the seminar of JSC "Kazakhstan Pipeline Consortium" exhibitors learned about investments from industrial activities in social and charitable projects in Atyrau region. So, in Atyrau region, from 2000 to 2017, KPC invested about 8 billion tenge in construction and equipping of health care, education, culture and sports facilities, social infrastructure facilities, to support socially unprotected strata of population. In 2018, KPC shareholders approved a budget of $2,301 (over 700 million tenge) for implementation of charitable projects. KPC also supports environmental programs in the amount of KZT 49.6 m.
Informative and relevant for industry was seminar of LLP Algoritmi KZ about united database "Alash". Launched in 2016 on the initiative of the Ministry of Energy of Kazakhstan, united database of suppliers "Alash" successfully works online and has become a unique platform for subsoil users and suppliers. Implementation of this project brought interests of three sides of Kazakhstan oil and gas market - the state, program operators and suppliers.
Seminar block was completed with three-day master-class program from Astana School of Management and Business "The theory of generations: X, Y, Z - instruction on application in human resource management". Teacher of Astana School of Management and Business Saule Moldazhanova shared the secrets of effective management.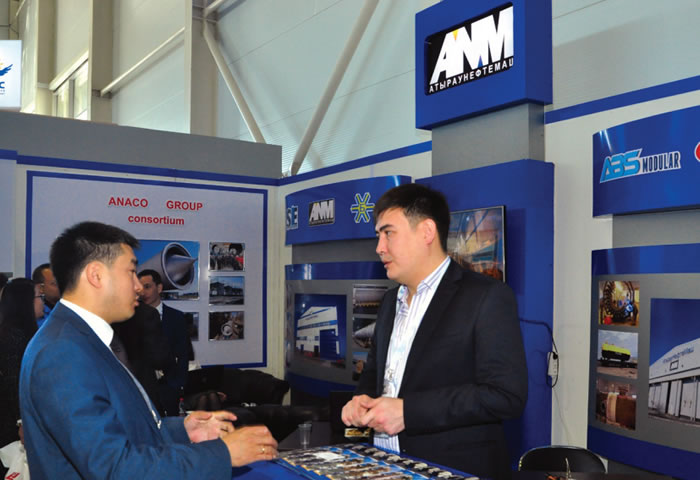 Participants of the exhibition shared their impressions about importance of such events. The one and the other spoke about importance of holding of this exhibition for business development.
Vadim Vysheslavtsev, Commercial Director of NGO "UMAS", RF, Moscow:
- Our company participates in the exhibition in Atyrau for the first time. We presented top models of pressure and temperature measuring instruments. The result is satisfied. Activity of companies is high, there is interest in our products. We got acquainted with several new companies - potential partners. At present, our company is represented by a dealer center in Almaty, but I think that thanks to participation in this exhibition, we will have dealers in Western Kazakhstan.
Nurlan Nurushev, LLP "SpecTechnologies Polymer", Kazakhstan, Almaty:
- Our company presented polyacrylamide at the exhibition, a unique product used in oil production to enhance oil recovery at the field. The product is manufactured by our partner in China, but in the near future we plan to launch joint production in Kazakhstan. The main feature of our product is that our polyacrylamide is pumped into reservoir once every three months. For example, according to the requirements of French manufacturer, polyacrylamide must be pumped into at least once a week. Thus, we offer a product for subsoil users not only effective, but also economical. Participation of our company at the exhibition Global Oil & Gas Atyrau-2018 allowed us to interest large oil companies with our product.
Alexander Donskov, General Director of LLP "AtyrauNefteMash", Kazakhstan, Atyrau:
- Our company produces sophisticated equipment for oil and gas industry. We take part in the exhibition every year. I can say that such events are very useful for business. Almost all of us here already know each other. It's always nice to have someone new. Be it a foreign or joint company. It is not necessary to wait for an instant result from such exhibitions, but certain acquaintances, as a rule, become a good prospect for long-term fruitful cooperation.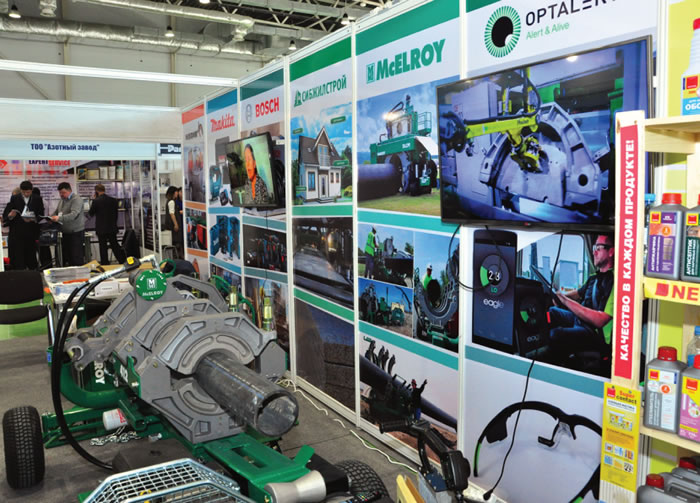 The event was held with annual official support of the Ministry of Energy of the RoK, Akimat of Atyrau region, JSC NC "KazMunayGas", Association KAZENERGY, Union of Service Companies of Kazakhstan KazService. The event was organized by Kazakhstan exhibition company Iteca. Invariable participants of Global Oil & Gas Atyrau - leading Kazakhstan companies such as NCOC, Embamunaygas, KPC-K became gold partners of the exhibition.
General sponsor of Global Oil & Gas Atyrau - Tengizchevroil company – has celebrated its 25th anniversary this year. Since its foundation and including 2017, Tengizchevroil contribution to Kazakhstan economy has exceeded $ 125 billion. For a quarter of a century, Tengizchevroil has become a leader in oil and gas industry in Kazakhstan. Today, the share of crude oil produced by the company at Tengiz and Korolevskoye fields is 34% of total oil produced in the country. In mid-2017, the company stepped over a historic milestone of 3 billion barrels of produced oil.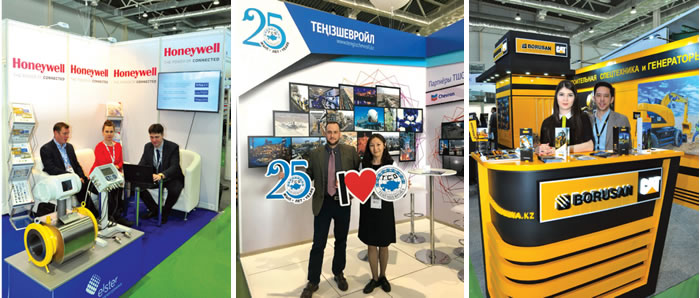 The organizer of the exhibition Global Oil & Gas Atyrau 2018 is Kazakhstan exhibition company Iteca Plc. and its international partner Group of companies ITE (Great Britain)