Future of Tengiz
TCO Future Growth Project - Wellhead Pressure Management Project is the next expansion of the Tengiz oilfield. This is a project of national significance which will make great contribution to the economy of Kazakhstan.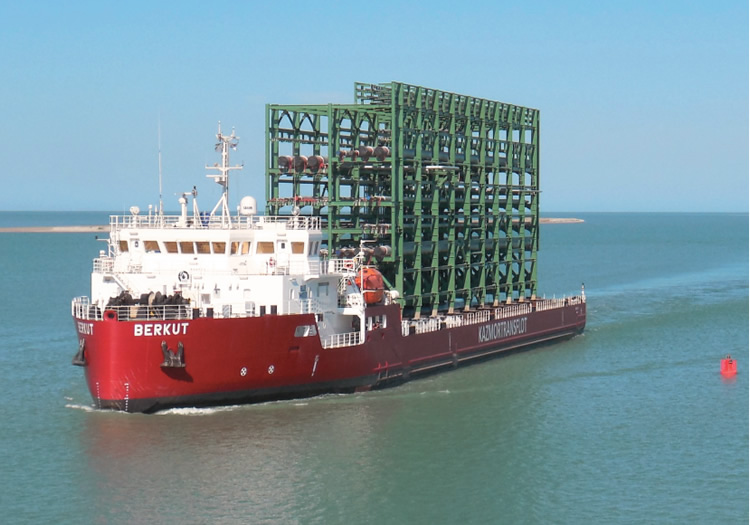 It is expected that FGP-WPMP will increase oil production by about 12 million tons per year increasing the total TCO crude production to about 39 million tons per year.
In 2016 Tengizchevroil Partners announced approval for the Final Investment Decision of FGP-WPMP which became another demonstration of their commitment to further support sustainable growth of TCO production. Kazakhstani Content is an integral part of FGP-WPMP. The Project provides long-term opportunities for local suppliers of goods and services,
creates legacy of new production capacities and promotes formation of joint ventures by local and international companies.
Starting 2013 TCO has hosted a number of forums for construction companies and suppliers to provide a platform for interaction and development of potential partnership relations between local and international companies and to share more detailed Project information.
TCO has engaged Kazakhstani entities to participate in FGP-WPMP in engineering, procurement and fabrication services and has pre-screened over 2,000 Kazakhstani companies to date, with more than 300 being awarded contracts. More than 150 Kazakhstani companies were visited for capabilities assessment. To date more than 40,000 Kazakhstani employees are working in
Kazakhstan, which makes 92% of the total Project personnel in country. FGP-WPMP is a global Project with global impact.
The execution centres are situated in 19 different locations in 11 countries. Project design engineering is being executed in Farnborough, Atyrau, Almaty, New Delhi and Houston.
FGP-WPMP facilities will be built of modules that are fabricated in Kazakhstan, South Korea and Italy. Fabricated modules will be shipped from international fabrication sites to transshipment bases from where they will be further transported through the Russian Inland Waterway System into the Caspian Sea for final delivery to the Cargo Offloading Facility (CaTRo) in Prorva peninsula near the Tengiz oilfield.
From the international fabrication yards, the modules will be shipped to the Transhipment Bases on the Black/ Baltic Sea by chartered heavy vessels. A total of 20 vessels for transportation of modules and pre-assembled racks are under construction in Vietnam and Romania. Also, the tugs specially built for this purpose will be used for transportation of the modules across
the Caspian Sea.
Pre-assembled pipe-racks (PARs) are under erection at ERSAI's fabrication yard in Kazakhstan. The first PAR was successfully loaded-out at ERSAI, loaded-in at CaTRo and delivered to 3GP. Fabrication and supply of Frame 9 Gas Turbine Generator (GTG) modules continues in Avenza, Italy.
The first GTG was successfully loaded out in June. The first pre-assembled units were safely loaded out onto the ocean-going vessel and left DSME's Yard in South Korea bound for Tengiz. This was the first load out carried out from South Korea.
The new Cargo Transportation Route constructed as part of FGP-WPMP is designed for unloading of the modules shipped from the international fabrication yards to Kazakhstan via the Russian Inland Waterway System and their further transportation to Tengiz. From Prorva to Tengiz the modules will travel across new heavy haul road. The Cargo Transportation Route is ready for operations and commenced receiving first cargo.
Infrastructure construction and site execution works are well underway in Tengiz. Significant expansion and modification of the existing gathering system in Tengiz will deliver new production and gas injection multi-well-pads with dedicated metering stations and pipelines. The power distribution infrastructure will link the new and existing power generation facilities and will include substations, overhead lines and switchgear.
The Third Generation Plant (3GP) will include the main processing facilities, Utilities, Power Generation, Sour Water Treatment, Pipe Racks, Flare and Hydrocarbon Drains. It also includes the pressure boost facility to increase the inlet pressure to the existing facilities.
Associated sour gas will be injected back into the reservoir to enhance oil recovery so FGP will not produce sulphur. Third Generation Gas Injection facility (3GI) will include Injection Compressor Islands, associated Utilities and pipe racks. At 3GP the first getting-out-of-ground milestone "Red Route" was completed in June.
The Red Route enables the transportation of the pre-assembled pipe-racks to be placed on their designated foundations in 2018. The Red Route completion is a culmination of many preceding activities, including: temporary facilities, site preparation, piling, underground piping and deep sump installations. At 3GI concrete pours progressing, underground piping installation and in-situ foundations continue.
FGP-WPMP is a landmark project that will create a legacy of trained skilled workforce, new facilities, technology transfer and upgraded infrastructure.