Certain Aspects of the Oilfield Chemistry Use in the Fields of Kazakhstan
Ibrashev Ersin Temirbekovich, analyst, Nuguzhinova Asemkhan Zhmagulovna, analyst, Information and Analytical Center of Oil and Gas JSC
Various recovery methods and bottom-hole zone stimulations, including the thermo-gas-chemical action, are applied in order to increase the current productivity of wells and enhanced oil recovery at the fields of the Republic of Kazakhstan.
According to some estimates, the use of chemical EOR at the fields allows to increase oil recovery on average by 20-40%. For example, in recent years, due to the positive effect of polymers injection, the share of the fields with the use of this technology increased (Fig.1).
An important factor is also the need to improve and maintain the efficiency of equipment and production lines at the oil and gas fields of the country, where various types of oilfield chemistry are used. Corrosion inhibitors, scale inhibitors and demulsifiers are the most widely used in Kazakhstan. Their share is about 37.7% of the total used chemicals.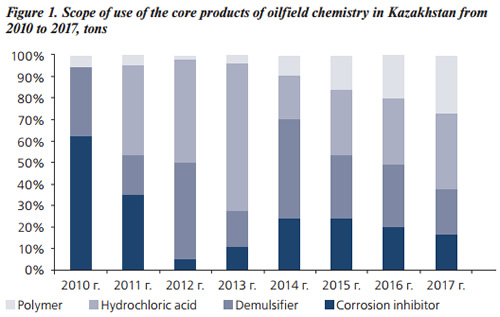 Annual increase of the requirements for the quality of oil leads to higher consumption of the oil-field chemistry. The presence of various impurities, dissolved hydrogen sulfide in oil makes it quite aggressive corrosive environment. For that reason inhibitors are used at all stages of production, refining and storage of oil.
To date, more than 30 corrosion inhibitors are developed. Along with this, the application of anti-corrosion inhibitors does not give the desired effect if there is no well-established water condition monitoring, together with technological and technical measures to reduce corrosive action. The volume of corrosion inhibitor use by oil-producing companies of Kazakhstan ranges from 0.8 thous. to 2.5 thous. tons per year.
Another type of chemistry used by the oil and gas industry of the country - demulsifiers, which are used as chemical reagent required for the destruction of the water-oil mixture. Extent of the use of demulsifiers in the country in the last 5 years in real terms has exceeded 14 thous. tons, with growth of about 3 thous. tons per year.
The largest share among the products of chemistry in the oil and gas industry, however, belongs to hydrochloric acid for the acid treatment to increase well flow rates. Hydrochloric acid accounted for almost 36% of the total application of oilfield chemistry at the fields of the country.
The scope of application and injection of polymers (polymer flooding), as a method to increase oil recovery, significantly increased in recent years. The injection of a polymer solution with required viscosity fills the flushed zone of the reservoir with the subsequent creation of the screen uniformly covering inaccessible areas. Polymers are also used in the treatment of borehole zone of the formation. Since 2013, the volume of the use of polymers in the oil and gas industry increased by 7 times, thus, this type of chemistry in 2017 accounted for 26.4% of the total consumption of chemicals at oil and gas fields of Kazakhstan.