Zangar's Role for Atyrau Youth – a Prominent Role
The name of the Zangar program, means "prominent" in Kazakh and was selected by a vote of local youth. Through life skills development and Science, Technology, Engineering, and Math (STEM) education, the program aims to equip Atyrau youth for success. Zangar is part of Chevron's "Atyrau Youth Development Initiative" and was developed by the International Youth Foundation (IYF) in partnership with the Akimat of Atyrau region.
What role does Zangar play in lives of people of Atyrau? IYF speaks to those involved in the project to celebrate successes and to understand what can be improved in this innovative and interactive program.

From Fab Lab Atyrau – to "My Dream"
The Fab Lab Atyrau is the centerpiece of Zangar's STEM programs. The fabrication laboratory has grown popular among students of local schools, colleges and universities. They all have different reasons for coming to the Fab Lab. Some of them find courses useful for their study or career interests and come to gain specific skills. Others come because they were invited by their friends. Alemkhan Beibitkhanov, a ninth-grade student of secondary school #14, came to the Fab Lab without any particular aim in mind. But, like so many other young people, his Fab Lab experience gave him many new ideas and goals.
From the very beginning he was fascinated by CNC (computer numerical control) machines; he could watch them working for hours. So, the Fab Lab Manager suggested his joining a Capstone course focusing on modelling. Needless to say, Alemkhan was very happy. He liked working with the software and started to produce model after model.
The Capstone program at the Fab Lab includes brainstorming sessions where the students identify local community problems and then the teams work on the solutions. Alemkhan and his team member, Ruslan Satibaldiyev decided to focus on the problem of plastic waste and came up with an idea for equipment to recycle plastic. The project consists of three components: a shredder, an injector and a compressor. The shredder cuts the plastic into small pieces, which get heated and compressed. The compressed plastic is then put into an injector where it is formed into a designed shape.
"Our project is very ambitious, and difficult, as we did not only make equipment, but we set up a whole ecosystem of plastic recycling. We want to make it a trendy thing, an indispensable part of the city lifestyle, where everybody can make their own products out of recycled plastic," said Alemkhan. "We created a 3D model using Fusion 360 software. We also used this software to make simulations on temperature and pressure. A full prototype was printed on the Ultimaker 2+ 3D printer and the laser cutter in the Fab Lab. We also used the soldering station and motors," described the student.
After building the prototype and preparing the portfolio, his team decided to take part in the "Startup Bolashak: Menin Armanym" national business projects competition. "Menin Armanym" means "my dream" in Kazakh. "We had one week to work on our pitch. We were very nervous, because we needed to convey our concept in only 5 minutes. The presentation was modified more than 10 times. After the presentation we felt so relieved, because some of our team members had not slept the night before the competition," explained Alemkhan.
Alemkhan said that they had learned in the Capstone course how to manage stressful situations and to be relaxed during presentations. Eventually the team made it to the national semi-final and all of them have certainly gained significant experience useful for their future endeavors.
Most of the youth who come to the Fab Lab have little idea what it will be like. Eventually, however, apart from developing new STEM-related skills such as coding or creating 3D designs, they also apply their knowledge and solve real life problems. The Fab Lab Atyrau helps students to learn from their own mistakes, and to understand that failure is an inevitable part of learning. This then inspires the students to generate new ideas.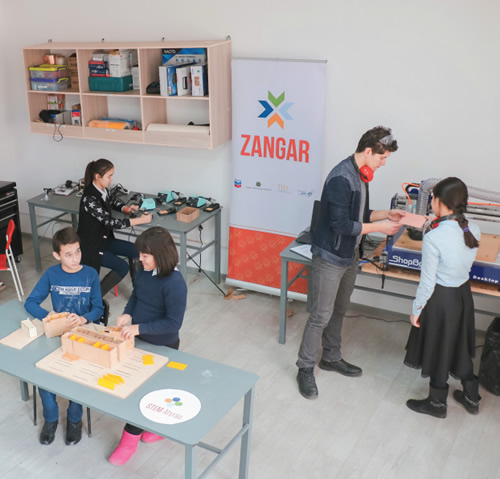 Passport to Success® for Samal
Samal Mukhtarova is a 3rd-year student at APEC Petrotechnic. In November 2015 she took the Passport to Success training (PTS), and she learned from Abay Amirov, who was leading the training, how he had become a PTS trainer.
She remembers how Abay's story made her ask herself questions like "What do I want to do in the future?", "What can I achieve when I'm his age?", and "Will I love my job as much as he does?" The PTS training, which focused on life skills development, became a crucial experience in the start to her professional career. Samal began thinking more about her future and learned how to set clear goals. After completing PTS training, she knew that she wanted to become a part of that community as a trainer-facilitator.
Samal believes that it is important to know exactly what you want to work towards and to set clear goals. In September 2017, Samal received an offer from the British Council to become a trainer on social entrepreneurship as part of the I-SEED Atyrau project, another element of Chevron's "Atyrau Youth Development Initiative". However, she hasn't stopped there. In addition to her training job, Samal teaches students how to play the dombra at the American school.
She has also opened a small business selling gift boxes with sweets called "Sweet Box." The idea came to Samal when she was looking for temporary earnings. A festive season was coming, which meant gift-giving time, and Samal realized that she could make unique presents. She launched her start-up and things began to roll. "This became my business, my baby," says Samal.
Communication skills which Samal had obtained from the PTS training, turned out to be very useful and helped her manage difficult customers. As Samal notes: "Having a business that involves constant work with people, you often face conflict situations. Having no previous experience in this area, I would not have succeeded if I had not taken the PTS."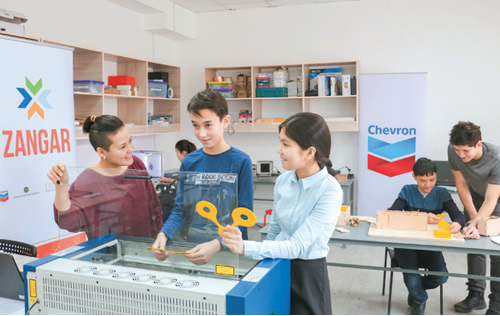 School as a community
Gulmira Mukanova, Director of Nysanbayev secondary school and also a certified PTS trainer and coach, shared the story of her students with special needs. They used to be very reserved and unwilling to interact with other students. As they study in a separate special class, and often face challenges in how they are perceived by other students, they can feel isolated and have lower self-esteem and confidence, as compared to their peers.
However, after participating in PTS, even with just a few days of training, these students started to change. The lessons on personal competencies helped them to become more confident outside of their classroom. Previously, "…they would only speak in front of their own classmates (usually a very small number) and were very shy. During and after the PTS training, we saw tremendous changes", says Gulmira.
Other school teachers also noticed these positive changes. In their classes, these students started expressing their ideas openly. Their parents came to the school and expressed their gratitude, as even their behavior at home changed. The parents said that their children became more responsible at home and would not forget what they had been asked to do. Gulmira says: "I think these positive changes happened because the students started thinking that they can take responsibility and set goals like everyone else. PTS has awakened their interest in life. They've started respecting themselves as well as others. Maybe PTS filled the skills gaps that the students might have developed at home, sometimes missing examples from their parents."
Furthermore, Gulmira thinks that every student, and even every teacher in her school, would benefit from this life skills training. She speculates: "People change in a positive way along with their perspectives. Interactions and relationships between students and teachers also change, and there is more respect for each other. PTS helps you to look at yourself from a different angle and to reflect on many things, which you did not think about before."
Speaking about herself, Gulmira adds: "I myself have changed my view on many things in my life, especially on my work and students. Before PTS, I would consider students only from an academic viewpoint and how they perform at school academically. PTS has totally changed this perspective, because I now look at my students from different angles and I can notice other skills and abilities they have." Gulmira also thinks that students with special needs require constant support and a better integration into the social life of the school. For this reason, she organized a teambuilding activity to connect all other PTS graduates.
Considering the positive impact on her organization and its members, she concludes that "PTS should be incorporated into our schools as a required extra-curricular activity for all high school students."