Van Oord in Kazakhstan
Van Oord in Kazakhstan

In 2017, Van Oord finished local dredging operations on a 72-kilometres long channel in the Caspian Sea. With this milestone, four years of dredging at an extremely remote location were concluded. Van Oord built the new channel to allow for transportation of construction modules to the Tengiz oil field, where new facilities are being erected to increase the production capacity.


Essential oil reserves
Kazakhstan is among the top 15 countries in the world when it comes to essential oil reserves. The country has over 150 oil fields, of which the Tengiz field is one of the largest. It has developed into an important link between Russia, China, and Europe and is reinforcing this position by expanding its oil and gas industry. The new channel is an important part of new infrastructure being created to facilitate this growth.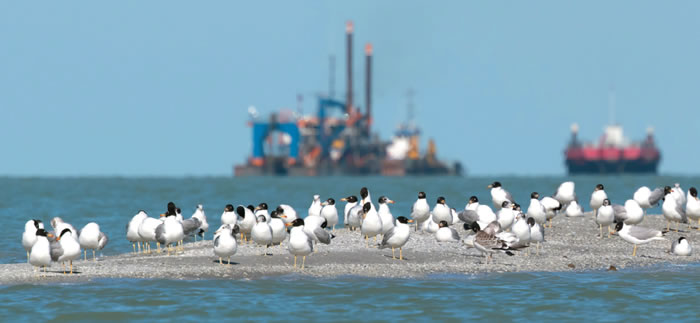 Resourceful measures
The remoteness of the location required resourceful measures during project execution. Due to the harsh winters, dredging was only possible between April and October. Furthermore, the region's limited infrastructure and facilities made logistics unusually complex.
Four cutter suction dredgers have worked in formation to get the job done, assisted by more than 30 support vessels. To allow for in-situ repairs and maintenance of the support vessels, Van Oord designed and built a floating workshop barge complete with ship lift facility, hydraulic crane and on-board workshop.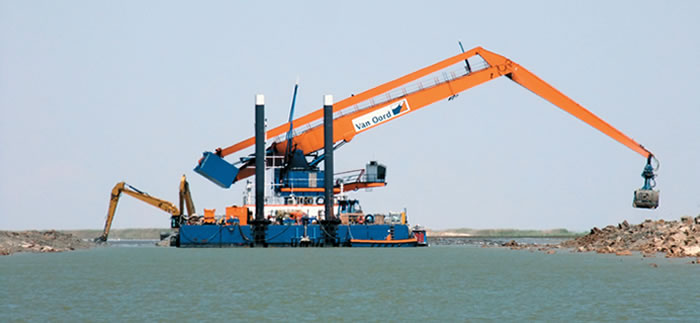 Ural River and the Mangystau
Van Oord deployed two mid-size cutter suction dredgers, the 5,965kW total installed power Noordzee and the 3,583kW total installed power HAM 219. Two smaller types, the Ural River and the Mangystau, both with a total installed power of 2,972kW were ordered for this project in particular. They have been designed to the maximum dimensions that are allowed for transportation on land by truck. Although the stationary cutter suction dredgers are relatively compact when compared to their operational specifications, these is the largest dismountable dredgers in the world.

Dismantling and reassembly on land and afloat
The Ural River and Mangystau have been built following the Damen philosophy, comprising components which are selected according to a high quality/low price ratio, straightforward and high quality with a large variety of options for customising to match the clients operational demands. This basic design allows for capital and maintenance dredging at shallow draughts. The pontoons are fitted with a simple heavy-duty coupling system enabling rapid and straightforward dismantling and reassembly on land and afloat. All elements can be transported by road, rail or sea.
Preserving wildlife
The area where dredging took place is home to various endangered species, such as birds and seals. Van Oord closely cooperated with independent wildlife observers in order to protect the local flora and fauna. In addition, 32 sand deposit sites were created alongside the access channel, 16 of which form islands to which animals are already finding their way to rest and breed.
About Van Oord
Van Oord is a Dutch family-owned company with 150 years of experience as an international marine contractor. The focus is on dredging, oil & gas infrastructure and offshore wind. Its head office is in Rotterdam. Van Oord employs almost 5,000 staff, who worked in 2018 on 190 projects in 46 countries. The fleet consists of more than one hundred vessels. Over the past few decades, Van Oord has carried out various projects in the Caspian region.Since 2005, the company has successfully completed a number of dredging and marine engineering projects in Kazakhstan. The branch office in Aktau guarantees permanent presence in the country.
Marine ingenuity is characteristic of Van Oord. By using innovative, smart and sustainable solutions, it wishes to contribute to a better world for future generations. In 2018, the company celebrated its 150th anniversary and was granted the title 'Royal'.
Founder's mentality
We are a Dutch family-owned company with over 150 years of experience as an international marine contractor. We value open communication with our clients and stakeholders. Our company culture is one of entrepreneurship and engaged employees. We think and act with responsibility and focus on the long term.
Purpose
Our purpose is to create a better world for future generations by delivering Marine ingenuity.
Mission
As a global marine contractor, we are specialised in dredging, oil & gas infrastructure and offshore wind. We work closely and safely with our clients and stakeholders to create innovative and sustainable solutions.
Market drivers
Our purpose and mission have four main drivers. The growing world population needs more space. Maritime transport requires new and improved infrastructure. Climate change demands better coastal protection. The demand for energy is growing and a renewable energy system is essential to provide the energy needed for the future.
Our values
We have defined four values that describe how we achieve our business goals:
We create
We share a passion for entrepreneurship and marine construction. We design and execute innovative maritime solutions based on Marine ingenuity, creating value for our clients. This is our reason for being and it defines our contribution to a prosperous and better society.
We care
As a family-owned business, we care about people. We always maintain high standards of quality, safety and integrity on our projects. We are prepared to take responsibility and we care about creating a sustainable world. Our actions are based on long-term continuity and stewardship.
We work together
Our organisation is professional and dedicated, with a strong focus on working together in teams and with clients to achieve the best results. We are a learning company that constantly strives to improve. We believe that mutual respect is the key to trust and cooperation.
We succeed
We are competitive and we are prepared to challenge each other. We are flexible, and we adapt to new market conditions. We do this by taking responsible risks and by continuously improving our business processes so that our clients get the best value. Our aim is to ensure the long term continuity and growth of our business.