Chevron-Kazakhstan Partnership in Response to Pandemic
As Chevron operates in many parts of the world, we see the effects COVID-19 is having on communities and people. It is creating devastating social, economic and political challenges and affects organizations and businesses worldwide.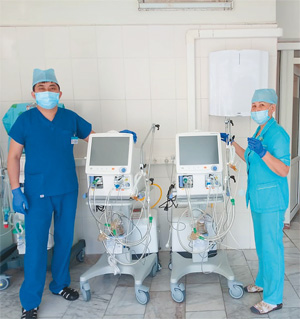 We see partnership as the key to respond to the pandemic. In Kazakhstan, and around the world, we are using our human energy to protect our customers and workforce, help governments and communities, and support healthcare workers on the frontlines.
At Chevron, protecting the health and safety of our global workforce and their families has always been a top priority, especially during times of crisis. In response to the pandemic, we immediately created crisis management and emergency response teams that worked (and continue to work) day and night to take preventive measures against the spread of the virus, protect operational sites and facilities, and ensure business continuity.
Chevron was one of the first international companies in Kazakhstan who offered support to the local and national governments to help control the spread of the virus. On March 31, Chevron donated two Humming Vue mechanical ventilators (Japan) to the Almaty Children Infectious Diseases Hospital. This state-of-the-art technology increases the efficiency of respiratory therapy, is easy to sterilize and does not require subsequent mandatory calibration. Along with the equipment, Chevron ensured trainings for doctors and guaranteed technical maintenance of the equipment.
"He gives twice who gives promptly," says the famous proverb. It expresses the great value of Chevron's timely gift for the Children Infectious Diseases Hospital and for the residents of Kazakhstan's major city closed for strict quarantine. We hope the new ventilators will help save children not only during the pandemic, but also in more quiet times," said Aidan Suleimenova, President of Ayala Charitable Foundation.
To build capacity of Kazakhstani doctors in fighting COVID-19, Chevron provided support to the Kazakhstani Ministry of Health in bringing a group of specialists from China to share experience and help local medical organizations and personnel. The delegation, who arrived in early April, included clinicians, epidemiologists and public health experts, who had been personally involved in anti-epidemic activities and treatments related to COVID-19. The two-week program included visits to medical facilities, seminars and trainings in Nur-Sultan, Karaganda and Almaty.
Our partnership with the Ministry of Health and local medical institutions continued with the delivery of 70,000 high-quality respiratory masks to nurses and doctors dealing with COVID-19 infected patients as well as series of trainings for over 1000 specialists of the newly created hospital in Almaty on diagnostics, treatment and infection control. To implement this important initiative Chevron partnered with the ICAP Medical Center of Columbia University.
The economic impact of the pandemic is significant posing serious threats to society's most vulnerable groups. Knowing that, Chevron implemented number of social projects to support education, small business development and charity. QOLDA (People to People), was initiated by Chevron in Kazakhstan in mid-April to help mitigate the impact of the pandemic through grass-roots response initiatives. Chevron provided funding to existing Non-Governmental Organizations (NGOs) and supported 11 humanitarian assistance activities in Almaty and Nur-Sultan that includes helping medical workers, vulnerable groups and migrants, job creation initiatives and advisory support to micro and nano-businesses.
As part of the project, 19 clinics and medical centers of Kazakhstan received assistance from AqJúrek Initiative which provides healthcare workers during the COVID-19 pandemic with hot meals, food, and personal protective equipment and hygiene items.
There is also the psychological cost of quarantine, with physical and social immobility and restrictions with increased vulnerability. It tested our ability to quickly identify and respond by finding the most effective solutions to these unprecedented challenges.
As part of QOLDA project, the Competence Development Center ITeachMe provided humanitarian, psychological and advisory support to people with disabilities, orphans, single-pensioners and large families. Another initiative - Ambulance For Business - developed 41 individual rehabilitation programs and conducted 185 consultations with subject matter experts who developed recommendations and helped business-owners to preserve their businesses.
Partnerships have also been critical to the pandemic response efforts of Chevron's affiliates. Our joint venture, Tengizchevroil (TCO), has collaborated with local authorities and communities, to mitigate risks by donating critical medical equipment, personal protective supplies, testing facilities and emergency transportation vehicles to support COVID-19 response activities in the Atyrau region. To date the overall cost of TCO contribution exceeded 3 billion tenge.
Furthermore, TCO was the first to respond to the Atyrau governor's call for repatriation of a group of college students, who were left in Karaganda on the way back home from Poland. TCO arranged for two charter flights to transport students back home. Later in April, TCO helped a group of mothers with children with special needs to return Atyrau from Bishkek, after the completion of the treatments in the Kyrgyz hospitals. In July, TCO helped local authorities deliver 2.5 tons of medicines to Atyrau by charter flights.
Chevron believes in the power of humanity to solve any challenge. We care for the communities we operate in, we value partnerships and we ensure the governments and communities benefit from our efforts. We are very proud of our considerable contribution to Kazakhstan's COVID-19 response efforts.