Qualified medical care at the enterprise should be available and timely
In the context of reforming the national health system, employee health protection at enterprises is becoming increasingly relevant.
For more than 30 years, Interteach has been conducting professional medical examinations in Kazakhstan and organizing medical care at its largest enterprises.
In an interview with Petroleum, Saule Dzhundubayeva, DBA, Chairman of the Board of Directors of Kazakh Corporation of Health and Medical Insurance INTERTEACH JSC, shares her opinion on the methods and principles of work on providing medical care at enterprises and plans of the company.
– Why does your company attach great importance to medical care organization at the production and development of medical infrastructure in enterprises?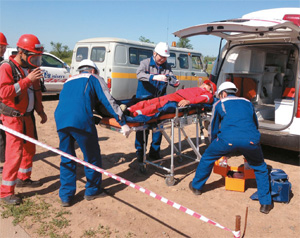 – For many years, Interteach has been following a well-thought-out and large-scale program to provide and develop affordable qualified medical care in the regions of Kazakhstan and to build modern multifunctional clinics.
Special attention is paid to the organization of therapeutic and preventive medical care at enterprises and the opening of small medical centers in remote regions of the country. Due to their work's specifics, people at production facilities in remote areas especially need specialized medical care – they need doctors and well-equipped medical offices.
These facilities are often located in difficult natural and climatic conditions, and harmful working conditions negatively affect employees' health. Aware of the importance of preserving and increasing the country's labor potential, Interteach is actively expanding medical centers' geography in production and remote facilities. To date, there are nearly 30 successfully operating Interteach medical centers throughout Kazakhstan.
More than 30 years, the company provides medical services to companies of different spheres, including the oil and gas, industrial and financial sectors, working towards reducing the incidence of disease at the production.
The development of the medical care system's organization at the production and enterprises contributes to maintaining a safe environment and employees' physical and mental health. Today, there are not so many employers who independently provide medical care in the workplace. These are mainly large enterprises that have enough resources to maintain clinics, medical centers, and staff of specialists. For many businesses maintaining their medical unit for carrying out occupational health examinations and medical care is not profitable, and they turn to Interteach.
– Please tell us what the are the specifics of the work of medical centers?
– The main task of medical centers is to conduct checkups of employees and provide emergency medical care. Employees can use medical services at any time of the day without leaving the field, production, or other work objects. Doctors on duty around the clock provide invaluable assistance in preventing complications from injuries or diseases. Equipping health centers with modern medical equipment and essential medications allows Interteach to provide medical aid at a high level.
Medical services are provided directly at the production, so doctors' qualifications and ability to quickly navigate the situation play a considerable role, and human life often depends on this. When selecting medical personnel, the requirements are very high. Besides, employees of Interteach annually improve their skills at the qualification improvement courses. The standards of our work do not allow other approaches.
Ambulances equipped with resuscitation equipment and prepared for immediate first aid and patient transportation are available at the medical centers. Vehicles are suitable for transportation on challenging roads and operation in mountainous areas.
Doctors conduct a daily pre-shift medical examination of workers engaged in production associated with increased danger. And this fact significantly reduces the risk of accidents due to poor health or illness of employees.
– What types of occupational health examinations do you conduct?
– Preliminary occupational examination. Immediately when a worker is employed, a comprehensive examination is performed to identify potential health problems. This type of examination is called a preliminary occupational examination. It allows determining the suitability of a person to perform a particular kind of work.
Periodic occupational examination. Applicable laws and health regulations determine the regularity of periodic examinations. They are necessary to monitor the employee's health status and track their dynamics if there are diagnosed diseases.
Special occupational examinations. Special occupational examinations of employees are carried out during the epidemics to control infection spread among employees.
Occupational medical examinations are carried out by medical organizations that have qualified specialists, necessary devices, equipment, chemical reagents for carrying out functional, diagnostic, and laboratory tests, and material and technical resources that have a license to carry out medical activities to assess the suitability of the examined for work.
With all the apparent abundance of choice, there are not many medical institutions that can conduct a preliminary or periodic medical examination of a large number of employees in the way that the employer requires – quickly and efficiently.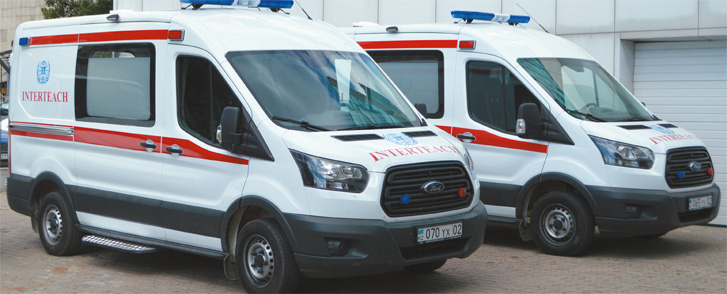 – What are your plans in this field?
– Our goal is the undisputed leadership of Interteach in the Kazakhstani private medicine market in terms of geographical coverage, market share, the introduction of modern medicine achievements, and maximum accessibility for the population. By the organization of medical care at enterprises, we maintain the working-age population's health and reduce the loss of working time spent visiting medical institutions.
We will continue to expand our range of services and offer comprehensive support to experienced doctors. With our help, any company can organize the necessary occupational examinations conveniently and in a comfortable environment for its staff. As a rule, such events are organized and planned in advance.
All the details of the occupational examination, the list of specialists, and diagnostic methods are approved in advance. The high level of services provided and modern technology make it possible to provide the most reliable information about the health status of each employee who has been examined by us. In addition to preliminary and periodic medical examinations of employees performed by our specialists based on contracts concluded with employers, any person, including a foreigner, a student, can pass a medical examination with us and get a certificate required for employment or traveling abroad to study.
REFERENCE:
Interteach Corporation is a domestic and the first company to implement international infrastructure and technological standards of medical care and insurance in Kazakhstan.
Being a pioneer and founder of insurance medicine in Kazakhstan and Central Asia, Kazakh Corporation of Health and Medical Insurance INTERTEACH JSC is the only specialized medical insurance company in Kazakhstan. The date of the foundation is 1989. In 1995, the company received the first license in Kazakhstan to conduct insurance activities (AN No. 0000001).
Interteach Corporation is a company that provides medical care in any region of Kazakhstan, Kyrgyzstan, Turkmenistan, and Uzbekistan. All Interteach clinics were successfully accredited. More than 500 Kazakhstani and foreign companies in various activity fields are our corporate clients and have access to an integrated service system throughout the Republic of Kazakhstan.
The company's infrastructure includes 32 own medical centers throughout Kazakhstan, more than 190 medical teams, 64 own ambulances, more than 2,500 full-time medical personnel, and more than 450 contract medical organizations.
New clinics are being opened in Nur-Sultan, Aktau, and Atyrau:
In Nur-Sultan: Yesil district, Kabanbay Batyr Ave., building 48/6. The area is more than 14,000 sq.m; the number of insured individuals is more than 10,000.
In Atyrau: 48 I. Taimanov Ave, Block K. The area is more than 1,500 sq.m; the number of insured individuals is more than 35,000.
In Aktau: 12 micro-district, 22/1, the number of insured individuals is more than 10,000 people.