We Fully Support Our Customers, Helping to Ensure the Continuity of Business Processes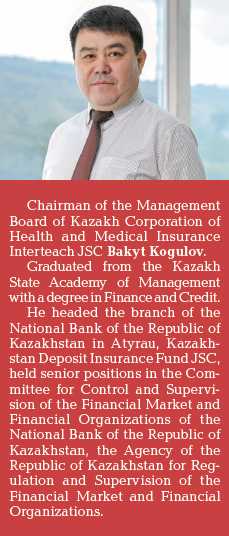 In an interview with Petroleum, Bakyt Kogulov, Chairman of the Management Board of INTERTEACH Corporation, talks about the relevance of voluntary medical insurance in our time, measures aimed at comprehensive customer support, the market situation, forecasts, and plans.
– Mr. Kogulov, voluntary medical insurance (VMI), Interteach being its flagship, was the focus of society and customers' attention during the pandemic. Why is this happening?
– VMI during this period became a kind of marker that answered the question of why you need an insurance company and a VMI policy. Society and employers began to understand that the Compulsory Social Health Insurance is a State program with its own rules and implies mass service. VMI involves an individual approach, a more attentive approach to the client, and high service. And during the pandemic, the relevance of the VMI has especially increased and has shown all its advantages.
– If VMI is so important, how to make the right choice of an insurer that will provide high-quality medical care?
– There are examples of employers looking for cheaper insurance, just to have one for the records. This is used by some unscrupulous companies that do not have sufficient infrastructure, resources, trained and competent personnel, and appropriate equipment. Medical care is not an area where it is worth taking risks. We are talking about the life and health of employees and, of course, about your savings, in which you minimize financial losses from the absence of sick employees in the workplace.
Now is the time when there are new diseases and health threats. The new realities require a more responsible approach on employers' part to choose companies that will provide reliable medical protection to employees.
Interteach has become a pioneer in the field of health insurance in Kazakhstan and uses a high-quality approach to the provision of medical services. Our infrastructure includes 30 own medical centers throughout Kazakhstan, more than 190 medical teams, 64 own ambulances, more than 2,800 full-time medical personnel, and more than 450 subcontract medical organizations.
Within the framework of a family doctor concept, which we have developed, the client and his family are provided with continuous health monitoring, including a complete initial examination, annual testing, medical procedures, and treatment. The insured and their families are serviced in our wide network throughout Kazakhstan. At the same time, we try to maintain loyal prices.
– Your corporate clients for VMI are large oil-producing, industrial, and manufacturing companies. How do you organize medical care at the facilities?
– In addition to providing first aid, preventive health care for employees is essential for us. We pay special attention to the organization of therapeutic and preventive medical care at enterprises where production is located far from populated areas. Large companies turn to us, and we organize medical centers at sites far from the cities. To date, more than 20 Interteach medical centers are successfully functioning throughout Kazakhstan.
Such medical centers provide high-quality and timely medical services to employees of an enterprise, provide emergency medical care, conduct testing, resuscitation measures, and organize a medical evacuation. Interteach accompanies the affected individual from remote production facilities to specialized medical institutions of regional or national significance. The support is provided by qualified doctors who speak Kazakh, Russian, and English.
Our medical centers are supplied with the latest equipment, the complete set of which depends on the customer's wishes. It happens that a company provides only the premises, and we fully equip it. In addition to providing health care in medical centers, we conduct preventive and pre-shift examinations.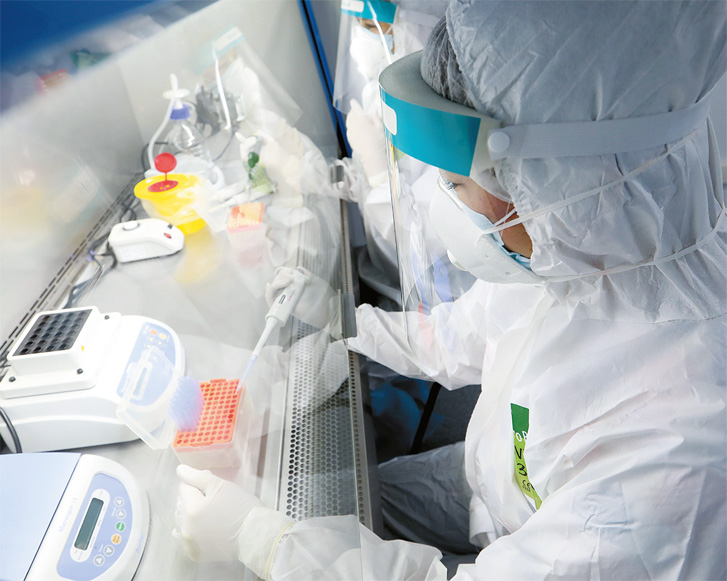 – And what is being done regarding the early detection and prevention of the spread of COVID-19?
All Interteach clinics have the following Covid-19 prevention measures in place:
entrance - only with a mask;
mandatory thermometry and hand disinfection at the entrance;
all employees of the clinics measure the temperature twice a day - in the morning and in the evening;
monitoring of patients' well-being;
free access to antiseptics for treating the hands of patients and staff;
carefully designed equipment for medical personnel, including masks, gloves, goggles, disposable medical caps, and dressing gowns;
daily disinfection of all offices and corridors of clinics, treatment of medical equipment;
disinfection of door handles and bathrooms;
regular ventilation of all clinic premises;
daily quartz treatment according to the schedule
monitoring the distance between patients.
In connection with the pandemic, we have developed a new product: online thermometry, which we use for all companies associated with shift work.
In some medical centers, PCR tests are performed for COVID-19, which are then sent to the laboratory for research. As you know, we have established PCR laboratories in Aksay and Atyrau so that our clients can pass diagnostics and go to work in a timely manner. High-quality PCR testing is a big responsibility, so we choose only reliable tests with reagents that can detect not only the presence of the virus but also its elements.
Telemedicine services, used for remote medical care, consultations and appointments based on the results of tests and diagnostic studies, joint decision-making through consultation of experienced doctors, and staff training and exchange of experience, have become very popular during the pandemic.
We also organize vaccination centers against COVID-19 at the client's request.
In addition, in the pandemic context, we noted a high level of anxiety among customers, so we actively advise, conduct live broadcasts, and answer questions on social networks. We strive to meet our customers' expectations, so we provide comprehensive support during this challenging period.
– What are the forecasts for the development of VMI and the plans of your company?
– During the pandemic, the forecasts for both the international and Kazakhstan markets were quite alarming. Experts of the world's largest brand – the Lloyd's of London syndicate – estimated the global insurance industry's losses at the end of the year at $203 billion.
But I think that the pandemic will encourage the population to pay more attention to their health and start the flow of private customers to the VMI. The pandemic has also clearly demonstrated that disease prevention, regular pre-shift and post-shift medical examinations of employees are more effective and less costly than the treatment of sick employees, whose absence from the workplace affects the results of the entire company.
The insurance market in 2021 will continue to develop according to the guidelines formed in the era of the pandemic. Online services and telemedicine will be developed further. Companies will strengthen their efforts to retain existing customers and attract new ones, creating more comfortable services.
Everything is changing in the world, and we strive to adapt to new conditions. This difficult time is a new challenge for us. Interteach is a specialized medical insurance company, so we feel a special responsibility to our customers. We will continue to improve the service and its quality, increase our market share, develop all types of medical services, the entire range of services in the field of industrial medicine.
Our main goal is to prevent illness and provide timely medical care to employees of our clients, thereby ensuring the continuity of work processes.
Reference:
Interteach Corporation is a domestic and the first company to implement international infrastructure and technological standards of medical care and insurance in Kazakhstan.
Being a pioneer and founder of insurance medicine in Kazakhstan and Central Asia, Interteach Corporation is the only specialized medical insurance company in Kazakhstan. The date of the foundation is 1989. In 1995, the company received the first license in Kazakhstan to conduct insurance activities (AN No. 0000001).
Interteach Corporation provides medical care in any region of Kazakhstan, Kyrgyzstan, Turkmenistan, and Uzbekistan. All Interteach clinics were successfully accredited. More than 500 Kazakhstani and foreign companies in various fields of activity are our corporate clients and have access to an integrated service system throughout the Republic of Kazakhstan.
In December 2020, new Interteach clinics were opened in Nur-Sultan and Atyrau:
Address in Nur-Sultan: Yesil district, Kabanbay Batyr Ave., building 48/6. The area is more than 1,500 sq.m.
In Atyrau: 48 I. Taimanov Ave, Block K. The area is more than 1,700 sq.m.
It is planned to open a new clinic in 2021 in Aktau at the address: 12 mcr. dstr., 22/1.
Assets: 10.27 bln tenge
Capital: 4.93 bln tenge
Revenue: 8.76 bln tenge