TCO's "Green Projects": taking care of our common future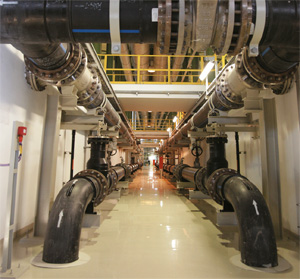 Tengizchevroil LLP (TCO) is the largest oil producer in Kazakhstan. In addition to safe and reliable production, TCO's top priority is to protect the health and safety of our workforce and the environment. In its production activities, TCO constantly sets for itself the higher environmental standards and enforces them. Since 2000, over $3.1 billion has been invested in projects to minimize environmental impact at the Tengiz field, of which $1.5 billion has been allocated to projects to reduce total emissions, including greenhouse gases. All this has allowed TCO to achieve a 71% reduction in total air emissions since 2000. Wastewater treatment has been dramatically improved and water reuse has been increased, moreover, the waste management system allows to dispose waste safely.
TCO's environmental activities are focused on air protection, rational use of water resources, protection of subsoil, land, waste disposal, gardening, environmental education.
Rational consumption of water resources
The western region of Kazakhstan, due to its geographical and climatic conditions, traditionally experiences a shortage in supply of clean fresh water. Supporting projects on rational water usage and water conservation have been one of TCO priorities for many years. Thanks to modern technologies, according to Q3 2021 results, more than 46% of water is reused in Tengiz field.
The wastewater treatment facility (WTF) for treatment of domestic wastewater was put into operation in Tengiz in 2013. Its capacity was increased as a result of a modernization project performed in 2018. Wastewater is collected from almost all areas of deposits and passes through three stages of purification at WTF: pre-treatment, biological treatment and post-treatment.
A pre-treatment process is a stage in which mechanical water purification is performed, during which large and small sand particles, oil and fat are removed. Biological purification is an important stage at which water in bioreactors is purified from biological contamination, including microorganisms, N2 and phosphorus-containing substances. And finally, at the stage of post-treatment, the water is disinfected, bringing it up to the norms and requirements of legally approved standards. At the water reuse plant, commissioned in 2016, secondary treatment of treated wastewater is carried out by reverse osmosis. Thus, TCO receives water of a high degree of purification, which is then used in its operations.
TCO's goals in implementing such projects include preventing an increase in water consumption, while increasing production as well as introducing a culture of careful use of water resources among the TCO workforce, including personnel of contracting organizations and business partners.
Waste recycling
Another example of TCO's commitment to environmental stewardship is the Tengiz Eco Center (TEC) project. This is a modern multifunctional waste management complex, where waste from all TCO production facilities is safely received, distributed and disposed of on an area of 100 ha. The project, which was launched at the beginning of 2000, was based on successful models of waste management facilities in European countries. Consultants from the UK were involved in a design of the TEC, which was put into operation in 2004. Today, about 35 types of waste are processed at the field. TCO continuously studies current waste management methods and monitors the market for new technological solutions in order to maximize waste reuse as efficiently as possible.
TCO's objective is to create value for the Republic of Kazakhstan, its four partners and the communities where we operate. TCO's activities have contributed to Kazakhstan's economic progress through direct financial payments to domestic organizations in the amount of over $158 billion and the investment of over $39.3 billion in local goods, works and services. Over the past 28 years, TCO has contributed to Kazakhstan's rise as one of the largest oil producers in the world and a key player in the global arena, while demonstrating an unwavering commitment to personal and process safety and protecting the environment.