ExxonMobil Participates in the 25th Anniversary of the CPC Shareholders' Agreement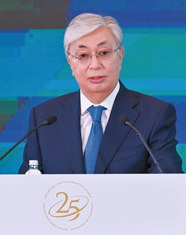 «Without exaggeration, CPC is a mega project. I hope it will be a long-lasting project», says President of the Republic of Kazakhstan, Kassym-Jomart Tokayev speaking at the ceremony commemorating the 25th anniversary of the Shareholders' Agreement of the Caspian Pipeline Consortium (CPC).
Indeed, the scale of the project is undeniable. CPC is the main oil export route for Kazakhstan – the world's largest landlocked country which is also one of the world's largest oil exporters. The pipeline system supplies 80 percent of the country's crude oil to global markets.
CPC is an international project with shareholders consisting of governments of Russia and Kazakhstan and several IOCs.
CPC PIPELINE SYSTEM
The 1,511 km CPC pipeline, which connects the oilfields of west-ern Kazakhstan with Russia's Black Sea coast, is the most economically attractive route for ExxonMobil's share of Tengiz and Kashagan crude.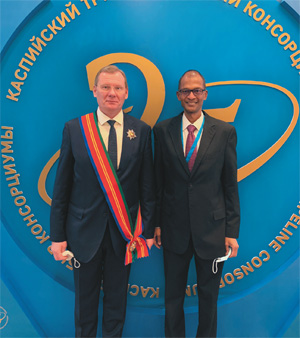 CPC is a pipeline system connecting Kazakhstan with a seaport in Novorossiysk area, where tankers are loaded with oil for the supply to global markets.
Commissioned in 2001, CPC reached its initial throughput capacity of 28.2 million tons of oil a year in 2004. Major expansion in 2018, which was a substantial project in and of itself, increased the throughput capacity to 67 million tons a year, and in May of 2019, the Consortium started the debottlenecking project, which upon completion in 2023 will increase the throughput capacity to 82 million tons of oil a year.
Since startup, CPC has exported over 750 million tons of oil produced in Kazakhstan and Russian oilfields.
«Over 25 years CPC has ensured energy stability through the efforts of a multinational team and delivered exceptional performance in productivity, safety and development of workforce» – says Dinesh Sivasamboo, Managing Director of ExxonMobil Kazakhstan Inc.
In his congratulatory message, ExxonMobil's Chairman and CEO Darren Woods commends the Consortium's outstanding operator capabilities, best in-class uptime performance, and energy efficiencies.
CPC will continue to be one of the pillars of ExxonMobil's presence in Kazakhstan underpinning the long-term partnership that the corporation has built with the Republic, which is celebrating its 30th anniversary of independence this year.