For First Time KPO Received Grand Prix Award at Paryz 2021
Karachaganak Petroleum Operating B.V. was for the first time awarded the Grand Prix at the National Contest of Social Responsibility of Business - Paryz-2021.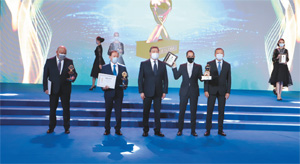 On behalf of the President of the Republic of Kazakhstan Kassym-Jomart Tokayev, the Prime Minister Askar Mamin awarded the Grand Prix to KPO General Director Giancarlo Ruiu during an official ceremony that took place in Nur-Sultan on the eve of the 30th Anniversary of Independence of the Republic of Kazakhstan.
Receiving the Award, KPO General Director, Giancarlo Ruiu, said: "It is a great honour to receive the Grand Prix Paryz on behalf of the whole KPO family and the Karachaganak Partners. This prestigious award is a recognition of KPO role and impact in Kazakhstan's economy and society.
"It imposes a great responsibility on us and this is an excellent incentive for further work. We will continue strengthening cooperation with the authorities of the Republic of Kazakhstan in our common goal to maximize the contribution from the development of the Karachaganak field to the benefit of the Republic of Kazakhstan people, in line with our sustainability goals".
This year KPO was represented at the Paryz Contest in three categories: Best Socially Responsible Company, Best Labour Safety Company and For the Ecological Contribution.
This year's Award is not the only one received by KPO. In 2008 and 2009, the company was awarded a prize for the implementation of the social projects. In 2010, the First President of the Republic of Kazakhstan N. A. Nazarbayev presented the Golden Paryz Award for achieving the Best Social Project to KPO. In 2013, KPO was awarded the Silver Paryz Award for the construction of the school for 1200 pupils in Uralsk.
The Paryz Award is one of the most prestigious in the Republic. It is given to companies for contribution to well-being of communities, active support of social initiatives, environment protection and creation of best working conditions for employees. In the meantime, the top award goes to a nominee who has achieved the most outstanding performance in the area of corporate social and environmental responsibility.