He was called Kashagan Boy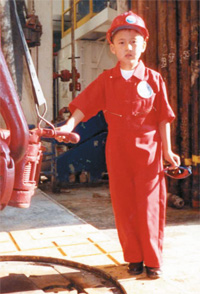 In July 2000, a seven-year-old Atyrau boy Berik Uap participated in the ceremony of a commercial discovery of an oil field on the shelf of the Northern Caspian Sea, in addition to the top officials of the state. His photo made the front pages of newspapers when Nursultan Nazarbayev, scooping up the first Kashagan oil, anointed the boy's cheeks and forehead with it, according to the old tradition. Today, Berik Uap works for the operator company of the North Caspian Consortium. In an interview with the publisher of Petroleum Journal, Oleg Chervinskiy, he tells about that memorable day and how his fate developed in the future.
– On July 4, 2000, a solemn ceremony of the official announcement of the commercial discovery of the unique Kashagan field took place in Atyrau. That day President of Kazakhstan Nursultan Nazarbayev flew to the Sunkar drilling platform. And according to the old oil tradition, he anointed with Kashagan oil not only the cheeks of the head of KazakhOil Nurlan Balgimbayev and mayor of the region Imangali Tasmagambetov but also yours. How do you remember that historic day?
– I remember this day very clearly. This was the first time I saw the open sea, flew by helicopter for the first time, saw Elbasy for the first time. You cannot forget such a day.
I remember well how we prepared. The day before arrival, we were given a special jumpsuit, but an adult size. I remember how my mother was searching across the city for someone who could trim an adult jumpsuit to the size of a seven-year-old boy overnight. The event itself was also held at the highest level. In the morning, my father and I flew by helicopter to the Sunkar drilling barge, from which the first well of Kashagan was drilled. How the helicopter with the President approached and landed on Sunkar. We met him in a special area where wells were tested.
The President arrived and, first of all, opened the oil intake valve. At that time, I was brought to Elbasy by Kenzhebek-aga (Ibrashev), briefly explaining who I am and why I am here. After that, Nursultan Nazarbayev anointed my face with Kashagan oil, saying: "for the future of Kazakhstan." And then I was already next to Elbasy when he was given a tour of the barge. I remember all this well, and I also remembered it more than once after reviewing the video materials.
– One of the factors why the choice fell on you was that you already spoke English fluently at the age of seven. It's not every day you meet such a prodigy. Who taught you the language at such a young age?
– I have learned English since kindergarten, thanks to my mother. She and my father insisted that I learn English from an early age. Since 1994, my father worked in the international oil and gas consortium (first it was KazakhstanKaspiyShelf, then OKIOC, the names changed, but it was always the Kashagan Consortium) and always wanted us to learn a foreign language so that we could easily communicate and draw knowledge from various sources, including English-speaking ones. So after kindergarten and at school, English was introduced from the first grade. And so, I knew the basic words to communicate. That's how I fell under this selection criterion.
– Has your life changed after meeting with the head of state? Maybe teachers at school started giving only good grades?
– Well, yes, among relatives and friends of parents, everyone started talking about this topic and congratulating on such a significant event in life. Sometimes, it happened, compared with historical events when Kanysh-ata(Satpayev) gave parting words to Nurlan-aga (Balgymbayev) when he was still a child. Well, we all know what role Nurlan-aga played in developing the oil and gas industry in Kazakhstan.
I think I realized the importance of this event when I grew up and thought about choosing a profession. In high school, I took a strong interest in the oil and gas industry. I spent a lot of time with my dad to understand the basic skills needed to be taught. My father used to take me to work with him if he went to the office on weekends. At home, he explained about the Caspian Sea, about how the project was being built. He is a surveyor himself and, in many ways, participated in construction projects, and in terms of geology and development, I already learned the details in practice. That's how this event, one might say, changed my life.
– You have graduated from the University of Manchester and have a master's degree from Edinburgh, one of the most prestigious educational institutions in the world in oil and gas specialties. Why did you decide to study there? And how did you manage to get there? Have you been selected for the Bolashak program?
Firstly, the choice fell on universities in England because of the language of studies, English, and proximity to the Netherlands. Why the Netherlands? When I graduated from school, my father was sent on a business trip abroad to the head office of Royal Dutch Shell, where our family spent two years. And my parents wanted me to study not far from them. When I was collecting documents for studying in England, graduates of my lyceum were studying at the University of Manchester. I received good reviews about the university and the bachelor's degree in the oil and gas industry from them.
And I had no doubts about the master's degree since the School of Oil and Gas Engineering at Heriot-Watt University in Edinburgh is highly regarded in the industry. So that's how I chose the country and universities to learn the skills that an oilman needs.
I could not go under the Bolashak program because the Bolashak scholarship was not awarded for bachelor's degree programs in England in the year of my graduation. Therefore, those who applied a year earlier were the last to study for a bachelor's degree in England. But I was lucky enough to study under a grant, thanks to the sponsorship of the Atyrau regional administration. The year I graduated, the regional administration, together with the oil and gas companies of the region, began to sponsor students' education abroad—a kind of mini-Bolashak. I studied under such a sponsorship program for five years in the UK and returned to Kazakhstan at the end of 2015 with a master's degree in Oil and Gas Engineering.
It is worth noting that in the last years of studies, NCOC (the operator of the Kashagan oil and gas production consortium) was also among the companies that sponsored education under this program. So, it is safe to say that Kashagan played an essential role in my professional training.
– I know that you met with Nursultan Nazarbayev several more times. Tell us more about these meetings.
– After the events of 2000 on the Sunkar barge, I was lucky enough to meet with Elbasy two more times. And both of these times were connected with the Kashagan field. In 2013, the President participated in opening the Bolashak plant, which was being built to prepare Kashagan oil for export. He arrived there with the then British Prime Minister David Cameron. I was also invited to participate in this ceremony, and that's when I managed to meet with Elbasy again.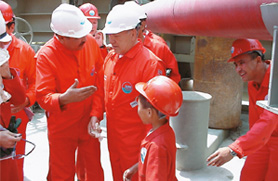 Then Nursultan Nazarbayev asked how I was doing and what I was doing. When I told him that I was studying oil and gas engineering in the UK, he was delighted and introduced me to Mr. Cameron. Then it was a good coincidence that Elbasy, having introduced me to Mr. Cameron, said that I was studying in his country and planned to return to Kazakhstan and work at this field.
The third meeting with Elbasy was already at an official event dedicated to the start of commercial production at Kashagan. It was in 2016. At the beginning of that year, I was already hired by NCOC. Then Elbasy once again recalled the event at Sunkar and gave me parting words already as to an Engineer who works at Kashagan. I was proud to inform the President that I started my career in Kashagan and still work here.
– How did you get a job at NCOC? How did your career develop there?
– I got into the NCOC by general selection. After studying, I submitted my resume to many oil companies in Atyrau, including NCOC. In 2016, several vacancies opened up in the company, and I was invited to an interview for the position of Technical Data Engineer in the Technical Data Management Department. After successfully passing the interview, I was invited to this position, where I worked for two years on implementing systems and software necessary for the management of wells and reservoirs at Kashagan.
After that, I transferred to the Field Development Department, where I still work. Now the scope of my activity includes work on monitoring wells and the Kashagan formation through various engineering analyses and tests. I can confidently say that my career at NCOC is progressing very well, and I am thrilled with what I am doing and the opportunities that NCOC gives me for my development.
– Kashagan played, without exaggeration, a decisive role in your fate. You have even secured the title of Kashagan boy. Now, after years, how would you characterize the role of Kashagan in your destiny and the fate of the country?
- Indeed, Kashagan played a vital role in my fate. Thanks to this oilfield and the events in my life, I have chosen my life path. And working in the Kashagan operator company gives me great opportunities to grow as a technical specialist and person.
Kashagan also plays a high role in the country's fate, as this field currently accounts for about 20 percent of the country's production and has excellent growth potential. As one of the former NCOC leaders, Mr. Richard Howe, said, Kashagan is a unique field where our children and our children's children can work in the future. I think Kashagan will be one of the primary sources of income for the state and allow the development of other essential industries in our country.
– How do you see your future? Maybe over time, you will switch to another project? Will you go abroad to gain experience? Or do you want to work as a manager, for example, in the ministry or a national company?
– At the moment, everything suits me in the North Caspian Project. I'm very interested in what I'm doing here. Since we started production relatively recently, this allows us to face and solve engineering problems that occur in the early stages of production. This is an excellent school for me to develop myself as an engineer.
As I have already noted, Kashagan is a unique field, and the solutions applied here are international-level solutions. All the tools that we use here comply with international standards of the oil and gas industry. Because of these advantages, I think I'm in the right place at the right time right now.
And yet, a piece of Kashagan's history will always be with me, and I think it will be difficult, if necessary, to leave this project. And about the last question, as they say: "A soldier who doesn't want to be a general is a bad soldier." The dream is always to be responsible for the development of Kashagan and the country's oil and gas industry in the future. Well, we all know the formula too, that for this we need to develop ourselves both from the technical side and a personal point of view. I think this is the only way I will be ready for the challenges that await me in the future.
– What would you wish your compatriots on the eve of the 30th anniversary of Independence of the Republic of Kazakhstan?
- Taking this opportunity, I congratulate the whole of Kazakhstan on the 30th anniversary of the Independence of our country. I wish our country to continue developing. I wish peace and unity of people to flourish in our country for the sake of a bright future in Kazakhstan. I wish happiness, mutual understanding, and well-being in the family of every citizen of Kazakhstan!
October 2021