Energy security cooperation between the EU and Kazakhstan
Ambassador Aurélia Bouchez, Head of the European Union's Delegation to Kazakhstan and Turkmenistan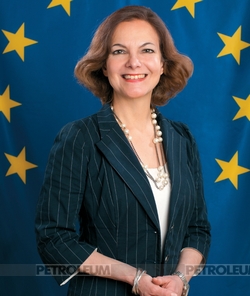 The European Union highly values its dynamically developing partnership with Kazakhstan, which is a strategic EU energy partner in the region. Over the years wehave made solid progress, mutually benefiting from the EU-Kazakhstan Memorandum of Understanding on Co-operation in the field of Energy, discussions on energy in the part-nership and co-operation framework, a series of EU-Kazakhstan nuclear co-operation agreements, energy assistance projects, including the INOGATE programme, as well as co-operation in the areas of clean coal, energy efficiency, and renewables.
Moreover, the ongoing negotiations for an Enhanced Partnership and Cooperation Agreement will also open further opportunities to enhance our co-operation, including energy sector. At the outset, I think it is important to recall that the EU is the single biggest investor in Kazakhstan, accounting for more than half of the country's total foreign direct investment.
EU companies have also been at the forefront, working side-byside with their Kazakhstani counterparts to develop Kazakhstan's resources, including of course in the Caspian. This has enabled the use and transfer of unique skills, expertise and technological innovation. Against this background, we welcome this opportunity to focus on the importance of addressing Caspian offshore issues, which play a critical role in addressing today's energy security challenges. I would like to highlight three important messages.
First – we approach issues related to the development of energy resources in the Caspian and wider Central Asian region with the firm belief that it is in the energy security interests of all to promote the diversification of export routes. Alternative export routes widen market opportunities and enhance one's ability to obtain internationally competitive prices.
In the same spirit, we have a strong mutual interest to maintain and cultivate a favourable investment climate, as well as to ensure a stable and predictable framework for energy supply flows. The European Union has put a major focus on the establishment of a Southern Corridor to bring Caspian, Central Asian and Middle East gas resources to Europe. This would enhance the EU's energy security via new routes and it would allow producer countries to access an attractive EU market.