Why China? Companies from the Celestial Empire continue to press competitors on the market of equipment and service
Alexander Zagribelny, specially for Petroleum
WINDOW TO EUROPE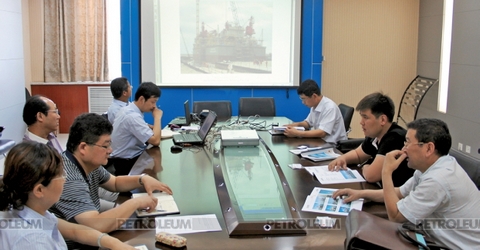 The presentation in BOMCO
The wind blowing through the mountain pipe of the Dzungarian Gates during the winter overthrows railway rolling stocks. The snow covers customs facilities up to the roofs. Beyond the range of the Tien Shan Mountains lies a vast country China. A tenuous thread – the Silk Road – hasn't been torn in two thousand years. The Great Road is gaining ground once again – now by means of concrete and asphalt of the transcontinental highway "Western China – Western Europe".
The Chinese themselves have long ago constructed a highway from the Pacific Ocean across the country to the Kazakhstan's border, invested into the Central Asian segment and now are eagerly anticipating their neighbors to sit up and complete their own segment of the joint "window to Europe".
The goods of the Celestial Empire are rushed out to the foreign market. According to the economists' estimates transit times can be shortened by 15 days after the highway is put into operation. Time is a key factor. Goods are coming here.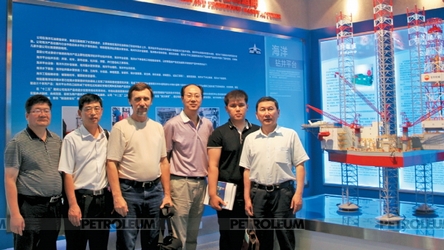 BOMCO's managers are proud of their plant
Oil and gas are going there. Pipelines from Kazakhstan and Russia have been constructed before the road, and it is natural – fuel and energy resources are supported by the growth in production. In return, multi-billion loans are given which sooner or later will have to be returned – by resources, lands, loyalty to the Chinese policy. The Chinese are implementing such exchange with an eye for everything lying sideways.
THE QUITE CHINESE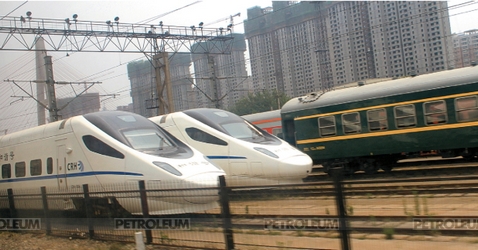 High speed trains
After we tasted the Beijing Duck as intended in Beijing, we arrived in Dongying – a small provincial town with one and a half million population (like in Almaty). Dongying is located on the banks of the Huanghe River Delta (the Yellow River). It could be called a capital of the second in size oil-producing region of China. Hundred thousands of our fellow citizens have been to China and have a sufficient idea of this country. As to me I tried to find out why Chinese companies press their European and American competitors on the market of oil and gas equipment and service. Even more so I was inside the process of contract gestation between the Kazakhstani service company Zhanros Drilling LLP and Chinese company Dongying Jianxin Petroleum Equipment Co., Ltd.(DJPE), in this trip acting both as journalist and project coordinator.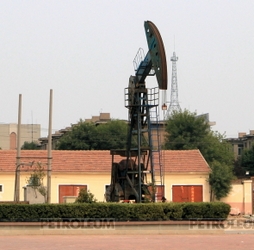 Pump-jack in the city
There are far less cars in Dongying than in our southern capital, there are no traffic jams. Bicycles are moving noiselessly, and silently rustle electro-driven motor cycles and three-wheeler scooters. But these are not frantically roaring at traffic lights petrol-engine scooters of Rome or powerful "Harleys" of California. Local ones almost all have the same speed – 40-50 km per hour. In big cities and small towns their number equals to the number of cars.
PUMP JACKS IN THE YARD
To my mind, no one has ever written how they produce oil here. And now image: right in the center of Almaty, instead of gas stations, there would be oil pump jacks nodding their "horseheads". Once knowing person imagines multi-storey residential buildings, let alone Almaty city, close to the pump jacks and submersible pumps, even not at Tengiz with its hydrogen sulfide, but let's say at southern quiet Kumkol production field in Kyzylorda, he will understand the whole absurdity of this picture. Due to many reasons.
First of all, from the earliest times we deal with pollution of oil producing territories up to their totally uninhabitable condition. People working and living there suffer from high blood pressure caused by the polluted atmosphere. Here for us it is considered industrial zone, and no one would come up with an idea to erect anything but shift camps, and then as far as possible from the producing wells. And well servicing and workover operations! How many equipment, pipes and chemicals are delivered there…
And all those possible lines breaching and accidental discharges of oil and gas! The most unexpected was that oil in Dongying is actually produced right in the center of the city on the spot of residential blocks, and oil pipelines are laid along the busy streets. Everything looks very natural and seemingly simple. And no burning flares to be seen around. It is also very tidy and clean inside the houses. From either way Dongying is an educative example of complying to the ecological norms while oil production and common citizens co-exist in a polis with one and a half million population.
A surprising symbiosis which I have never met in any other country. One of the largest Chinese Universities, which prepares oilfield workers, is located in Dongying. Many Kazakhstani citizens study here. Students from Kyzylorda also come here directed by PetroKazakhstan Company. What an invaluable experience for implementation the graduates can bring home!