High Quality Guaranteed by Chevron
Yelena Sokolova, Atyrau
In April 2003, Chevron Corpora- tion launched the Atyrau Poly- ethylene Pipe Plant (APPP) with a total investment of US $24 million. Today, the high tech manufactur- ing facilities of APPP are unique not only in Kazakhstan but also the CIS.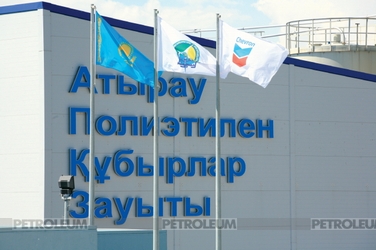 APPP products meet high quality standards and compete suc- cessfully in the world market. The plant has introduced new products, developed sophisticated technolo- gy and continuously upgraded their manufacturing facilities. The staff of the plant is comprised entirely of Kazakhstani employees. APPP manufactures high quality polyethylene pipes (PE) comparable in design and properties to products manufactured in Western Europe and the United States. The manu- facturing equipment was purchased from such proven producers as Bat- tenfild-Cincinnati GmbH (Austria), Motan GmbH (Germany), MAIN- TOOLS GmbH & Co.KG (Germany), and McElroy Manufacturing (USA).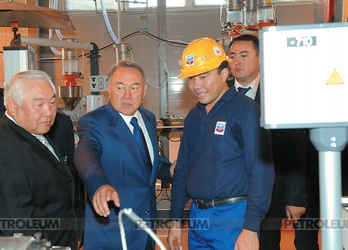 The President Nazarbayev is visiting the plant
All of the equipment has micro- processor controls and process monitoring devices. The products are manufactured using PE100 low pressure, high density polyethylene. Feedstock (PE granules) are sup- plied by west European suppliers including Borealis, LyondellBasell and Dow Europe GmbH. The plant has seven operating extrusion lines and a section for welded parts manufacture that pro- duces bend and straight tee prod- ucts. Annually the plant produces approximately 20,000 tons of PE pipes with diameters from 25 to 1200 mm. It also produces 3,500 welded bend and straight tee pipes with diameters from 110 to 630 mm for use in water supply, sewage and drainage systems. APPP employees proudly note that the amount of pipe they have manufactured to date could round the globe two times.
EXPANDING MANUFACTURING
As a result of the successful oper- ation of the plant, APPP is build- ing on its achievements, growing its capacity and implementing new technology. Recently, the plant introduced a new product made of heat resistant polyethylene for use in hot water supply, heating, and high temperature and chemically polluted industrial wastewater. Chevron Thermo pipe is an innova- tive solution for the utilities industry, particularly in heating and industrial hot corrosive wastewater transpor- tation systems.
The pipes success- fully replace the outdated steel pipes which are susceptible to fast wear and corrosion. The service life of Chevron-Thermo could reach 50 years and it is 5-10 times longer than its steel analogues. Manufactured pipes range from 12 to 630 mm, and withstand temperatures up to 110°C and pressure up to 10 atmospheres.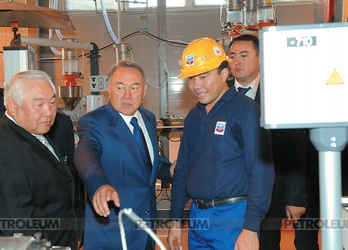 The President Nazarbayev is visiting the plant
The pipes are connected using a nor- mal welding unit for PE pipes making its assembly easy and fast. Chevron continues implementa- tion of state-of-the-art technology and manufacture of new products that are in demand in the current market. In 2011, APPP started a new manufacturing workshop with the latest extrusion equipment to make five-layer, metal-plastic pipe called PERT-AL-PERT. The metal-plastic pipe is a solid, ultrasonic welded, aluminum pipe protected inside and outside by a layer of heat resistant, polyethylene PERT.
The pipes are 12 to 40 mm in diameter. They meet all requirements for water supply sys- tems that operate up to 95 degrees Celsius and pressures up to 10 atmo- spheres. The plant expansion made Chevron the first and only manufac- turer in Kazakhstan that produces metal-plastic pipes for water supply systems, radiators and floor heating. The inner protective layer on the pipe reduces the number of seams when compared to a normal metal pipe.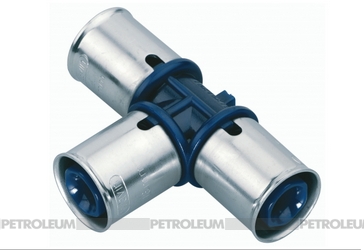 The lining also prevents rust- ing and calcification on the inner pipe surface. The outer layer pro- tects the PE pipe from external impact and insulates the metal from moisture condensates. A layer of aluminum, the key feature of the metal-plastic pipes, allows opera- tion without compensators and increases the distance between sup- ports during assembly.
The high flexibility of the pipe and stability of the applied shape minimizes the use of connectors. Pipes are delivered to the assembly area in compact reels and in various size sections which also minimizes the need for pipe cutting. Ten times less time is required to install the entire metal-plastic pipe system in a home compared with traditional steel or metal pipe systems. The metal plastic pipes have a service life of 50 years and provide energy savings of up to 30 percent in heat- ing and hot water supply systems.