BG Energy Challenge – Supporting Challenged Children Together
It feels like a fiction movie, some sort of fusion between Dis- covery channel shows and sitcoms. See yourself…

At a beautiful setting of Zeren Lake people look for something with a compass and GPS, build complex structures on the water and pump "oil" using locally available resource materials; others disguised as fruits and vegetables run somewhere and later on all line up for a flashmob to perform a ritual dance in the best comedy traditions; carefully but steadily they cross over rope bridg- es, do Sudoku, solve Pentago or ride bicycles for all they are worth.
Next day the same people go down the lake, get on rubber tyres and row sliding over the water, or as most desperate ones dive and swim to their targets. What is going on is not film shoot- ing but something more interesting and exciting. It has become a tradition that every year at the end of August Kokshetau National Park hosts sports and charity event "BG Energy Chal- lenge-Kazakhstan" organized by BG Kazakhstan. On 30-31 August 2012 it has been the seventh event since 2006 when BG Energy Challenge first ran in Kazakhstan.
BG Energy Challenge-Kazakhstan is an exciting team-building event that provides opportunity to people work- ing in an oil and gas sector to meet up and strengthen contacts. It is an annual event which unites companies to raise substantial funds for charity.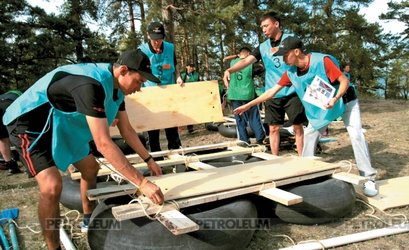 The BG Energy Challenge 2012 – Kazakhstan has raised about KZT 16 million for the society of children with special needs. This money will be used to create social adaptation centres in Atyrau, Aktau and Uralsk. Thirty teams representing com- panies that operate in the energy sector of Kazakhstan contributed to the two-day event. For the seventh time over 150 participants from such majors as Agip KCO, Agip Karacha- ganak, JSC "Kazmunaigas" NC",
BG Kazakhstan, NCOC, Litasco, Wor- leyParsons, Shell, Karachaganak Petroleum Operating, Total, KEGOC, Mubadala, JSC "PSN KazStroy", Cas- pian Pipeline Consortium, Invensys, NCPOC, Det Norske Veritas, law firm Grata and KaR-Tel with Beeline Business trade mark got together to demonstrate their best team skills and collect significant funds for char- ity.