Hempel's HS Gas Pipe Coating 87831. Speeding up the flow of gas to consumers
REDUCING FRICTION to speed up the flow of natural gas is an important aspect of modern pipeline systems, and HEMPEL'S HS GAS PIPE COATING 87831 was designed to meet just that need. This so-called "flow coat" is a rising star in Hem- pel's range of pipeline coatings. It is a modified version of its very success- ful predecessor, HEMPEL'S HS GAS PIPE COATING 87830.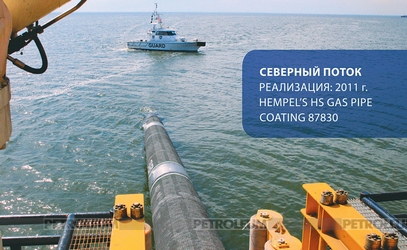 Drawing on its long experience of the predecessor product, Hem- pel has made adjustments to extend shelf life. Now HEMPEL'S HS GAS PIPE COATING 87831 enables quick application and reduced wear on spray gun nozzles, which are also easier to clean. The coating itself is also easy to clean, with a glossy, smooth appearance, and provides long-term corrosion protection. It also has very good application prop- erties and excellent adhesion to steel.
HEMPEL'S HS GAS PIPE COAT- ING 87831 is a two-component epoxy polyamine cured coating formulated in accordance with the American Petroleum Institute's RP 5L2 standard. It has passed all rel- evant tests for DIN EN 10 201:2003, ISO 15741:2001 and TRANSCO CM2 certification.
When used as a one- coat system, it features low VOCs (155 g/l), high solids (82%), and is fast-drying. Hempel offers a range of solu- tions for protecting pipelines of all sorts. In addition to flow coatings, these include external coatings for new and existing pipelines, chemi- cal-resistant coatings for the interior of gas and oil pipelines, and inter- nal/external coatings for potable water pipelines.
NORD STREAM 1 PIPELINE NEARING COMPLETION In late 2011, the longest subsea pipeline in the world will begin sup- plying natural gas from Western Siberia to households and firms in the European Union.
Hempel is pleased to be providing inter- nal coatings for parts of this Nord Stream pipeline and related pipe- lines. This so-called "flow coat" (HEMPEL'S HS GAS PIPE COAT- ING 87830) will serve to speed the flow of gas, thus allowing it to be trans ported more efficiently over the long distance. Construction of the subsea pipe- line began in spring 2010.