A Strategy of Growth at Dunga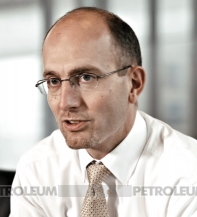 While specialists and mass-media are riveted by megaprojects such as Каshagan and Каrachaganak, small producing companies in the west of Kazakhstan have been increasing their potential in recent years, making competent investments and building their businesses. One such company is Maersk Oil Kazakhstan GmbH, branch of Danish Maersk Oil, which on December 1 will start commercial oil production from Phase II at the Dunga field near Аktau. Моrten Kelstrup, Managing Director of Maersk Oil Kazakhstan GmbH, shares the company's components of success with Petroleum.
-Mr.Kelstrup, could you, please tell our readers about the current activities in the Dunga field?
- The Dunga project is the basis for our company's business in Kazakhstan. At the same time, it is an important part of the global business of our parent company, Maersk Oil of Denmark. The company is planning to achieve an equity production level of 400,000 barrels of oil equivalent per day by 2020 with the share of Dunga in this volume comprising no less than 10%. Currently, we are producing 7,000 barrels of oil per dayfrom 19 wells at the Dunga field.In 2-3 years' time this production figure will more than treble. At present Dunga Phase II is ongoing, and on December 1 commercial production from the development will commence.
-What is the total amount of investments made into this project?
- The total amount of investments made into the Dunga Phase IIdevelopment is around $1 billion. In order to reach a set target to produce up to 40,000 barrels per day, we will have to invest more. On a global scale, Maersk Oil plans to invest from $3 billion to $5 billion per year in the coming years. We are a small fishin a big pond so far, our goal is to grow to a size of a middle-sized fish in Kazakhstan.
-A trump card of any investor, along with money, is technologies. What newest technologies are applied by the company in Kazakhstan among those applied by it in other countries?
- We have inherited this field discovered during the days of the Soviet Union. Dunga Block was first drilled in 1966 and officially discovered three years later. The majority of deposits were delineated and then the field was suspended. In 1994 Oman Oil Company concluded a production sharing agreement with the Government of Kazakhstan and received a license which expires in 2024. We became operator of this project in 2002 by purchasing a 60 % interest in Dunga.
We put stakes on high resolution logging instruments and more enhanced methods of drilling, as well as on the use of vertical wells and technology of silica sand hydraulic fracturing that allows us to improve production efficiencies to make the best use of the resources we already have. Silica sand is more efficient in fracturing compared with the sand normally used. We have accumulated decades worth of experience of hydraulic fracturing in Denmark that we have brought to Kazakhstan.
A wireless pump unit management system has been introduced in the field. We are applying different types of pumps in production, and the applied technology allows us monitor pressure on wellheads in real time.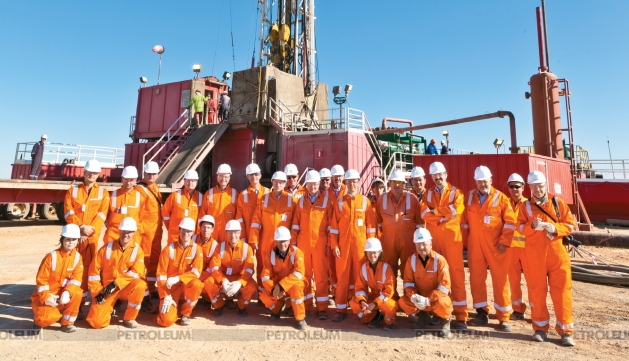 Maersk Oil Executive Team and media representatives in Dunga field during the visit on October 23-24, 2012
-As it was announced, Maersk Oil is commencing Dunga Phase II development. What is the development plan? What activities will be conducted during this period, and what results they will bring?
- Phase II is very important for unlocking the resource potential of the Dunga field and is currently ongoing. The drilling programme has been fully approved and according to it, 198 vertical wells about 1.7thousand meters deep will be drilled. Appraisal wells will also be drilled to additional horizons. We have data that there is a huge potential with oil and gas shows revealed there.
Currently, a reassessment of a 3D seismic survey is under way, and according to its results, updates might be required into the project's development plan. Also, we will upgrade the central gathering facility to create a system for gas processing and utilisation and to upgrade the export system. An important task is to build our own power station with a capacity of 15 mW; the design and delivery of equipment will be carried out by a mixture of local and international companies. In addition, some wells will be converted into water-injection wells. The model of drilling will be as follows: one injection well per four producing wells. Currently drilling sites are being prepared and the first wells are being drilled.
I'd like to say that simultaneously, we are preparing to launch Phase III of the Dunga project. There are many uncertainties so far, however, we hope to work out all the issues within three years and receive all necessary permits.
-How do you utilise the associated gas in the field? As you know, the Government of Kazakhstan forbids subsoil users to burn gas in flares.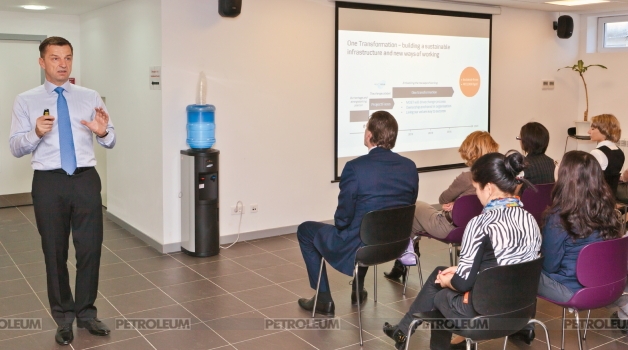 Maersk Oil Kazakhstan employees at a town hall meeting with Jakob Bo Thomasen, Maersk Oil CEO