The role of Kazakhstan as strategic partner and supplier will only grow
Bruno Jardin, Managing Director of ExxonMobil Kazakhstan Inc., answers the following questions for Petroleum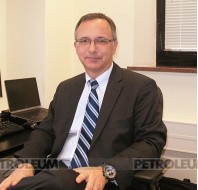 - ExxonMobil is celebrating the 20th anniversary of its presence in Kazakhstan. In fact, the company came practically at the same time when Kazakhstan gained its independence. Jointly with the country, your company has walked a long path of success and achievements. On the eve of your anniversary, which achievements would you like to highlight?
- ExxonMobil started in Kazakhstan in 1993, becoming one of the first major Western oil companies to invest in the newly independent Republic. Ever since Kazakhstan has been an important part of ExxonMobil's global portfolio. We remain one of Kazakhstan's largest foreign investors, with investments surpassing $10 billion to date. Directly and through operators of the field developments, in which ExxonMobil holds interests, we continue to maintain a productive dialogue and mutually beneficial business relationship with the KazMunayGas National Company and the appropriate governmental agencies in relation to these developments.
Today we participate in the largest projects in the Republic. We have a 25% interest in the Tengizchevroil joint venture, a 16.81% interest in the North Caspian Sea consortium, and a 7.5% interest in the Caspian Pipeline Consortium. We have offices and employees in Atyrau and Astana. Lastly, Mobil-branded automotive and industrial lubricants are marketed across the country and remain the most popular brand in their sector.
Over the past 22 years, Kazakhstan has emerged as a world competitive economy growing at almost unprecedented rates. ExxonMobil is delighted to be a witness of this impressive growth and proud to have contributed to that progress.
- Back in 1993, the company was the only US shareholder in the Caspian Sea Consortium established by Kazakhstan. At that time, our country was little known in the world as it became sovereign only a little more than a year before. What was driving the company's decision to come to Kazakhstan? How well the risks had been accessed?
- We expect the global energy demand to grow by some 30% by 2040 compared to 2010, driven largely by population and economy growth in Eurasia. Kazakhstan is strategically placed to supply both the developed nations of Europe and the rising economies of Asia and beyond. Its role as a strategic partner and supplier can only continue to grow.
As Kazakhstan is blessed with the resources to help meet the growing global demand for affordable energy, its natural resources can be the gateway to economic growth, job creation, technological advancement, higher levels of education and greater foreign trade. Kazakhstan can boast of having two of the world's largest oil fields. One is in production and the other is on the way to phased development.
To help Kazakhstan develop its natural endowment is an opportunity for us not only to contribute to meeting world's growing energy demand, but also to play a role in growing Kazakhstan into a globally competitive supplier for world markets. Through a strong collaboration with international oil companies, Kazakhstan continues to acquire the expertise necessary to be globally competitive, train its people and support the extraordinary economic growth.
Since its independence, Kazakhstan has significantly increased production of its oil resources and more importantly has established a path to continue to do so. ExxonMobil is privileged to have contributed to that path.
- ExxonMobil Kazakhstan Inc. is the Drilling Agent in the North Caspian Project for Phase 2 of the Kashagan development. What new technology and expertise will the company bring to Kazakhstan?