Twenty Years of Joint Work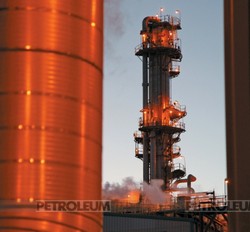 Tengizchevroil JV marks the 20th anniversary of its activity. On April 6, 1993, in Almaty the President of Kazakhstan Nursultan Nazarbayev and the chairman of the board of Chevron Corporation Kenneth Derr signed a 40-year agreement on forming Tengizchevroil LLP. The joint venture was established between Chevron Overseas Petroleum Inc. and Tengizneftegas Production Association. Since then, for two decades already ТCO is one of the leaders in the country's oil and gas industry.
2012 was another good year for TCO. Total Recordable Incident Rate (TRIR) declined for the fifth year in a row. JV set a record for annual TCO Kazakh Content expenditures by spending $1.8 billion and successfully, and safely, executed the first major turnaround of the Sour Gas Injection (SGI) and Second Generation Plant (SGP). The company's operating expenses met its business plan target and met permit volumes and conditions for gas flaring.
The company also completed KTL acid gas flaring project, started the next set of projects to further reduce flaring and emissions and was awarded the prestigious Excellence in Flaring Reduction Award at the 10th annual Global Gas Flaring Reduction Conference held in London. Since 2000, TCO has invested $2.5 billion on projects to minimize environmental impact, which have enabled the company to reduce total gas flaring volumes by 92 percent since 2000.
TCO's growth over 20 years has been tremendous and has resulted in direct financial payments of $74.2 billion to Kazakhstani entities since 1993. In addition to increasing sulfur sales in 2012, TCO marked a major milestone in November when it reached production of 250,626,566 tonnes (2 billion barrels) of crude oil recovered from the Tengiz and Korolev fields in Kazakhstan since startup in 1993. In 2012, TCO achieved partner alignment on Future Growth Project (FGP) / Wellhead Pressure Management Project (WPMP). FGP will expand TCO production by approximately 12 million tonnes (250,000-300,000 barrels daily) per year and FGP and WPMP together will require more than 20,000 positions at the peak of construction.
Production & Product Sales in 2012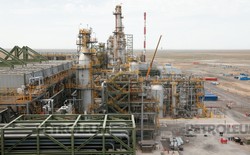 Crude production for 2012 was 24.2 million metric tonnes (193 million barrels). TCO's actual production was 3.7 percent below the business plan target, mainly due to transportation system constraints beyond the control of TCO, weather induced disruptions and SGI/SGP plant reliability.
The SGI/SGP turnaround was a success and TCO achieved record production levels post-turnaround. This was due to the fact that the turnaround team spent two years planning every detail of this project and executed with excellence. TCO worked with over thirty contract companies on all stages of planning, preparation and execution. The 6,500 person workforce was mobilized and demobilized with no significant safety incidents.
TCO sold 1.2 million metric tonnes of LPG and 6.2 billion cubic meters of dry gas. TCO sold 3.5 million metric tonnes of sulfur, which is 169 percent of the 2.1 million metric tonnes produced for the same period. TCO's sales success has resulted in the reduction of volumes of sulfur stored in Tengiz inventory to 2.6 million tonnes as of December 31, 2012.
Financial Benefit to Kazakhstan
In 2012, direct payments to the Republic of Kazakhstan totaled $14.2 billion. TCO spent almost $1.8 billion on Kazakhstani goods and services in 2012. TCO has invested more than $13.1 billion on Kazakhstani goods and services since 1993. TCO continues to employ multiple tools to increase Kazakhstani Content, including $13.8 million in loans to small and medium-size Kazakhstani businesses. TCO has a long-term contracting strategy that will encourage development of Kazakhstani content by its contractors. The company is actively working with the government, KazMunaiGaz and industry unions such as the Kazakhstani Union of Machine Builders to identify and capture opportunities for manufacturers in Kazakhstan. During 2012, TCO has identified new Kazakhstani manufacturers and has already placed work orders.