Petrolinvest Unites Efforts with Total and CNPC
Mr Bertrand Le Guern, chairman of the board of Petrolinvest SA, for the first time gives an interview to the Kazakhstan press. He tells Petroleum about the achievements and plans of the first Polish investor in the Kazakhstan's oil and gas sector
- Mr Le Guern, the Polish companies repeatedly showed their interest to the Kazakhstan's rich oil and gas market. However, PKN Orlen, after its fruitless attempts to obtain a project, closed its representative office in our country; also, Lotos tried to enter the Kazakhstan market, but failed. How could you manage to succeed?
- I do not know the details regarding the attempts of Orlen and Lotos to enter your market, but I think that by our example the general rule of E&P that private independent firms can faster and easier take decisions proves to be true. "Independent explorers" appear at the early stage of development, they do their work and when achieve success, that is, find resources, invite large players to cooperation.
- What projects in Kazakhstan are being run currently by Petrolinvest?
- In Kazakhstan, Petrolinvest holds 3 contracts in which it acted as operator. Two of these contracts currently are at the stage of sale, while the company has concentrated its efforts on the most prospective contract OTG (Oil Techno Group) the resources of which in future will come to 1.9 billion barrels of oil equivalent (boe) with the cost assessed by independent expert McDaniel & Associates as $2.6 billion. Five big structures were identified on the operational territory of OTG, including the huge structure Koblandy. In 2009 we have confirmed the presence of gas and light oil on this structure and in 2010 signed a cooperation contract with French concern Total under which it took an obligation to invest about $70 million in the project.
- Please tell our readers more about this project. Under taking decisions on investment, haven't you confused that JV Turpar Munai, which conducted exploration in this territory, as a result, closed this project by counting it unpromising?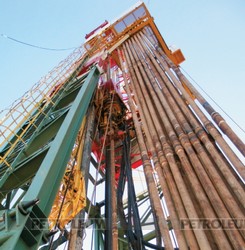 Shyrak fieldШырак
- Each project has different substantiations proceeding from the geology and financial possibilities of investors, therefore, it is difficult to compare these decisions. Petrolinvest also does not continue some projects, however, on OTG, after obtaining the results of analyses and concrete flows of gas and oil from well К-3 in 2009, we have convinced of high potential of this structure which can be one of the largest oil and gas fields discovered in the last ten years in Kazakhstan.
- You have entered the exploration project OTG about 7 years ago. What is done there now, how is a state of affairs there?
- Petrolinvest collected several exploration assets, conducted analysis of certain projects, and after assessment (as I have said already) took the decision to focus on OTG. In 2010 exploration results have convinced the world's fifth major Total with which the contract was signed. Since then the French specialists investigated the structure Koblandy with application of advanced seismic survey and received results allowing one to assess more better the potential of this field.
Within OTG we have one (of five) structure Shyrak (about 300 million boe) at which Petrolinvest is independently conducting activity and currently is making sampling after which can be reclassification of reserves. The results received from well Shyrak-1 have highly raised the rate of geological success. During the work, constant flows of gas were received and the presence of condensate was confirmed. And more importantly, there is no sulphur there and reservoir pressure is huge. And this is rather promising.
In addition, negotiations are being conducted with potential investors who are interested in cooperation and in making capital investments into the company owned by Petrolinvest. On January 4, 2013 the agreement on intentions was signed with China National Petroleum Corporation (CNPC) regarding capital investments into the Kazakhstani company owned by Petrolinvest – OTG.
- What are the prospects of this project's development? When do you expect to start commercial production of oil and what will be the company's marketing policy? Are you planning to deliver oil to Poland or to sell it in the free market?