The Kalamkas-sea Project is Gaining Speed
Oksana Мartynyuk
The international consortium North Caspian Operating Company (NCOC), preparing to start commercial production at Kashagan, announced the second largest commercial discovery: at the Kalamkas-sea field. Press-service of the national company КаzMunayGas has officially confirmed this news 3 months later. As inform the sources, the time has been chosen not accidentally. Three companies from among the project participants have managed to reach an agreement on principles on forming a separate company to develop the field.
Billion more - billion less …
The term of the assessment program for the Kalamkas-sea field was completed in October 2012. Based on the assessment conducted, according to the source, by the agent joint company of NCOC – ExxonMobil Kazakhstan Inc. (EМКI) – responsible for the conduct of drilling works at Stage II, in November 2012 the operator notified the authorized body of Kazakhstan about commercial discovery at the Kalamkas-sea field. The central commission on exploration and development has confirmed the field's reserves.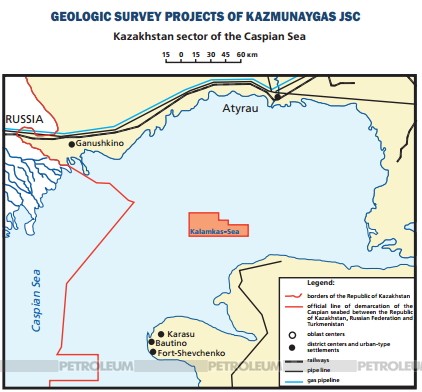 Officially, the total reserves of Kalamkas-sea are estimated at about 130 million tons, of them recoverable – at 54 million tons. However, for some reason the national company KMG decided to add "physics" into the fact of commercial discovery. According to the company's press release, under some data, the field's geological reserves are estimated at 160 million tons of oil a minimum, and under more optimistic forecasts, up to 1 billion tons. As they say, billion more - billion less.
Procedural issue
The statement about commercial discovery is a purely procedural issue. According to the PSA contract, the project participants shall commence the field's trial commercial development in 4 years. Given that the announcement of commercial discovery took place in November 2012, under obligations, the first oil should go in 2016. I would not like to draw an analogy, but the same was with the first date of the start of production at Kashagan.
The announcement of commercial discovery there was made in 2004, and the first date of the first oil production was automatically designated as 2008. The transfer of the terms was made by means of lengthy negotiations and concessions from investors to the Kazakhstan authorities. The Kalamkas-sea field is not the richest from among other fields of the North Caspian project.
Two other projects, Аktoty and Каiran located close to Kashagan, are more rich by stocks, however, the Kalamkas-sea is much easier in terms of oil production conditions. Compared to other shelf fields, it is abovesalt, so there will be no problems with hydrogen sulphide (at Kashagan the content of this dangerous gas comprises 15 % and at Аktoty – 33 %). Also, the sea on this site is deeper by 2 meters, and this means lesser problems with logistics and delivery of cargoes. Besides, it is located more close to the Bautino supply base.