Good Luck Shynar-Munay LLP! Starry Quality of GuangxingGroup
Alexander Zagribelny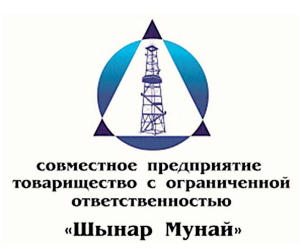 Dongying Guangxing Petroleum Equipment Co.,Ltd is located at Guangxing Street No.127 in Dongying Kenli Economic Development zone. It is a new and modern enterprise strongly supported by two important strategies National Developent Plan for High-efficiency Ecological Economic Zone of the Yellow River Delta and Shandong Peninsula Blue Economic Zone Development Plan.
It has the right to operate the import and export independently and has won many titles successively such as province "Advanced Enterprise of Quality and Management", municipality "Four Star Enterprise of Statistics Work", municipality "Enterprise for Keeping Contracts and Valuing Reputation", municipality Most Potential Enterprise for Development of Science and Technology and other honorary titles.
The enterprise has passed ISO9001 quality assurance system and the certification, and set up a set of complete quality assurance system in accordance with international standards. The products manufactured by the company carries out monitoring on the whole process of production and management.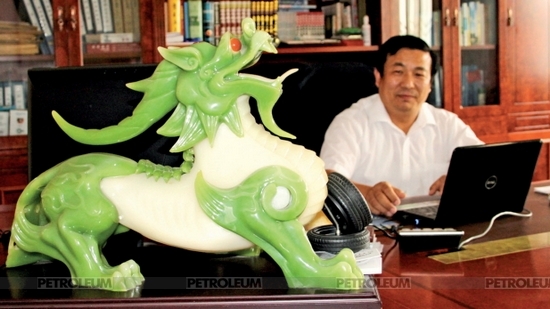 The products manufactured by the company mainly include submersible pump power cables, support equipments for electrical submersible pump, detection cables and electromagnetic wire series as well as energy-saving large-scale ground oil extraction equipments, trial extraction equipments, drilling tools etc... The products have been extensively applied in electricity, petroleum, chemicals, architecture, metallurgy, shipbuilding, military, railway, aviation and other industries.
The company always adheres to taking customers as the centre, guided by science and technology, motivated by innovation, aiming at development scientific and customer demand. The enterprise insists on the sustainable development concept for energy saving, emission reduction, environment friendly. It has established a long-term talent trainning relation and a wide range of technical cooperation with universities and collegues and is committed to continuously improve the level of technological research and management.
Our enterprise has applied for and received more than 30 national invention patents. Among them, the electric submersible pump power cables of buffer and heat-resistance 204C, 260C have filled the domestic blank for temperature grades. The products not only could meet the domestic market demands, but also are exported to South America, the Middle East, Central Asia and Russia and other countries and regions, favored by a large number of customers.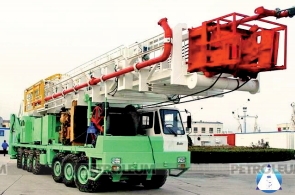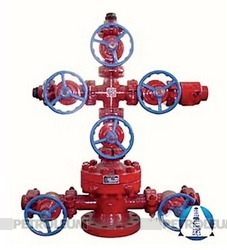 Dongying Guangxing Petroleum Equipment Co.,Ltd, is committed to the cultivation of high-quality talents, building the first-class production line, creating a world famous brand, pursuing a perfect combination of environmental protection and sustainable development, paying attention to the customer demand and providing the star-level service. It is the commitment of Guangxing to customers. The great mission is to build a hundreds years enterprise, create a hundreds years brand, and make new, greater contribution to revitalize national industry!
We will work 24 hours per day!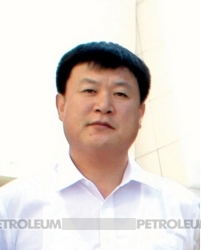 Mr. Du Xianghua
In 2013 a new era had started for Dongying Guangxing Petroleum Equipment Co.,Ltd. The Company overcame the Chinese boarders and actively entered the Kazakhstan market.
The establishing of Shynar-Munay LLP in Kazakhstan became the first successful step in a new business territory exploration. Two big pump-jacks built in Shymkent became a real business card of the new enterprise.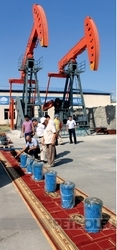 On September the grand opening of the company Shynar-Munay LLP had happened in Shymkent. There already employs 15 people and with the expansion of production there would more places for local workers.
Shynar-Munay LLP is expecting not only supply ready equipment and parts from China but primarily develop production of equipment necessary for oil-and-gas industry. Enterprise faces an undoubted success. It is the first in this way of activity in Kazakhstan market. It is going to open its branches in Kyzylorda and Atyrau as well.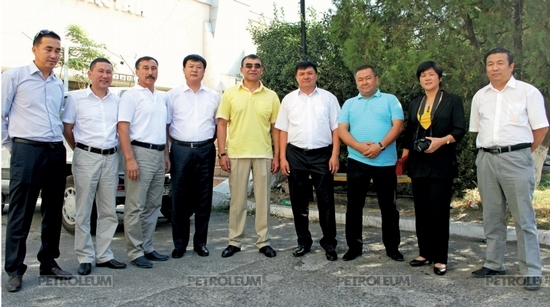 The founding fathers of the Shynar-Munai LLP all together in Shymkent
Shymkent as the second largest city in Kazakhstan is very attractive to investors for its broad capabilities: it has a huge professional population developed industrial infrastructure, good logistic possibilities because of railway junction between China , North-West of Kazakhstan and nearest Middle Asian republics Uzbekistan and Turkmenia.
DGPE Co.,Ltd Board Director Mr. Du Xianghua decided to develop the Kazakhstan market as a businessman with considerable experience. He does not afraid the concurrency with his native Chinese companies. He started his business 30 years ago. Today more than 1200 employees work at his 5 plants.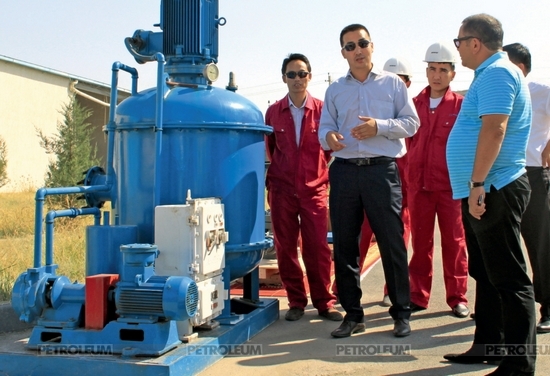 In Kazakhstan – Mr. Du Xianghua said, - we will not only produce and sell our equipment but we will implement the complete service for it. The dispatcher will be on duty 24 hours a day, he will receive requests and quickly respond to the problems with our equipment working anywhere.
Furthermore for example if we are selling a new pump-jack, we can take an old and broken one toward the cost of the new. We will repair it and put it into operation!
The main partner of Shynar-Munay LLP are: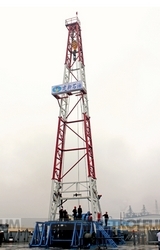 Sometimes Shynar-Munai LLP will build such drilling rigs in Kazakhstan!
PetroKazakhstan Kumkol Resourses,
Kazgermunai LLP,
Torgai Petroleum JSC,
AiDan Munai JSC,
SAMEK International LLP,
Zhanros Drilling LLP,
Intergaz Central Asia JSC,
Northen-Caspian Oil Corporation LLP
There is an anticipation of a great success in this good beginning.
A HAPPY JOURNEY SHYNAR-MUNAY LLP!