Quality Product Wins Chevron National Recognition in Kazakhstan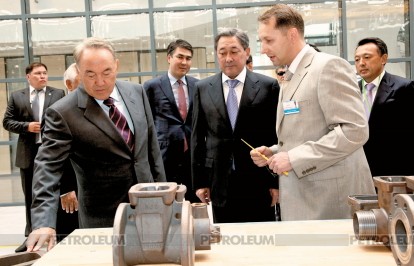 In December 2013, Chevron's Atyrau Valve Plant (AVP) won prominent recognition for production of the "Best Product for Industrial Use" at the highly competitive national contest "Best Goods of Kazakhstan-2013.
The national contest was established in 2006 by Kazakhstan's President Nursultan Nazarbayev to support domestic producers, develop local goods and products and to introduce quality management systems based on international standards. This year the competition included 152 companies and individual entrepreneurs.
Though AVP opened only few months ago, the quality of the product earned Chevron the Diploma of 2nd degree in the industrial use category.
"We are proud that our production is already recognized at the highest level," said Mendygali Sappayev, Chevron MunaiGas Inc. General Director of the Atyrau region. "We are making our contribution to the development of local machine building and advancing Kazakhstan's export product potential."
The valve plant is part of Chevron's efforts to support the diversification of Kazakhstan's economy by introducing new technologies and business opportunities to Kazakhstan. In addition to the domestic market in Kazakhstan, AVP has the opportunity to export its product, a strategy which is strongly aligned with government efforts to expand and diversify Kazakhstan's industrial potential.
Chevron's new Atyrau Valve Plant (AVP), a $40 million facility, is unique in Kazakhstan and other CIS countries. AVP is Chevron's second investment project in the Atyrau oblast outside of its core oil and gas business and follows the Atyrau Polyethylene Pipe Plant (APPP) that was commissioned in April 2003.
AVP produces iron gate valves with diameter range of 80-400 mm for use in water supply, sewage and natural gas transportation systems. The plant's gate valves are highly competitive as a result of the new manufacturing technology and materials such as rubberized wedge, corrosion resistant coating, as well as time and material efficient installation.
The valve body is epoxy coated, thus providing absolute corrosion protection even when installed in aggressive soil. Absence of friction elements allows for easy operation and long leak-free service life. The product is virtually maintenance-free requiring only that the valves are opened and closed once a year. Epoxy coating and vulcanized wedges keep their properties over the years.
The iron gate valves save on installation costs because there is no need to invest in expensive pits. There also is no risk of people or animals falling into pits. Reduced set-up time also allows for additional cost savings. Because the valves have no contact between water and metal surfaces, impurities are washed out of the valve, so for the end customer, there is no change in the quality or taste of water.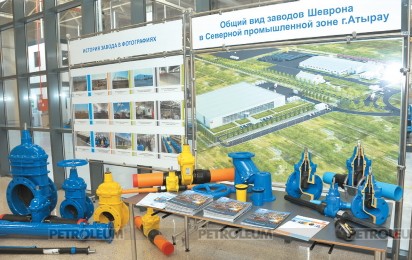 Each valve must pass quality control inspections at plant laboratory and then comes supplied with up to 10 years written guarantee and an expected service life of 50 years. The product is especially attractive because of its long service life and compatibility with the products manufactured by the APPP.
Today there are 40 people working in one shift at AVP, but as the plant reaches its capacity to produce 30,000 pieces per year, the number of employees will increase to 75. All employees are resident of Kazakhstan who received on-the-job training during assembly and start-up of the production facilities. For three months before the plant start-up, experienced instructors from similar plants in Denmark came to Atyrau to train employees and transfer knowledge of the technology and production process. Chevron also ensures that AVP employees receive appropriate health care and that professional training continues as employees develop in their jobs and careers.
In addition to the economic diversification provided by APPP and AVP, Chevron also is developing a wind park project in Akmola oblast. The project will be the first Chevron facility to generate wind power outside the United States and one of the first wind parks in Kazakhstan.
Chevron was the first major Western oil company to enter Kazakhstan over the past two decades and has created thousands of jobs, provided billions of dollars of investment, developed the local workforce, and supported medium and small businesses and local communities.
We never stop at what we have achieved. Chevron remains committed to continue its effective and productive work in the country for the benefit of Kazakhstan's economy.
(Full article)