TCO's Top Priority: Natural Environment Protection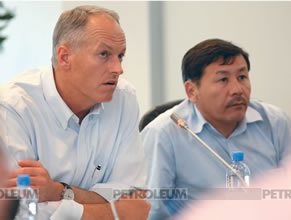 TCO's general director Tim Miller and his deputy Anuarbek Zhakiyev
Tengizchevroil develops Tengiz and Korolev giant oil fields which make the greatest geological discovery of the last 25 years. Operating on the basis of the world's best safety standards we strive to evolve into the world's safest, most efficient, and profitable upstream enterprise.

The scope of our environmental activities is wide and includes comprehensive environmental monitoring, waste management, emission reduction, water recycling, environmental research, land rehabilitation, environmental education, etc. Implementation of the above requires heavy investment.

We have invested over $2.26 bln environmental protection since 2000. Tengizchevroil is monitoring condition of the principle components of the natural environment. It is an ongoing comprehensive environmental monitoring effort. We are constantly watching the quality of atmospheric air, ground water, subsoil, soil, vegetable and animal life.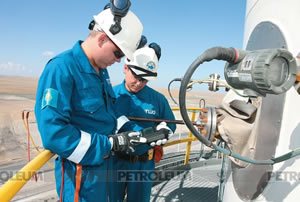 TCO practices a most advanced air monitoring methods. Systematic sampling is performed by TCO and Hydromet, an accredited laboratory, from 12 automatic monitoring stations and many more mobile monitoring units in operation around the oil field and along the perimeter of the buffer zone. The stations use most advanced air samplers and testers for hydrogen sulfide, carbon monoxide, carbon dioxide, sulfur dioxide and nitrogen oxides. The test results are automatically transmitted to the central control station in the digital format, to provide a comprehensive picture of the changing situation and a benchmark for subsequent analysis. TCO environmental group upgraded, 2009, all existing stations to expand their capacity to provide a wider range of environmental details, which is especially important for monitoring impacts of flaring operations associated with the equipment shutdown process.