Composition of Experience and Innovation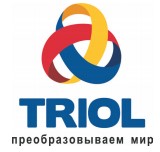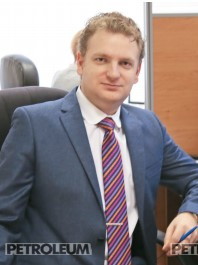 Maxim Yurievich Shalalashvili, Head of the business unit (electrical equipment for oil production)
Triol Corporation is a composition of experience and innovation; young and talented specialists and experienced managers; development, manufacture, reliable supply and service support in different parts of the world.
Triol Corporation started its scientific, technical, industrial and commercial activities in 1993. Today we are engaged in the development, manufacture, sales and service maintenance of electrical equipment for various industrial sectors, including oil production and transport, housing and utilities, metallurgy, mining and chemical industries.
Our products are used by more than 10 thousands of wells in Russia, Kazakhstan, Ukraine, Azerbaijan, Romania, Egypt, Venezuela, Argentina, Kuwait, and the United States.
Currently, in the CIS countries, apart from the control centres and telemetry systems, we supplied about 1 thousand medium-voltage frequency converters made by two-transformer circuit, 50 high-voltage frequency converters of direct conversion (with power capacity of up to 5 MW).
Oil production is one of the few industries that require continuous improvement of technology and equipment used. Complicated climatic conditions of work, disruptions in the supply mains, inadequate level of training of operating personnel - are the problems familiar to every mining company. We know how to solve such problems using electrical equipment of Triol Corporation.
Electrical equipment for oil production is one of the priorities of our work. An innovative approach to the development and manufacturing is the main driving force behind the company's development. We offer unique equipment made exclusively according to individual requirements of our customers.
A wide range of submersible and surface equipment, including control centres and telemetry system, allows us to offer reliable, functional equipment for the most difficult climatic conditions. Cold in Siberia and heat in the Middle East, snowdrifts and sand storms - our equipment is able to stand it. A variety of submersible equipment designs (wear-resistant, corrosion resistant, and heat resistant) provides a continuous workflow in difficult conditions.
Advanced process design solutions, individual approach and high level of reliability is the main reason why virtually all oil-producing companies in the CIS choose electrical equipment for oil production from the Triol Corporation.
In recent years, our company gives more attention to the development of innovative solutions in the field of artificial lift for the low production rate well stock (up to 30 m3/day). This is due to the constant increase in the low production rate well stock, as well as the need to improve the operating efficiency of marginal wells.
To date, there are the following methods of fluid production in the well stock with a production rate of up to 30 m3/day:
Use of Bottom-Hole Pumps;
Transfer of electrical plunger pump units (EPP) to periodic operation;
Use of EPPs with low production rate (up to 30 m3/day).
Our company offers a brand new way of operating the low production rate well stock: Installation of the electrical plunger pump (EPP).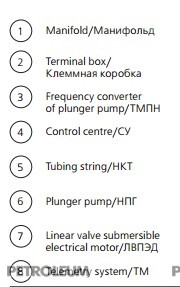 EPP is a tailor-made plunger pump driven by submersible valve linear motor that allows to work at marginal wells.
The EPP consists of:
Linear valve submersible electric motor that allows to adjust the feed rate over a wide range.
Plunger pump with minimal weight and dimension parameters that allow to reach high process and energy efficiency of oil production.
Ground control centre with a frequency converter with the optimal control flow.
Main advantages of the EPP:
Capacity - 0 to 25 m3/day, pump head - up to 3,200 m;
Efficiency comparable with bottom-hole pump unit;
Ability to work in the directional, horizontal wells, and in the deviated wells;
More reliable and space effective design compared with the beam-pumping unit;
Low cost of installation;
Wide operating range;
Includes telemetry system;
High safety level in the complicated conditions, in wells containing up to 20% of non-associated gas, without knockout box, with a formation fluid temperature of up to 125°C.
Application of the electrical plunger pump unit allows to earn additional profits due to increased production at the low production rate well stock, providing a continuous operation with high efficiency.
Also, we would like to invite you to the exhibition "Oil and gas 2015"(June 23-26, Moscow), where you can see the equipment, the results of pilot production and to agree on the broad introduction of new technology in the fields.
PUBLISHED FULL ARTICLE