Pre-Salt Oil
Artur Shakhnazaryan, Atyrau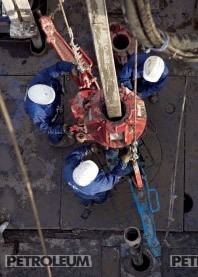 In the last year and a half, dramatically increased subsalt oil exploration has become a steady tendency in oil search in the Atyrau region. Such works are more expensive, the risks of loss are much higher, but the companies are not stopped with this. After all, the stakes are higher as well – it is these horizons, where future large discoveries are expected.
Nothing ventured, nothing found

Post-salt oil and gas exploration has steadily produce intangible results in recent years. In fact, on these horizons, almost everything that can be found, already drilled or discovered. Note: almost everything, because pleasant surprises are not excluded. But potential reserves of subsalt structures are substantially higher.
Currently, most oil and gas deposits being developed in Kazakhstan are at the stage of mature development. In 20-30 years the reserves of proven fields will not allow you to keep the current level of production. Accordingly, the oil companies have turned to more expensive and risky oil and gas exploration in deeper horizons. Along with the Kubera Petroleum Project on investigation of seven subsalt structures of the so-called Tengiz Rainbow and the project of Almex Plus on Ansagan deposits exploration, Alga CaspiGas LLP is currently carrying out drilling works on the Imashev South structure on the Astrakhan block in the Kurmangazy District of the Atyrau Region.
According to ecologists and geologists of Alga CaspiGas, 4,200 meters of projected 4,600 meters are drilled at present. At the moment the drilling is stopped because the contracting company SUIS RK LLC has to correct the Protective Measures Plan (PMP) of the exploration activities due to the fact that soil remediation expenditure item of 5 million KZT has been included. And right after the correction procedure is completed, the exploration drilling will be continued.
Over the coming months, positive or negative results of exploration will become known. In December, Alga CaspiGas announced a tender for project works on an appraisal well. This fact suggests that something has been found on the structure through cuttings and core sampling, otherwise there was no need to announce such a tender.
Max Petroleum's new lease of life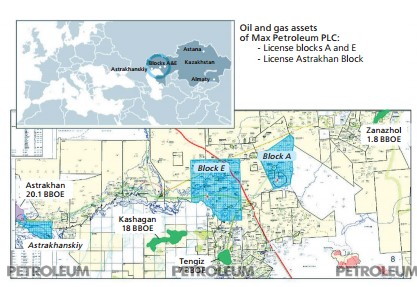 Oil and gas assets of Max Petroleum PLC
Alga CaspiGas LLP is a venture in companies' conglomerate of parent British company Max Petroleum. A conglomerate is a rather complicated structure. In 2004 year in London, a number of Western investors in the form of financial structures established Max Petroleum PLC and issued shares one pence each amounting to 10 thousand GBP for trades on the alternative investment market of the London Stock Exchange (AIM London Stock Exchange) and KASE for the purpose of oil and gas exploration in Western Kazakhstan. Now, this conglomerate consists of five or six companies – affiliates, intermediate, "interlaying", and second-tier subsidiaries and holdings registered in the Netherlands and the United States, the Virgin Islands (UK) and in Kazakhstan.