Tengiz without the Yellow Pyramids
Rzabek Artygaliev, Tengizchevroil General Manager of Policy, Government and Public Affairs tells about the unique project on the production and sale of sulfur.
The oil and gas complex in the Tengiz field in the west of Kazakhstan is one of the largest and technically sophisticated enterprises in the modern oil industry. The Tengiz field is unique in its high temperature, abnormal reservoir pressure and high content of hydrogen sulfide. Tengiz pre-salt oil contains approximately 13% of aggressive H2S, therefore the "black gold" production and processing technologies are based on a single idea - resistance to an aggressive environment. To turn into commercial oil, extracted crude passes through several decontamination stages, and extracted H2S is neutralized via separation into components.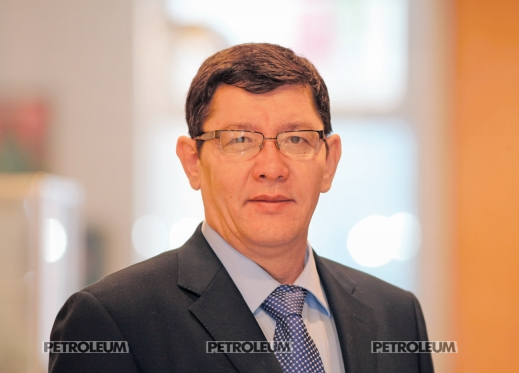 When oil and associated gas are delivered to the plant, they are separated, and the H2S is delivered to the Claus Unit, where it breaks down into water and sulfur as a result of a reaction. After this, liquid sulfur is sent for granulation and poured into rail tank cars or sulfur pads. As a result, TCO produces clean elemental sulfur along with refined oil. The company produces 4 kinds of sulfur: granulated, flaked – as per China's standards, as well as liquid and block sulfur.
Upon the collapse of the Soviet Union the chemical industry was virtually ruined. Sulfur – a raw material for the production of more than thirty thousand industrial product items – lost its consumers and its sales market was reduced to zero. The storing of sulfur in open areas near the plant began, and by the time Tengizchevroil JV was formed in April 1993 the first yellow pyramids were already there. At the time this raised no significant concern. But TCO steadily and consistently increased its capacity. Annual oil production reached millions of tons, and elemental sulfur production increased accordingly. Yellow Tengiz pyramids grew; the highest level was recorded in 2006: the reserves had reached more than 9 MM tons. The large reserves started to raise public concern, mainly in the environmental community. Although the open storage of sulfur is an internationally accepted practice, it was becoming clear that the issue had to be resolved. Kazakhstan had no industrial base to process the yellow crude. At that time, Tengiz sulfur was equated to production waste, and TCO was obliged "to take actions on elimination of the accumulated sulfur waste".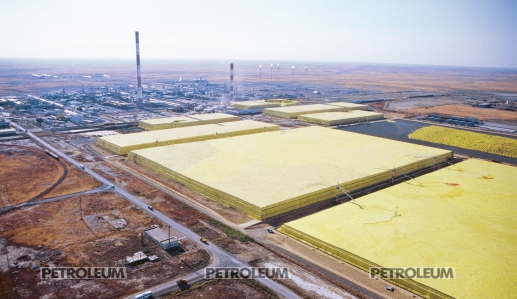 Sulfur Pads in 2002у
In the same year of 2006, the Ministry of Energy and Mineral Resources of RoK jointly with the Ministry of Environmental Protection of RoK initiated the formation of the Interdepartmental Sulfur Coordination Council (ISCC) to study the impact of open storage of sulfur on the environment. The ISCC included representatives of the Ministry of Energy and Mineral Resources, Ministry of Environmental Protection, Ministry of Health, Ministry of Emergency Situations, Ministry of Industry and New Technologies, the Atyrau Oblast Akimat, JSC NC KMG and TCO.
Five Kazakhstani scientific research institutes and one foreign research institute – the Calgary, Canada-based world's only sulfur institute– were engaged in the study. Research results showed that the Tengiz practice of sulfur storage complies with Kazakhstani requirements and international practice, and no impact on the environment or health was detected. It should be noted that sulfur is a mineral raw material and an inert, non-toxic mineral. ISCC members visited Canada as part of the study, because Canada produced large volumes of sulfur and had practiced open storage since the 1960s; in addition, its climate is similar to Kazakhstan's. Canada also has cold winters and strong winds.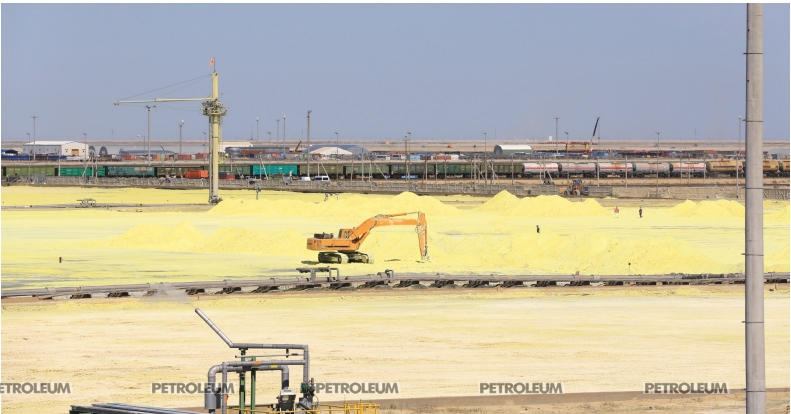 Last Sulfur load from Pads
ISCC members met with Sulfur Institute scientists and learned about oil companies' activities concerning the open storage of sulfur. During a meeting, RoK Health Ministry representatives asked Alberta Province Government experts if they had studied the impact of sulfur pads on the health of the population. The answer was negative as there was no need for a study due to the lack of substantiations. Their farms are located 7-10 kilometers from the sulfur pads, and their livestock grazes nearby (for comparison, the nearest populated area to Tengiz is 60-70 km away). The largest sulfur transfer port is located in Vancouver, and the nearest populated area 200 meters from the border between the sulfur pads and Vancouver is considered one of the environmentally cleanest cities in the world.
In addition, TCO specialists jointly with other ISCC members participated in several international conferences, organized round tables, comprehensively investigated the impact of open storage of sulfur on the environment, and developed regulatory documents.
Tengiz sulfur is used in a number of innovative projects. Various suggestions for the use of sulfur are submitted; however it is the Kazakh Institute of Oil and Gas (KING) that works on this issue most comprehensively. For instance, KING has developed a technology to produce sulfur-containing composites based on the model of paving stone, and the institute already has an experimental unit in Almaty, where it produced paving stones and implemented a pilot project laying out part of the pavement on the territory of TCO headquarters in Atyrau. As per KING's assessment, those stones are more durable compared to traditional paving stones due to higher resistance to humidity, etc.
In parallel to these endeavors, TCO set a challenging and completely new task for its Marketing and Transportation Department: to study the international sulfur market, find consumers, and develop supply chain logistics in greatest possible volumes. A special group was established, and a wide scope of work was performed successfully.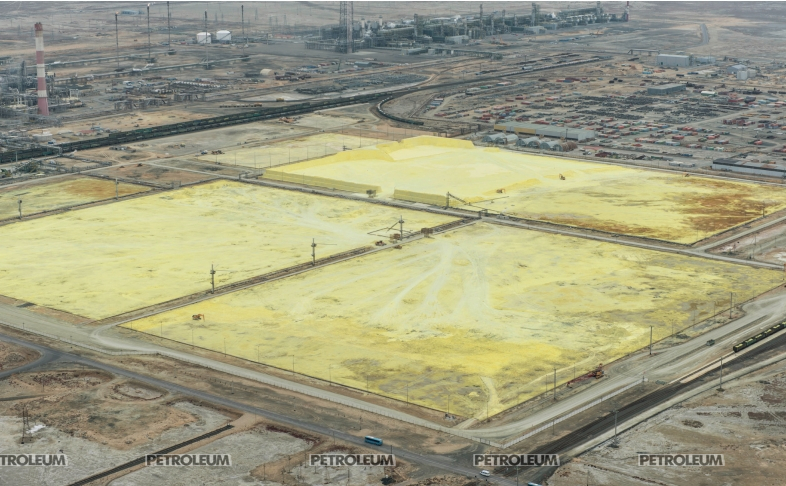 Sulfur Pads in 2014
Tengiz pyramids started to decrease. The company started to crush the stored sulfur and send it for re-melting to produce granulated sulfur, because this kind of sulfur was in high demand in the market. But challenges waited here as well. Kazakhstan had no experience in crushing monolithic sulfur pads. And the requirement was not only to crush enormous reserves, but also to avoid dust formation. For that purpose, Ariadna company specialists had to invent, manufacture and test a set of lift-up tools attached to excavators and hoisting equipment. Now this company owns patents and licenses for these tools. It also developed and successfully deployed a dust suppression system by spraying water in the sulfur crushing zone. All of this is simple and therefore reliable. Over the years of sulfur utilization not a single case of employee health impact or environmental incompliance was recorded.
TCO sells sulfur mainly to the countries of the Mediterranean basin and Central Asia, including Kazakhstan, Russia, Ukraine and China. In fact, the sulfur market is small. And market fluctuations have a cyclic character: prices may rise and fall. Despite these fluctuations, TCO has consistently sold sulfur, sometimes even at a loss – just to eliminate the sulfur pads.
Thanks to the joint efforts of the Operations and Marketing and Transportation departments, and contractors, in March 2015 TCO removed the last reserves of block sulfur from the sulfur pads, meaning there are no more sulfur mountains in Tengiz.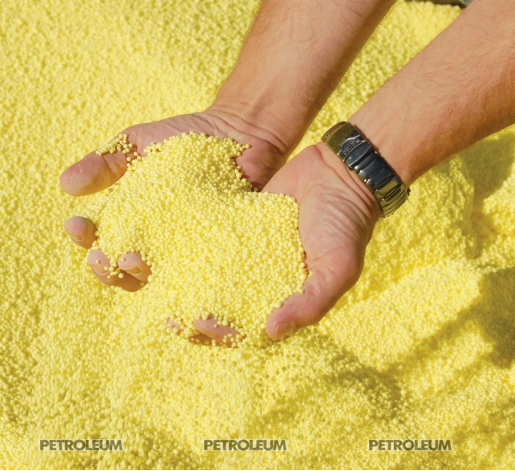 Currently, five GX units are in operation; these were purchased in Canada and have a total capacity of over 6K tons of sulfur granules per day. They provide for the full treatment of sulfur produced at KTL and SGP. In addition, a block sulfur re-melting unit is in use near the former pads. In fact, all TCO-produced sulfur will now be sold, as the saying goes, "straight from the wheels", and only ready-for-shipment granulated sulfur will be stored on the product site.
Additional volume of sulfur production is not considered in TCO's Future Growth Project, as all associated gas will be re-injected into the reservoir.
Published full article