Total in Kazakhstan: Responding to Energy Challenges
Pascal Bréant, Total Group representative in Kazakhstan and Managing Director of Total E&P Kazakhstan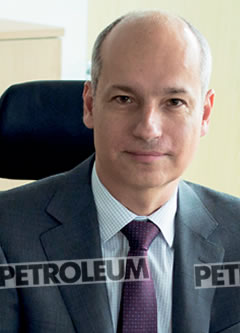 Total, the world's fourth-largest oil and gas company and top ranking French company has been present in Kazakhstan since 1993. This long-term and strategic partnership has been established in the context of the growth strategy of the Total group and economic reforms of the Government and the President of the Republic of Kazakhstan Mr Nursultan Nazarbayev. This year, Kazakhstan is celebrating the 25th anniversary of its Independence and diplomatic relationships between Kazakhstan and France, and Total Group, as one of the important investors in Kazakhstan, is proud for having contributed to a fruitful partnership.
As a major actor of the energy sector, we believe it is our responsibility to address the challenges of the energy sector. Total's global ambition for the next 20 years involves addressing those challenges.
In particular, at Total, we are committed to supporting social and economic development worldwide by providing affordable, sustainable energy, but also, we are committed to finding solutions to the challenge of climate change. This is the very basis of our strategy and our ambition is to become the responsible energy major.
First, Total is particularly committed to supporting social and economic development worldwide by providing affordable and sustainable energy. As part of this long-term partnership with the Republic of Kazakhstan, Total has invested more than 10 billion dollars in the country.
Total E&P Kazakhstan holds a 16.81% interest in one of the largest hydrocarbon fields in the world - "Kashagan" - located in the Caspian Sea and operated by NCOC (North Caspian Operating Company). This landmark project for Kazakhstan, is extremely challenging with its combination of encountered complexities (a land-locked sea freezing in winter, shallow water, a high pressure reservoir, the presence of H2S, and a sensitive environment). Numerous innovations have been designed and implemented during the development of the Kashagan project placing the utmost importance on safety and environmental responsibility. During the development phase, Total has brought its expertise and technological excellence in implementing high environmental and safety standards, in full compliance with the laws of the Republic of Kazakhstan.
The end of the year 2016 is making us a proud partner of Kashagan. Proud because after 15 challenging years, this technological "prowess" becomes a reality: the Kashagan oil is now flowing and exported from Kazakhstan to international markets.
Committed to sustainable development, Total has contributed to its share of a socio-economic development program through Kashagan project. This covers education, healthcare, sports and culture and other general interest infrastructure. Between 1997 and 2016 more than 167 Social Infrastructure Projects were completed in close collaboration with local authorities in Atyrau and Mangistau oblasts for the amount of more than 500 million dollars. Impressive achievements have been completed in the development of local suppliers, workforce and infrastructure which resulted in the establishment and growth of various industries in Kazakhstan.
In addition, Total E&P Kazakhstan has initiated a unique program to develop talents in Kazakhstan alongside oil and gas projects. With the support of Total, Welding Institute was developed. The "KazWeld" initiative has outcome to the Republic of Kazakhstan being granted official membership of the International Institute of Welding which will ensure the transfer of new technologies and highly technical expertise in welding. We have also contributed to launch a full welding training program (from vocational training to a master degree of welding engineering qualification). This initiative definitely will help to satisfy the demand for highly qualified workforce and create local employment opportunities.
Total has also forged strong partnerships with the best Kazakhstan universities (Nazarbayev University, Karaganda State Technical University, Kazakh-British Technical University, Academy of Public Administration) to promote high level university education and so contribute to the development of future talents in Kazakhstan.
As part of its ambition to become the responsible major, Total is also committed to finding solutions to the challenge of climate change.
Participation in the International Exhibition "Astana Expo-2017", which takes place next year in Astana on the theme "Future Energy", will be both an honor for Total, as well as an opportunity to share its experience in the matter.
For Total, the issues surrounding future energy choices are close to our heart. It is at the heart of our business to meet the energy needs of a growing world population and to provide to our customers and partners more accessible, cleaner, safer, more efficient and innovative energy. Because the energy and the environment are inextricably linked, we are very conscious of the role we have to play in order to reduce our environmental impact and encourage the responsible use of energy.
In this regard, Total is pro-active: we have applied internal carbon pricing since 2008 in all our investment decisions, and we promote development of carbon pricing mechanisms in major economies. This year we have integrated the International Energy Agency's 2°C Scenario into our Group strategy to reduce the carbon intensity of our energy mix: producing more gas, halting all our coal operations, continuing our development in renewable energies (especially solar) and making advances in carbon capture, use and storage technologies.
We dully encourage the Republic of Kazakhstan in the intention to prepare its future energy. Despite the abundance in hydrocarbons, the Republic of Kazakhstan showcases the exemplarity of strategic vision which perfectly suits to Total group's vision. For Total, to develop new energies is both a strategic choice to feed its future growth, and a way to contribute to finding solutions to the challenge of the climate change.
Through our subsidiary SunPower, we are among the top 3 in the world in the solar power industry and we are developing our activities across the entire value chain (from manufacturing solar panels to operating solar power plants). We are also a leader in biofuels for over 20 years and now a leading European distributor proposing a variety of bioenergy products (biofuels, biolubricants, biosourced plastics, etc.). It is all these innovations and expertise in renewable energies that we will present at the International exhibition "Astana Expo 2017".
Total, as it always did in the past in Kazakhstan, will continue supporting necessary reforms to accompany economic growth and foreign investments. The energy sector is facing many challenges, notably due to the world price of hydrocarbons. I am indeed confident that, under the guidance of the Government, with the help of an energy company like Total, regulations in line with the best in the world will be implemented. This will provide a new impetus to develop the extraordinary economic potential of Kazakhstan.