News 2012
#6 (78), December 2012
EBRD promotes private oil&gas business in Kazakhstan
In the beginning of November 2012, a new Contract with the European Bank for Reconstruction and Development for USD 22.5 million was signed by the representatives of a big Kyzylorda service company Zhanros Drilling LLP.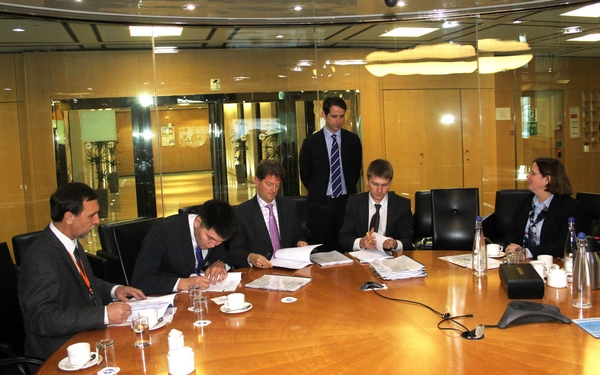 Zhanros Drilling became the first private company in oil&gas industry in Kazakstan to receive a credit line from the EBRD. The Contract was signed conversationally by means of video conference between two head quarters in London and Almaty.


The money will be spent for purchasing two new drilling rigs and fracture equipment for advanced workover technologies. This would allow the company to perform works with higher efficiency and less impact on the environment. EBRD bankers, who patronize the central Asian sector, congratulated the Zhanros Drilling LLP with new developing opportunities. They characterized the company as a long-term and reliable partner.


This event as a remarkable one was highlighted as well with the publication in the prominent international business magazine - World Finance Review, published in the Great Britain capital. The WFR November issue appeared with the article under the title – "ZHANROS DRILLING – NEW ACHIEVEMENTS IN OIL&GAS PRIVATE SECTOR, KAZAKHSTAN"


Alexandr Zagribelny –

from London, specially for Petroleum.