Chevron's Social Investments in Kazakhstan Support Innovations
Improving lives and enabling human progress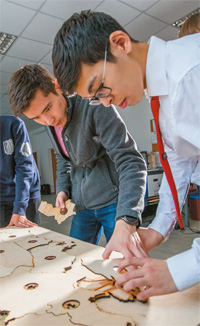 Chevron is Kazakhstan's largest private oil producer, holding important stakes in two of the nation's biggest oil-producing fields – Tengiz and Karachaganak.
Everywhere we work, we strive to build lasting partnerships to create prosperity now and for decades to come. We invest significantly in major projects and local goods and services, create jobs, and generate revenues for local communities. Beyond contributions to our partner countries through direct business investments and taxes, we contribute to local communities by making strategic social investments.
In Kazakhstan, for more than 25 years, Chevron has worked in partnership with local and national governments, communities, nongovernmental organizations, and other institutions on innovative social investments focused on health, education and economic development.
A key focus area for Chevron is supporting Kazakhstan's next generation with the development of new skills and knowledge – that help build the country's capacity and capability – and enable them to unleash their potential.
As an industry leader, Chevron understands new technologies and trends and the importance of supporting innovative start-ups that will help school and university students develop into tomorrow's leaders. In the last 5 years alone, hundreds of young people have participated in interactive training in programming and social entrepreneurship, with many establishing their own start-up businesses that create employment opportunities.
Chevron's support for educational development programs reach thousands of youths, teachers and trainers from urban and rural areas. The initiatives focus on STEM - Science, Technology, Engineering, and Math – as well as the arts and creative industries.
Below are a few examples of the great projects Chevron supports that are helping our communities succeed.
ITeachMe
The ITeachMe projects embrace diversity and inclusion and aim to educate young people with disabilities. As a champion of equal opportunities, Chevron encourages youth from all over Kazakhstan take the opportunity to be part of the teams created for this project. "Participation in ITeachMe served as a new lease of life for many," said project manager Zakhira Begaliyeva. "They learned to help and support each other through teamwork and got to see first-hand how IT technologies can erase boundaries."
Despite the project not yet being complete, some of the participants have already secured employment, with one participant becoming a software programmer. Three others have also been hired as site administrators for a large IT company. In addition, more than 30 events were organised across Kazakhstan to raise IT-awareness.
Robot Technology
"Robocon Games!" is the Republican Robotics Championship among schoolchildren organized in partnership with the International Information Technology University (IITU). The number of teams participating in the championship has grown from 15 to 30, expanding the geography of the participants from Almaty to other major cities across Kazakhstan.
Prior to the championship, 30 schools, over a five-month period, engage in the development of their Arduino based robots. "This successful programme not only develops robotics technology on Kazakhstan, it also helps find the next generation of talented innovators," said Medet Turgambayev, IITU vice rector.
Astana Science Festival
The Astana Science Festival arranged in partnership with British Council, Nazarbayev University, Science Fund JSC and OYLA Scientific Popular Magazine is aimed at popularization of technology among young people – with a strong focus on the development of IT-related skills amongst Kazakhstan's young generation.
Within the framework of the festival, the final stages of the "Science Stars" and "FameLab" international contests final stages were carried out. Visitors learned new scientific facts during interactive lectures, visited Nazarbayev University laboratories, and tested their own scientific knowledge during Open Laboratory tests arranged by OYLA scientific magazine.
"In the modern world, technology is rapidly changing our lives, meaning the transfer of scientific knowledge, awareness of scientific achievements and engagement of young people in science is critical to continued progression. I believe science should be more accessible to encourage greater interest and understanding," said Artur Saudabayev, winner of the "FameLab 2016".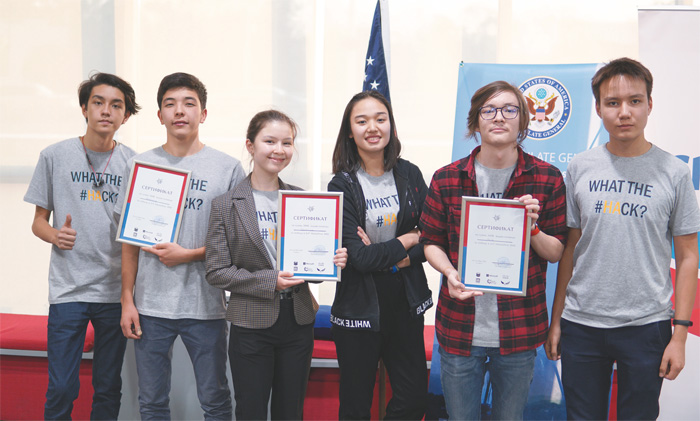 "Girls in STEM"
Girls are the most active participants of all projects sponsored by Chevron. They acquire new-for-women IT related specialties and fearlessly dive into establishing their own start-ups.
Chevron has been supporting the "Girls in STEM" summer camp for several years. Focused on 13-18-year-olds, girls undertake a special qualifying competition before becoming part of a team. The competition involves the production of a 2-minute video about the most important invention in human history, what they would like to change in the modern world and what opportunities the camp could provide for them.
"I have always had an interest in science and programming", Nargiz Askarbekkyzy, student of Nazarbayev Intellectual School in Almaty said. "However, I never went beyond the given school knowledge. The camp helped me to put away the boundaries and find my passion. I now know what I want to do in future".
In 2018, a team of girls from the summer camp won the championship among high school students held by National Agency for Technological Development with their self-stabilizing spoon invention for people with Parkinson's disease. The team was awarded a trip to the "Scientific Start-Ups Championship" in Singapore where they presented their project along with more than 200 others from around the world.
Zangar
Together with local governmental agencies and educational institutions, Chevron is implementing an initiative to develop Atyrau's youth by training and preparing them for successful cares and lives. The Zangar Project, developed in partnership with the International Youth Foundation and Atyrau Oblast Akimat, is an important part of this initiative.
Since the start of the program in 2015, more than 6,000 young people and 400 teachers in Atyrau have received interactive training on life skills and STEM disciplines, with many also participating in several festivals and championships.
FabLab Atyrau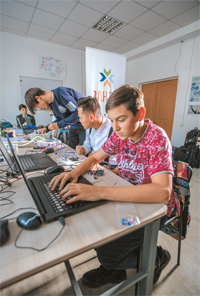 FabLab Atyrau is designed to help young people develop key skills and enhance their creativity. The laboratory, the first of its kind in Kazakhstan, is equipped with modern tools that include 3D printers, computer-controlled routing machines, laser cutters, etc.
"FabLab Atyrau provides the next generation with a great space to enhance their knowledge and see how things really work," said Dias Umirbekov, graduate of linguistic gymnasium No.34, who designed and constructed an electric wheelchair together with Bek Kaliyev, a graduate of Lyceum No.16 named after Zh.Karazhigitov.
Over the years, many amazing projects have been launched, including a device that helps determine colour and sound for people with visual and hearing impairments, as well as a remote-controlled robot, which can research hazardous environments from a distance.
"This is just a snapshot of the projects we are currently supporting in Kazakhstan," said Zhanar Koshpanova, Chevron's Corporate Affairs coordinator. "We know that if our people and communities are to thrive, education and job training are of critical importance. This is why we are working closely with the Ministry of Education and Science, alongside the country's leading universities and many other organisations, to support the next generation of innovators. By focusing our efforts on improving instruction in STEM, as well as social entrepreneurship, career and technical training, we will help create a future Kazakhstan known for innovation and prosperity."