Atyrau NPZ intends to reach the oil net yield of no less than 85%
Interview with Talgat Baitaziyev, general director of Atyrau Oil Refinery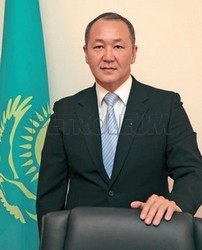 - Almost one year has passed since the start of practical implementation of the construction of the Aromatics Production Complex. How do matters stand with it now? What work has been fulfilled to date?

- Indeed, practical implementation of the construction of the Aromatics Production Complex has started about one year ago, in October. For this period, according to the approved schedule of the performance of works, the preparation of platforms and dismantling works were executed and building works have started. The Kazakhstan branch of Sinopec Engineering, together with the contract organisation ККGP Atyrau Regional Geotechnical Centre, has conducted a major part of engineering-geological and topographical-geophysical survey.

Elaboration of the working documentation (detailed engineering) is carried out by the designers of Sinopec Engineering in the territory of the People's Republic of China (Loyang). Sinopec Engineering has prepared a considerable part of working documentation on foundation works for process units. At present, the contractor conducts operations on pile driving and foundation works on the building sites.

On the plants-manufacturers Zhangjiagang Chemical Machinery (Zhangjiagang) and Wuxi Chemical Machinery (Wuxi) the specialists of the customer conducted inspection of some devices, their internal and external examination.

In October of this year it is expected the arrival in Аtyrau of the first party of process equipment (columns and reservoirs) from China.

- What does the structure of the Complex include? What new facilities will be built? What are the terms of building?

- It is planned to build a catalytic reforming unit with continuous regeneration of catalyst with productivity on raw materials of 1 million tons a year including the benzol extraction block, paraxylol extraction unit, toluene transalkylation and heavy aromatic hydrocarbons units, and xylene isomerization unit. Also, the plant's common service facilities will be built. The scheme is very flexible, allowing one to receive as much as possible high octane gasoline, or up to 133 000 tons/year of benzol and up to 496 000 tons/year of paraxylene.

The new complex should be commissioned on a turn-key basis in December 2013. The project has been started successfully. We are confident that the staff of ANPZ will complete the construction of the new complex qualitatively and in the set terms.

-Please, tell about the environmental component of the project. Loud statements were repeatedly sounded that discharges and emissions from ANPZ will decrease. Whether it is so?