PetroKazakhstan - a Corporate Citizen in the Republic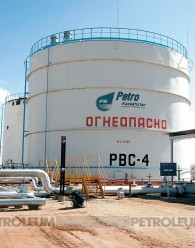 Kyzylorda land is one of the key depositories of oil and gas resources in Kazakhstan. The total area of South Turgai oil bearing basin, where PetroKazakhstan Kumkol Resources operates, is 80 thousand sq. km. Annually it produces more than 12-13% of all crude oil in the country. For the past 25 years around 35 major and minor oil and gas deposits have been discovered on Kyzylorda land. The annual crude oil production in Kyzylorda Oblast in 2012 was more than 10.8 million tons. This includes 5.732 million tons produced by PetroKazakhstan Inc. (including 50% shares in joint ventures Kazgermunai and Turgai-Petroleum).
Today PKKR operates 8 fields all of which are at their development stage: Kumkol, South Kumkol, East Kumkol, North Nuraly, Aryskum, Maibulak, Kyzylkiya, and North West Kyzylkiya.Since exploration and reserve replacement are the future of any oil and gas company, therefore PetroKazakhstan pays a lot of attention to geologic exploration. Currently the company has 9 fields at the exploration stage: West Tuzkol, West Karabulak, Karabulak, Karavanchi, Doshan, South East Doshan, Zhanbyrshy, Belkudyk, and Taskudyk, as well as such perspective structures as: Karabulak, Kokbulak, Oishubar, Bozzhar, Terensay, Zhanbyrshy, Taskudyk, Belkudyk, Akzhar, etc. In 2012 the 3D seismic surveys covered the area of 245 km2, and 2D - 700 meters, and 34 exploratory wells were successfully drilled with the exploratory success ratio of 70%.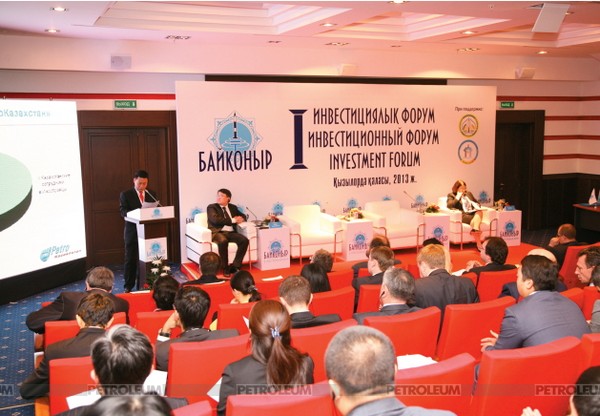 The crude oil reserve increment was 3,674 thousand tons which is mainly due to exploration at Wesk Tuzkol, Belkudyk and Doshan fields. Gas deposits were discovered in Akzhar and Ketekazgen structures. Given the current exploration maturity of South Turgai depression, the discovery of new major fields, such as Kumkol and Akshabulak, is hardly expected, however its potential has not been fully depleted.
In its operations PKKR adheres to the highest international standards by implementing on an ongoing basis new technologies that enable it to produce hydrocarbons without any harm to the environment. Thus, PKKR Company was among the first in the republic to roll out a gas utilization program in its fields. The project for construction of two additional 25 mW gas turbine units at Kumkol gas turbine station was included in the list of investment projects to be implemented as part of Kazakhstan's Industrialization Map for 2010-2014. At present the project is completed and commissioned. The volume of investments spent in 2012 was 195,411 thous. tenge.
Speaking about the company's operational performance in the last year it is necessary to mention its downstream business. In 2012 the company processed 4,753 thousand tons of crude oil, which is 149 thousand tons higher than in 2011. A record high-octane gasoline yield was achieved in 2012 (72% of the total gasoline pool), which is 9% or 125.6 thousand tons higher than in 2011. The refinery increased the production of jet fuel, vacuum gas oil, household liquefied gases and high-octane gasolines.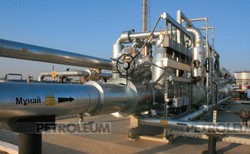 The yield of light oil products also increased. During 2012 the experts of PetroKazakhstan Oil Products made extensive efforts to improve the quality of refinery products. The preparation for the Shymkent refinery modernization program to cover the construction of 7 new process units and the reconstruction of 3 existing process units is ongoing. The purpose of the Refinery Modernization and Reconstruction Project is to start producing oil products to Euro-4 and Euro-5 standards and to increase the conversion depth and the yield of light oil products.
The accelerated development of the oil and gas industry in Kyzylorda region pushes forward its social and economic development as well. PetroKazakhstan Group of Companies employs 3,648 people, 98.1% of which are Kazakhstani citizens, and therefore PetroKazakhstan recognizes itself as a true corporate citizen of the Republic of Kazakhstan which takes every effort to ensure the consistent social and economic development of the region. Over many years the company together with the Kyzylorda Oblast Akimat has been successful in implementing the scholarship program to support the talented young people in Kyzylorda Oblast. Thanks to this program the talented young people even from very remote districts have a chance to study at the best universities of Kazakhstan and China. Moreover, when they come back to their home country, the young professionals get job offers from PetroKazakhstan.