KPO Announces Performance Results for 2016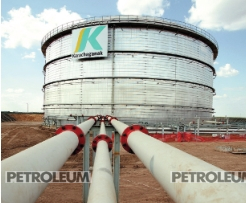 Three Billion Investment on the Silk Road
Karachaganak Petroleum Operating B.V. (KPO) has announced the performance results for the year of 2016.
In 2016 KPO produced 139.7 million barrels of oil equivalent in the form of stable and unstable liquids, sour gas for export, and sweet gas for use as fuel. In addition, 8.04 billion cubic metres of sour dry gas were re-injected, a volume equivalent to approximately 46 per cent of the total gas produced.
KPO General Director, Renato Maroli, said: "As one of the largest investment projects in the Republic of Kazakhstan, Karachaganak is of paramount importance for the economy of the West Kazakhstan region and the country as a whole. As of today, KPO Partners have invested nearly $22 billion into the development of Karachaganak."
"Working in close cooperation with Akimat of West Kazakhstan region and the Authority - PSA LLP, KPO utilises the latest technologies, which enable achieving higher levels of hydrocarbon production in which leads to increased revenues for the RoK budget as well as sustainable development of the West Kazakhstan region," said Renato Maroli.
On May 13, 2016 KPO completed a major shutdown, which represented an important milestone in company's history. The shutdown allowed KPO to increase significantly the total annual production of stabilized hydrocarbons. About 3,300 employees took part in preparatory works and the shutdown.
Today, KPO incident statistics is one the best among the companies in the oil and gas sector. The company implements wide-scale initiatives to prevent accidents and incidents.
KPO follows the principle of sustainable development while adhering to the highest standards of environmental protection in all aspects of its activity. In 2016 KPO has achieved a world-class gas utilisation rate of 99.84 per cent.
The volume of gas flaring totalled 0.16 per cent of the total volume of gas produced by KPO or 0.97 tons per thousand tons of produced hydrocarbons. This confirms KPO's high ranking with respect to this index compared to other global oil and gas producers.
In 2016, GHG carbon intensity per unit of hydrocarbon production remained at the same level as last year, and is below the average international oil industry indicators (as per IOGP) by 52 per cent.
During the period from 1998 to 2016, KPO has invested $329 million for the implementation of environmental protection activities.
As the largest employer in the WKO region, KPO provides thousands of long term jobs with competitive salaries.
"KPO's new nationalisation program has been approved to ensure a gradual increase in the number of local employees by 2020. This is not limited to physical rotation of personnel, but is focused on replacement of expatriate employees with local specialists of equivalent professional qualification," said Renato Maroli.
At the end of 2016, KPO for the first time reached the target of 80 per cent in category 1 + 2 (Executive Management, Department/Unit Management), which indicates the success of the strategy.
Since the signing of the Final Production Sharing Agreement (FPSA), over $200 million has been invested in the training of national workforce utilising broad international training and development capability as well as company's own training facilities.
KPO is actively promoting the development of local suppliers of goods and services, and implementing a number of projects and initiatives aimed at supporting local producers. This work is conducted in collaboration with other major international oil and gas companies and Kazakh and international service and engineering enterprises. This has already brought tangible results, for example, localisation of a number of goods and works through creation of joint ventures between international firms and Kazakh service companies.
As Renato Maroli said, "successful implementation of these initiatives creates conditions for development of production of more complex high technology products in the Republic of Kazakhstan, which can meet long-term demand of Kazakhstani companies and joint ventures." According to the results of 2016, the share of local content supplying goods, works and services to KPO has reached 51.60 per cent, which in monetary terms amounted to about $530 million. In general, since the signing of the FPSA in 1997, the share of local content in KPO procurement exceeded $6.14 billion.

Three Billion Investment on the Silk Road
Each year, KPO invests $20 million for implementation of a number of major infrastructure development projects in WKO. Furthermore, in 2014-2016, KPO allocated $10 million per year for implementation of social infrastructure development projects in Burlin district of the WKO. To date, KPO has invested $340 million into development of social infrastructure in Western Kazakhstan region.
In 2016, following the results of the 6th Annual Contest of Annual Reports for 2015 conducted by RAEX rating agency, KPO received an award for the "Best Sustainability Report."
"As a socially responsible company, KPO makes every possible effort to ensure sustainable development and effective use of Karachaganak's resources in order to maximize social and economic benefits of the project for the Republic of Kazakhstan and the local community," added Renato Maroli.
AKSAI, West Kazakhstan Oblast – Karachaganak Petroleum